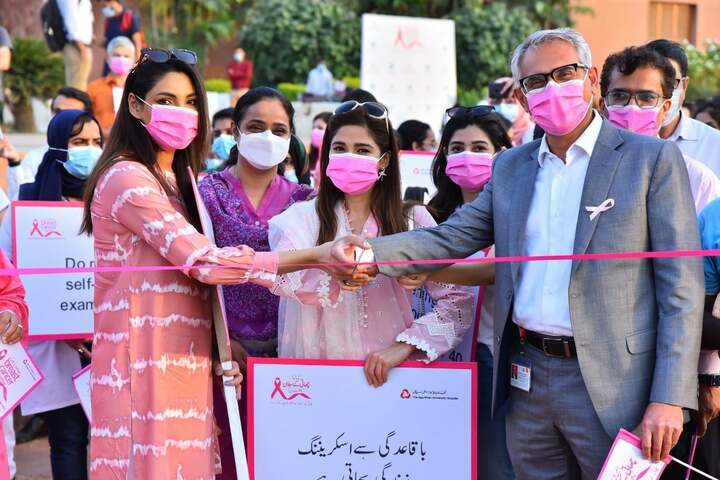 Ayesha Omar, Mariyam Nafees & Zhalay Sarhadi attended the walk and pledge their support to the cause.

The Aga Khan University Hospital continued its support against breast cancer by arranging a 'Pink Walk' at the Main Campus. The purpose of the walk was to increase awareness of breast cancer in Pakistan. According to the statistics, one in every nine women is at a high risk of breast cancer. Even though the prevalence of breast cancer is high, early detection, diagnosis, and treatment show promising results for recovery....
Renowned celebrities and actors Ayesha Omar, Mariyam Nafees and Zhalay Sarhadi also pledged their support to the cause by leading the participants during the walk, which was held at the Sports and Rehabilitation Centre at the AKU Main Campus.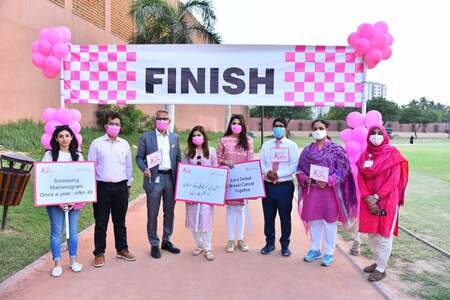 "In Pakistan, the lack of awareness around the subject contributes to a high mortality rate, compared to global data. The growing rate of breast cancer poses an increased risk for the country. We are at the edge of a precipice; the actions we take from here will determine the outcome in the fight against breast cancer," said Dr Om Prakash, General Surgeon and Service Line Chief, GI and Surgery.
Along with the staff, media celebrities and journalists joined hands with AKUH and pledged to increase awareness for breast cancer. "For us, every patient's life is equally important, and timely detection helps us in providing the right care at the right time. Today, we are joined by journalists and celebrities to help us with spreading the message to more people," remarked Dr Shahid Shafi, CEO, The Aga Khan University Hospitals, Pakistan.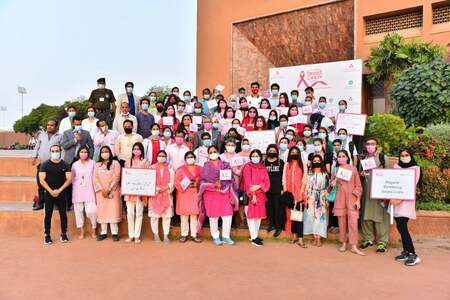 The event kicked off with a welcome address by Dr Shahid Shafi, CEO AKUH, P and Dr Om Parkash, General Surgeon and Service Line Chief of Gastrointestinal Medicine and Surgery.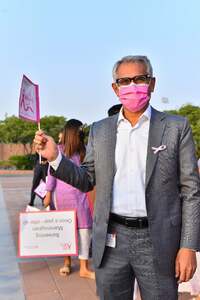 While the Pink Walk was the highlight of the evening, the Hospital's breast surgeons and oncologists used this event to engage and educate the audience on the benefits of breast screening.
Consultant Breast Surgeon AKUH P, Dr Sana Zeeshan stated that early diagnosis and cure play an integral role in treating the disease. "We dedicate an entire month to spread awareness about breast cancer and mitigate the taboo surrounding the subject."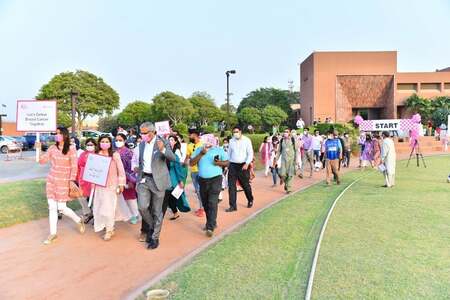 World Breast Cancer Awareness Month is celebrated internationally every October. AKUH dedicates the entire month to educating the public that early detection saves lives. In addition to encouraging women who are 40 years of age and above to get screening mammograms done every year, the Hospital also encourages men to urge their mothers, sisters, wives, and daughters to detect cancer cases early and save lives.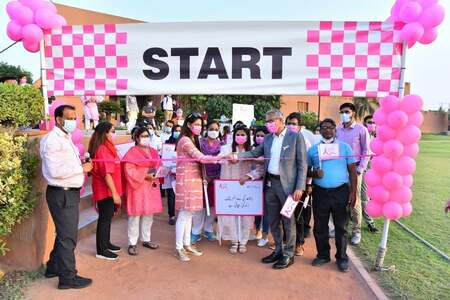 The Aga Khan University Hospital is committed to providing access to quality healthcare. In 2020, AKUH provided over 850,000 patients with quality care through patient welfare, and zakat programs and the Hospital disbursed PKR 3 billion to support the financially challenged.