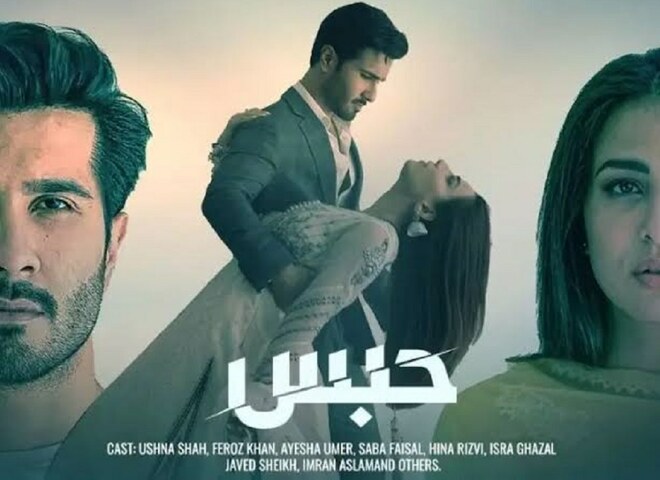 Ayesha and Basit's relationship isn't getting any better. While Ayesha is committing the biggest mistake of her life...

Ayesha and Basit's relationship isn't getting any better. While Ayesha is committing the biggest mistake of her life by trusting Soha, Basit has no idea where she could have gone. Soha is playing on both sides and manipulating both Ayesha and Basit.
ARY digital drama, Habs, airs every Tuesday at 8:00 p.m. The lead actors in the drama are Feroze Khan as Basit and Ushna Shah as Ayesha. The drama is directed by Mussadiq Malek, while Aliya Makhdoom wrote the story. The story is about Ayesha and Basit whose circumstances compelled them to get married. But as time passed, the two became closer and started to fall in love. When Soha (Ayesha Khan), Basit's old friend whom he was intended to marry before, learned that Ayesha and Basit were expecting their first child together, she tries to ruin their lovely relationship by revealing some unpleasant details about their marriage.
The hunt continued when we learned in the previous episode that Ayesha was nowhere to be found. Basit got a call from a mortuary asking him to identify a dead body, which was obviously a little frightening to see, but happily it was someone else's body and we were spared from a horrible ending with no closure.
Anyway, in another scene, Soha and Ayesha are seen together. Soha and Ayesha have suddenly become the best of friends, and on her not-so-friendly advise, Ayesha made the decision to leave her house and be away from Basit. Soha helps Ayesha settle down at a hostel and brings her a phone as well.
At the other company that is providing her with housing, Bano is seen acing her interview. That solves one issue, thank goodness! But with everything going on, Bano feels incredibly burnt out and drained. In a moment of weakness, she phones Talal and then is overcome with emotion.
Bano (Dania Enwer) receives a call from the clinic where Ayesha had an appointment, asking her to meet her there. Bano asks Ayesha a lot of questions when she meets her. Ayesha declined to go back home since she is no longer willing to trust anyone.
In front of Soha, Basit broke down and swore to kill the person who told Ayesha all the details (we don't believe it is so hard to guess). Ayesha continues to appear like a loyal friend in need for Basit and tries to soothe him down while holding his hand . Thankfully, Basit understood that this wasn't appropriate and politely asked her to go. Despite his request, she insisted on staying.
Both Zoya (Jannice Tessa) and Qudsia Begum (Saba Faisal) are feeling remorse as they come to terms with their mistakes and the fact that their selfishness is what has led them to this point in their lives. When Qudsia promises to make amends for her mistakes, Zoya urges her to let her handle her own issues.
While the story has been moving at a slow pace, the actors continue to excel in each of their roles. As Basit, Feroze Khan seems remarkably committed to his role and genuinely portrays a man who is broken, worn out, and longing for his wife. Despite the fact that Ushna Shah's Ayesha is very stupid, she nonetheless does an excellent job portraying the role. One could actually feel how completely crushed Dania Enwer is in her sobbing scene, which was very heartbreaking. We love the fact that Zoya is now rational and accepting responsibility for her mistakes rather than placing the blame elsewhere.
We're hoping the next episode has something worthwhile to give and the producers opt against dragging the plot out any further.
What do you think will happen next?