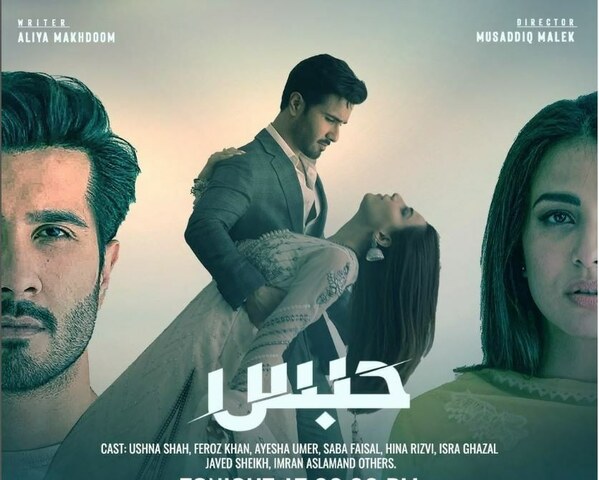 Right before her wedding, Zoya sneaks away with Amir while carrying the valuable jewels and clothes that came from...

Right before her wedding, Zoya sneaks away with Amir while carrying the valuable jewels and clothes that came from the family of the guy she didn't want to wed. While attempting to address Zoya's running away from home, Ayesha lies to Basit, which worsens the situation between them.
Habs, which is directed by Mussadiq Malik and written by Aliya Makhdoom, airs on Ary Digital every Tuesday. The two main protagonists in this tale of dysfunctional families are Ayesha (Ushna Shah) and Basit (Feroze Khan), each of whom is dealing with their own issues. In a household with five women and no male breadwinner, Ayesha's mother has turned into a selfish and opportunist mother.
Nevertheless, despite coming from a poor family, Ayesha is a smart and self-made young woman. On the other hand, Basit comes from a wealthy but troubled home where his mother left him when he was a little child and married someone else. Basit is required to get married under his father's will in order to inherit all of the money and business his father left behind. Ayesha finds a job at Basit's office and given their challenging circumstances they both decide to get married.
In the middle of the night, Zoya (Jannice Tessa) flees her house and later gets married to Amir in secret. Qudsia (Saba Faisal) is inconsolable, wondering how her daughter could have tricked her in this way. She is also terrified about Zoya stealing all of the jewelry and clothing that had been given to her as gifts from her future in-laws. Feeling helpless, Qudsia Begum (Saba Faisal) requests Ayesha to come and find a solution. Qudsia Begum forbids Bano (Dania Anwer) and Ayesha from reporting to the police since doing so will only lead to more humiliation.
Basit discovers through their servant Kareem that Ayesha was not at home, but she chooses to lie to him rather than revealing that she went to her mother's house. Basit is beginning to develop suspicions towards Ayesha. Instead, Ayesha confides in Fahad (Mussadiq Malik) and tells him of Zoya's eloping. Because Basit already doesn't trust women, she pleads Fahad not to let him because doing so will only make him despise her and her family.
When Basit arrives home and notices Fahad with Ayesha, he appears uneasy. Qudsia Begum is confronted by Bobby Phuppo (Hina Rizvi) about what she did to her by delaying her marriage 15 years earlier. Bobby Phuppo claims that this would not have happened if she had let her daughter to wed the man of her choosing. She offers Qudsia the much-needed reality check and explains to her that everything that is taking place right now is due to Qudsia's selfish intentions.
Ayesha leaves the room to speak with Fahad in private. Ayesha is informed by Fahad that Zoya is safe and happy. Ayesha lies when Basit asks who was on the phone, claiming it was Bano and that she was informing her about her mother's illness. When Ayesha is asked to allow Basit to phone her or see her, she tremblingly replies that it is already too late.
When Basit asks Bano at work about her mother's illness, the latter is confused and quickly replies, "Yes, they were quite scared the whole night, but she's doing better today." Her rushed reply, however, just raised Basit's suspicions. Amir takes Zoya to meet his parents. However Amir's mother refuses to accept Zoya as her daughter-in-law because she still feels humiliated by what happened while they were at Zoya's house. Nevertheless, she agrees to keep them at home on Amir's request, but not before she brings the two to Qudsia Begum and informs them that they shouldn't have made such sweeping claims if their daughter was so keen to marry Amir. The meeting doesn't go well, and when Zoya asks for forgiveness, Qudsia Begum slaps and disowns her.
Basit asks Fahad what is troubling Ayesha because she was speaking to him the other day, but Fahad seems hesitant to answer. Basit becomes more concerned and suspicious when he suspects Fahad lying about something too.
The entire episode was a stereotypical depiction of how men with trust issues begin to doubt their spouses before their shak (mistrust) often takes a bad turn. Although Basit has doubts, we must commend him for not lowering himself too much and for handling the situation up to this point in a very collected and respectful manner. It was upsetting to see Ushna Shah's character Ayesha make such bad choices, despite the fact that she does a fantastic job with her acting. The story of this week's episode felt a little underdeveloped as it veered off into the same old drama themes with women acting out recklessly to save their or their family's image and marriage. It was very difficult to comprehend why Ayesha maintained lying to Basit when she knew he had serious trust issues, despite the fact that she had been portrayed from the beginning as a very wise young woman.
In this week's episode, Hina Rizvi's portrayal of the sane Bobby Phuppo, however, stole the show. Her dialogues and their delivery were excellent, and she gave her scenes a plethora of emotional depth. We're expecting that the Shakki Husband situation won't take up too much time in forthcoming episodes and that it will be wrapped up in the next episode or two.