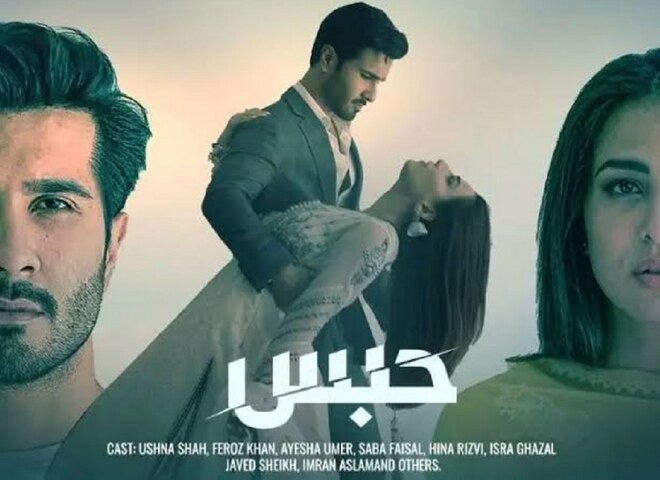 One of the most cherished TV dramas has just reached its stunning finale and the ending is exactly what we all...

One of the most cherished TV dramas has just reached its stunning finale and the ending is exactly what we all wanted. Along with a great story and sizzling on-screen chemistry between our favorite couple, Ayesha and Basit, Habs also delivered some important messages through its supporting cast.
Habs was directed by Mussadiq Malek, and Aliya Makhdoom wrote the story. The narrative focused on Basit (Feroze Khan) and Ayesha (Ushna Shah), two people whose paths intersected owing to bad circumstances, and although neither of them believed in love, eventually experienced the emotion. The two never had it easy and their relationship turned into a labyrinth of issues. Ayesha had to give up her studies in order to help her family because she hailed from a middle-class family that was struggling and had no men to care for them. Her ungrateful mother Qudsia (Saba Faisal) pushed her to work and later convinced her to get married to Basit in exchange for a sizable sum of money. But after his mother passed away, he saw how foolish it had been of him to blame her alone for all the bad things that had happened to him in the past. With Ayesha's assistance and encouragement, he was finally starting to learn how to love. After the two learned they were expecting their first child, things took a turn for the worst when Soha returned and revealed to Ayesha the details of the financial arrangement made between Basit and her mother. Ayesha simply couldn't fathom the fact that the two people she cared about the most shattered her self-respect and ego. Ayesha wanted a divorce even though Soha admitted and apologized about wanting to end their union because she had feelings for Basit.
!https://www.instagram.com/p/CmcMcI4KxSD/?hl=en An emotional recap of how Ayesha and Basit met and everything they went through began the episode. https://www.instagram.com/p/CmcixJAIqVE/?hl=en Both Ayesha and Basit are seen reflecting on their happy memories of one another. Due to the future of her child, Ayesha is now seen reconsidering her choice. She is reassured by Bano and Qudsia that they will support her completely no matter what she decides. Bano (Dania Enwer) is really content with her life and is thankful for everything that has occurred to her since without it, she would not be in the position she is in today. Talal phones her and proposes her again, telling her that he needs her to help him put his life back together after it has broken apart. Bano makes the demand that he move in with her if he wants to marry her, a demand that he definitely rejected. She responds that it shouldn't be this simple for men and such a challenge for a woman to leave her family behind when Bobby Phuppo (Hina Rizvi) asks her why she did that.
Zoya (Jannice Tessa) meets Amir, she apologises to him. She is assured by Amir that he won't ever leave her but that they both must first improve themselves before they can rekindle their relationship. Zoya resolves to transform her personality and complete her education. Seeing Zoya change for good, it made Ayesha understands that it's okay to forgive and move on to preserve her relationship.
Basit requests Ayesha that he wants to see her one final time as he plans to leave the country. When Ayesha arrives to meet Basit, he hands her the keys and paperwork for his house, telling her that Ayesha now owns them and that this is where he wants his child to live with Ayesha. Ayesha, however, explains to him how she has desired to have that sense of stability her entire life in the shape of a father, brother, or husband and how she cannot rob her child of that. Together, they will raise their child, and she urged Basit to stay.
In a scene that fast-forwards three years later, Sadia Basit (the daughter of Ayesha and Basit) shares her happy story of a loving and well-knit family at Bobby Phuppo's wedding.
We thoroughly enjoyed the happy ending and were relieved to see Ayesha and Basit put their differences and egos behind them. We admired the fact that the director and writer spared them a depressing and unhappy ending. It was amazing how towards the end, everyone had a sort of new and better beginning. We shall miss everyone since all the characters were fantastic and the actors did an excellent job in each of their roles, especially Ushna Shah and Feroze Khan. We can't stop praising the supporting cast for their flawless execution of their endings. We are really proud of Bano for being one of the most strong and realistic female characters in recent dramas. So happy that Bano did not end up with Talal just because she fell in love with him and that she was not offered a quickie just to make the story conclude. We also like Bobby Phuppo's equally compelling character, who, despite speaking only sparingly, added significantly to the drama's overall impact.
No matter the circumstances, everyone deserves a second or third chance, as Zoya and Amir so perfectly conveyed.
Ushna Shah also thanked everyone who contributed to Habs and helped make it a big success in an emotional post on her Instagram. The note demonstrates the actress' ardent devotion to her craft as well as her respect for her coworkers and team.
Did you like the ending? Who are you going to miss the most? Let us know in the comments section.