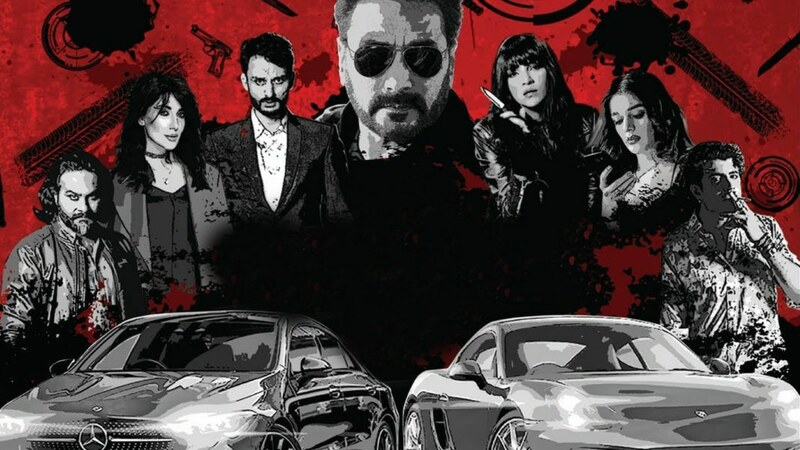 Pakistan cinema is growing and the release of the new-age thriller Carma is proof of that. Renowned music producer...

Pakistan cinema is growing and the release of the new-age thriller Carma is proof of that. Renowned music producer Kashan Admani's directorial venture Carma was released all over the country last Friday and impressed all those who are either familiar with Hollywood director Quentin Tarantino or are fans of films that feature a car chase.
There are many reasons why the film shouldn't be missed in the cinema, and we are listing five of them for your convenience. Go ahead and read quickly, so that you end up amongst those who have a Carmatic experience!
Osama Tahir makes his presence felt in a tailormade role!
Carma might be Osama Tahir's second film after Chalay Thay Saath but here he plays the main role, of a businessman who is kidnapped for a family heirloom he doesn't know about. From the very first frame, he is there as the victim but once the story moves forward the viewers will understand that there is more to Osama's character than meets the eye. How he changes gear while being abducted, and how he uses his father's driving lesson to escape from an impossible situation is what makes Carma his film. He leads the star cast featuring Zhalay Sarhadi, Navin Waqar, Paras Masroor, Vajdaan Shah, Umer Aalam, and guest stars Adnan Siddiqui, Khaled Anam, and Arjumand Rahim, and excels in every frame he is present in, that's practically 80% of the movie.
Nobody would have been able to do it better than Zhalay Sarhadi!
We all know that Zhalay Sarhadi is a wonderful actress who has done various kinds of roles in films and on TV. However, the character of Sasha that she plays in Carma puts her in a league of her own, because a) it hasn't been tried in a Pakistani film before and b) she makes the 'gangsta' character her own with her brilliant performance. She might seem like the girl next door but she is the leader of a gang that surprises rich people in such a way that they have to trade something close to their hearts for freedom. Her gang features psychos who should be in an asylum, but she leads them into battle because she is more unstable than any of her men. Her dressing, dialogue delivery, and backstory will appeal to the audience, and had the character been played by someone else, she might have tried but faltered, because this is stuff that needs the talent of Zhalay Sarhadi.
Kashan Admani knows his limitations and plays around them
Usually, in Pakistan, filmmakers who venture into direction want to make a safe film so that they can take back some money that can be utilized in a passion project. However, renowned music composer Kashan Admani doesn't waste his talents on something that isn't close to his heart, and debuts with his passion project. Due to his experience in the music as well as the advertising industry, Kashan was able to convert his shortcomings into his strength, and come up with a film that would have cost double had someone else made it. From choosing the appropriate actors for the characters to shooting the film like his guru Quentin Tarantino, Kashan did everything right, and the result is a fast-paced film that needs to be seen, and appreciated.
Debut writer and co-producer Fawad Hai must be commended for a job well done
The film revolves around a kidnapping, and who else would have been better to write about it than Fawad Hai who went through the experience twice! Carma might be his first film as a writer/co-producer but he was able to come up with a script that was different, attention-grabbing, and perfect for the adventure-deprived audience of Pakistan. He created characters that fitted the situation and will be remembered for their execution rather than the actors who played them. With the experience of writing a film under his belt, Fawad Hai can now move to other projects, because we need writers like him around if we want the film scene to evolve in a better way.
Carma opens the door for those who want to follow their dreams!
When was the last time you saw a Car Chase in a Pakistani film, and that doesn't include a film where a car was driven at a fast pace? Never! Carma changes that for the better since it features a Hollywood-esque Car Chase where the police chase a suspect who dodges them because of his experience behind the wheel. Whatever the result of the Car Chase, the attempt was worth every penny and shows that if Carma folks can do it, anyone with an imaginative mind can pull it off. Yes, the non-linear narration and chapter-based direction might not appeal to some, but for those who have grown up watching Spaghetti Westerns, and Quentin Tarantino's movies, Carma will prove to be the next big thing, for sure! With no Pakistani film in sight except Shaan Shahid's Zarrar, Carma is likely to enjoy a decent run at the box office, and if it manages to do well, it will open doors for those who have the vision but lack the funds to breathe life into that vision.