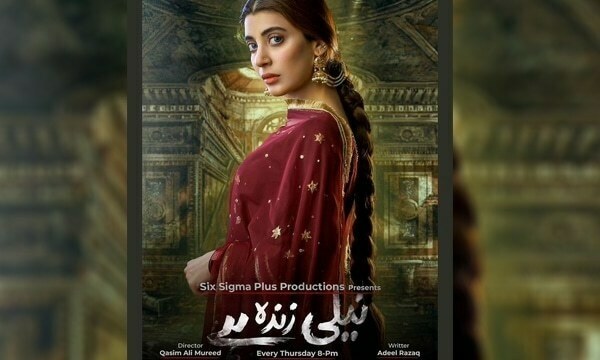 Our nine-month journey with ARY Digital's Neeli Zinda Hai finally comes to an end.

Our nine-month journey with ARY Digital's Neeli Zinda Hai finally comes to an end, that too with a cliffhanger we will never be able to pursue.
Since the beginning, Neeli and her story intrigued us- so much so we thought it would never be possible for her soul to ever be at peace. She formed a deep attachment with Minaal and the conclusion to the tale proved that the ghost's bond with the child grew to be an everlasting one.
Let's do a quick review of Neeli Zinda Hai's last episode and why we think this drama deserves a sequel.
Neeli continues to live
The last episode had fewer developments but ended leaving us in suspense. It began with Neeli's eventual exorcism from the hands of her husband, Pervaiz (Osama Tahir), Amaan (Mohib Mirza), and Alam Sahab. The scene when Neeli and Pervaiz's eyes meet during the exorcism gave us goosebumps. We saw hurt and disbelief reflected in Neeli's gaze while grief was etched across her husband's face.
Their love story became immortal with Neeli's farewell right in front of her soulmate. He received a lost opportunity to put his companion to rest and mourn her death like he never did before.
The remaining residents of the home spent the night in the garden. Alam Sahab forbade them to enter the premises of the house. Eventually, they had no option but to leave the haunted home. However, Alam Sahab, who had been a true savior for them in these daunting times, offered them a roof and proposed the family to become his tenants.
But it seemed like Neeli never disappeared from the lives. During the shifting, Neeli makes a comeback and tries to play with Minaal (Baby Tehreem). Sumbul senses the paranormal encounter and begs the ghost to feel her pain as a mother. In her emotional speech, she convinces Neeli to spare Minal's life, let her grow amongst mortals, and live with her real mother.
The blue-eyed witch ultimately realized her defeat and let the family leave in peace, her haunted abode forever. But a twist awaited us right in the end. After Minaal puts her tablet to rest after a heart-to-heart with her mother, the device wakes up with Neeli calling out Minaal.
The end left us craving for more and we couldn't help thinking momentarily that the makers need to work on a sequel, solely to tell us what happens with Neeli haunting Minal all over again.
The drama will be missed!
Neeli Zinda Hai had a myriad of stars that came and left us amidst the story. Some of them truly wowed us with their performance. One of them is Jenaan Hussain who aced her sub-plot as Nagina and even held the whole tale on her shoulders in a couple of episodes. Syed Mohammad Ahmed deserves a standing ovation for his impeccable performance as a father who left us inspired with his strength and wisdom. Baby Tehreem was adorable and convincing in her avatar, displaying a moving performance throughout. Shamim Hilaly was a fierce firecracker as the cruel mother-in-law and we enjoyed her brief appearance in the plot.
The real heroes of the drama remained Sonia Mishaal and Urwa Hocane. The starlets were remarkable in their roles as protective mothers and doting wives. Their characters had a striking resemblance. Both loved their husband unconditionally, lived away from them for a period of time, and had intimidating mothers-in-law. The only difference was Sumbul got the chance to enjoy motherhood while Neeli was deprived of it. However, the actresses exhibited their roles with aplomb. This is the first time Urwa essayed an avatar so poignant and that too with aplomb. We saw Sonia growing in her character and performance throughout in Neeli Zinda Hai, establishing herself as a force to be reckoned with.
The drama became an addictive horror saga and we thoroughly relished all the mystery in the story. The soundtrack, the direction, the dialogues, and even the special effects need to be applauded, as all of it combined added to the spookiness of Neeli Zinda Hai.
We are surely going to miss Neeli and her hauntingly blue eyes!