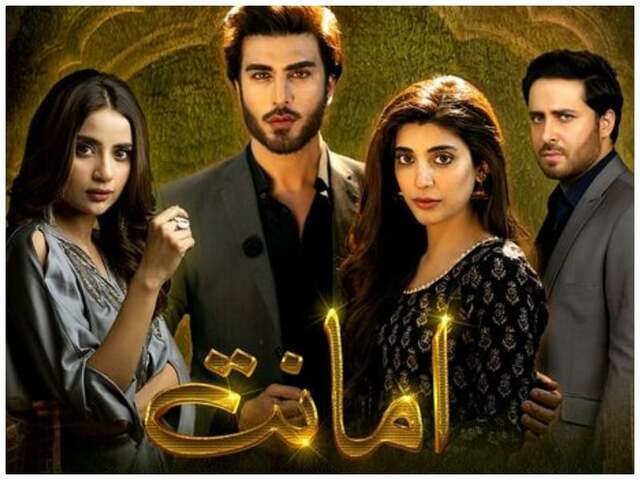 We bet that they will be amongst the most blazing on-screen couples of the year.

With 13 episodes down, Amanat continues to grab eyeballs- courtesy its addictive storyline. Starring Urwa Hocane, Imran Abbas, Saboor Aly and Haroon Shahid in pivotal roles; the drama has raised the entertainment quotient all the more with the fiery progress in its plot this Tuesday.
We are loving Urwa and Imran's sweet chemistry, and we bet that they will be amongst the most blazing on-screen couples of the year. Meanwhile, Saboor Aly's avatar too will be ranked amongst the villains of the season that we love to hate!
Let's do a quick review of what paced in Amanat this week and what are we expecting next from the story.
Trouble in Paradise for Zuni and Junaid
Zuni (Saboor Aly) has levelled up her hate game for both Meher (Urwa Hocane) and Junaid (Haroon Shahid). She is blunt and outspoken, often insulting her husband. Eventually, Junaid who is equally an unscrupulous fellow, is becoming an abusive partner to Zuni.
Our vamp is seizing all this opportunity to get closer to Zarrar (Imran Abbass). Unfortunately, our hero is turning a blind-eye to Zuni's shenanigans, not realizing that she is equally responsible for the bedlam in her marriage life. She calls him at odd hours, disrupting both his personal and professional life, so that he can be her knight in shining armor and rescue her whenever needed.
Unfortunately, Zarrar is naïve and is slowly falling into Zuni's vile traps. However, a major development in his life is his bonding with Meher. We are relieved to see that Meher is now out of her shell, is fighting for her self-respect and is also standing upto Zuni. She is warming up to Zarrar, even summoning up the courage to stop him from interfering in his brother's marriage life. We like the fact that Zarrar has found a companion in Meher, realizes that she is a partner who brings peace in his life, trusts her and cares for her. When Meher comes across Qaiser (Gohar Rasheed) and her aunt (Samia Siddiqui) in a mall, he calms her down and tells her not to fear her uncle, Malik Furqan (Babar Ali).
Meanwhile, Junaid has realized that his plan to avenge his brother by marrying Zuni is a flop. His wife is callous and leaves no stone unturned to remind him that he is a useless, unemployed fool. The episode ends with Junaid getting abusive towards a savafe Zuni and this surely means that Samra's (Srha Asghar) marriage life is about to get jeopardized big time.
Imran and Urwa create magic on-screen
Since day one, Amanat's selling point remains it ability to surprise its viewers. The plot has remained unpredictable since the first episode and till date, the element of uncertainty remains strong in the tale.
Urwa and Imran Abbas are a treat to watch on the screen. Both are capable actors as proven by their career trajectory and together, they crackle even more as on-screen beaus. Their romantic equation is akin to that of Khirad and Ashar of Humsafar. What's more, its great to see Urwa portraying the bold side of her avatar, one who is possessive and ready to quash anyone who aims to damage her self-esteem.
Saboor Aly continues to be her most annoying self as Zuni. She has displayed herself as loud, nasty and vivacious; making us abhor her character from the bottom of our hearts. Undoubtedly, the actress has aced her role and is displaying the versatility in her acting chops.
The promo of the next episode unveils Zuni cooking up a new evil scheme and we are wondering who is her next target- Meher, Samra or Junaid? Let's wait and watch.