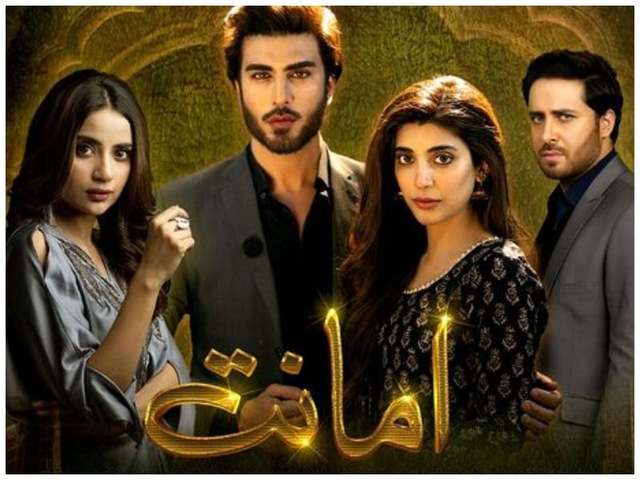 Though the plot paced slowly, the usual unpredictable developments in the plot kept it going strong.

Stepping into week three, Amanat on ARY Digital gets more intense!
Though the plot paced slowly, the usual unpredictable developments in the plot kept it going strong. Starring Urwa Hocane, Saboor Aly, Imran Abbas, Haroon Shahid, Gohar Rasheed, Srha Asghar, and Babar Ali in pivotal roles; the diverse collection of stars is yet another asset of the story- each giving their own flavor to the tale.
Let's take a quick review of what went down in Amanat last night and what are we expecting next to unfold.
Zuni unveils her possessive side
The episode begins with Zunera (Saboor Aly) getting suspicious about Meher (Urwa Hocane). She immediately decides to attend the Mehndi event at night so she could confront Zarrar (Imran Abbas). However, all of Zarrar's aims to pacify her go down the drain. Zuni is stubborn and she doesn't let go of the fact that her fiancé traveled alone with his friend's wife. Throughout the occasion, she is annoyed and ruins the mood for all those involved.
Meanwhile, it is Samra (Srha Asghar) and Zuni's brother, Raheel's (Salman Saeed) wedding the next day. Preparations are in full swing and Zuni's parents decide that they should also perform the Nikkah ceremony of Zuni and Zarrar in the evening before the wedding.
However, Zuni gets a call, revealing some fishy details about Zarrar. Next, we know, she loses her cool and commands him to meet her at her home.
Things take a turn when Zarrar too gets a call revealing that Fawad (Asad Siddiqui) has died. He is heartbroken and summons up the courage to tell Meher. Upon hearing the news, our heroine is in denial and obviously in deep shock.
She couldn't handle the fact that her cousin cum husband has passed away and drops the glass of water in astonishment, injuring her leg.
Zarrar rushes to take her to the hospital regardless of his mother's dire warnings. Junaid (Haroon Shahid) takes advantage of the situation as he spots his brother helping Meher in the car. He films their video and sends it to Zuni from an unknown number. What will happen next will surely be chaotic
We also realize that Malik Furqan (Babar Ali) plans to admit his son Qaiser (Gohar Rasheed) to a mental asylum to get him treated. What's more, the promo of the next episode reveals that Malik Furqan will be disrupting Zarrar's wedding in his search for Meher and Zarrar will announce himself as her husband.
Saboor Aly has aced the annoying Zuni avatar
Who would have thought someone like Saboor with cute, dreamy eyes and a mega-watt smile will become the face of an annoying character- someone we now surely hate to watch! Zuni is cringe-worthy and irritating to the core. Her shallowness is extremely frustrating and we are sure that this is just the start of her petty nature.
We want to see more of Gohar Rasheed as Qaiser. He has little screen time so far and we are eager to see more of his character, for he is doing justice to even the smallest screen appearances. What is coming up next in his life? Will he get better and marry Meher? We are really intrigued to find out.
So far Amanat has been doing a remarkable job of having us hooked and making us its loyal viewers. We sincerely hope that the trend continues.