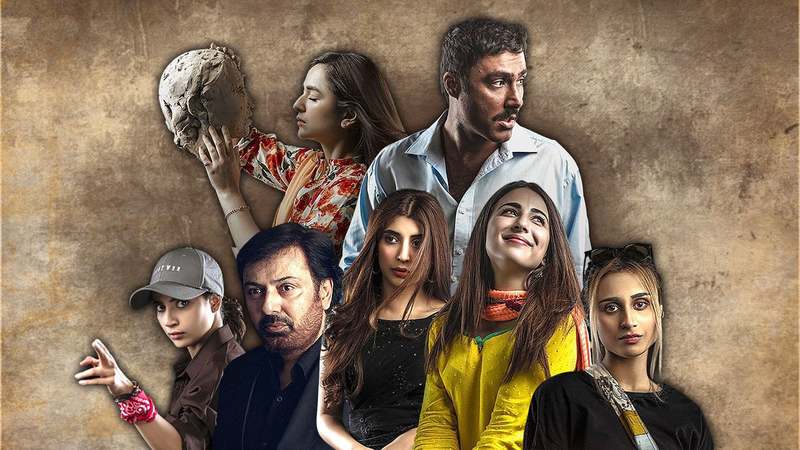 Hashim Nadeem's masterpiece Parizaad has viewers hooked with a story that is nothing short of poetry in motion!

HUM TV's Parizaad has recently begun, this unconventional story with a riveting narrative has engaged its viewers from the get-go. Four episodes in, Parizaad has experienced his first heart-break and realised how selfish the world truly is, his perceptions towards life have changed after discovering how every book should not be judged by its cover, case in point - the pious looking Majid and Naheed who didn't waste a second in putting Parizaad's reputation on the line to save themselves.
This one of a kind drama has us mesmerised with a heart-rendering saga, amazing star cast and out-of the box storyline that is eons away from the saas-bahu tales and love triangles between cousins that we are normally accustomed to. We can't help but wonder if this is why Parizaad is not getting the same applaud and praise that its counterparts have received? For anyone who has not yet watched Parizaad, let's take a look at 5 Reasons why we absolutely think you should be adding this play to your must-watch list!
Ahmed Ali Akbar - Enough Said
Parizaad is played by Ahmed Ali Akbar, the 'Laal Kabootar' actor essays a shy-guy, nerdy and sensitive guy who lacks confidence due to the things society have made him believe since he was a child. Born with a darker skin color than the rest and further named Parizaad, he was teased all through his childhood because of his name, his sensitivity was made fun of and taken as a sign of weakness at multiple instances. His bond with his elder sister shows how compassionate he is towards her and her wedding scene where Ahmed stood there crying has our whole heart!
Ahmed Ali Akbar's transformation for his role as Parizaad is in itself worthy of applaud. With expressions that tell the entire story to his slouched back, tilted shoulder walk, his body language speaks volumes. Ahmed's role as Parizaad grabs eyeballs, kudos to him to have pulled it off with such grace and humility.
Parizaad shines from the clutter of mundane storylines!
In the race for reaping the highest TRP's every drama has been opting to showcase similar storylines, from saas-bahu sagas to love triangles and sisters fighting over the same man. However, Parizaad is an out-of-the box story with the hero being played by someone who doesn't fit into the beauty standards set by the society, but then it still has you hooked to its magical world with every scene leaving you with deep thoughts much after it's over.
Unlike other plays, we are going to be seeing a number of heroines being paired with Parizaad, the latest episode introduced Saboor Aly's Bubbly Badmaash, the tomboy-ish gangster who thinks of herself as a man and is determined to be her mother's son. It does seem like Parizaad is over the heart-break that Naheed caused now that Bubbly is in the picture.
Creating Awareness on Social Issues
The 3rd episode saw a very heart-broken Parizaad about to commit suicide, he was saved by the poet Nasaaz (Adeel Ahmed) the conversation which then followed between him and Parizaad was ground-breaking and created awareness on suicide and encouraged people to reach out for help.
The show also highlights the importance of educating women, how Parizaad hoped his sister would be allowed to complete her studies but she was married off. The latest episode shows Nasaaz saying women who are strong and bold are often deemed 'characterless' by the society when he spoke about Bubbly gave us an insight about the harsh realities of the world we live in. It is definitely great to see such content on television that too in a conversation between two men.
A bromance like never before!
The last time we saw such an amazing bonding between friends was in Ehd e Wafa, in which Ahmed Ali Akbar played a completely different character to Parizaad. We're loving the budding bromance between Adeel Ahmed's Nasaaz and Ahmed Ali's Parizaad. Nasaaz is slowly but surely changing Parizaad's perception towards life through pep talks, reciting poetry and teaching him life lessons along the way. He is just the friend that Parizaad needs in his corner, someone who sees the pure-hearted soul inside and builds up his confidence too! We're loving the on-screen rapport of these two talented power-houses and can't wait to see how the story unfolds for them further on.
The OST is an absolute treat!
Featuring an amazing ensemble of the finest actors, Parizaad's melodious OST has us falling in love with it every time we hear it play on screen. The way it has been used in between the scenes is phenomenally done. The maestro, Syed Asrar Shah has lent his voice for the vocals, and acclaimed artist Waqar Ali is behind the composition the music while Hashim Nadeem has penned down the lyrics himself.