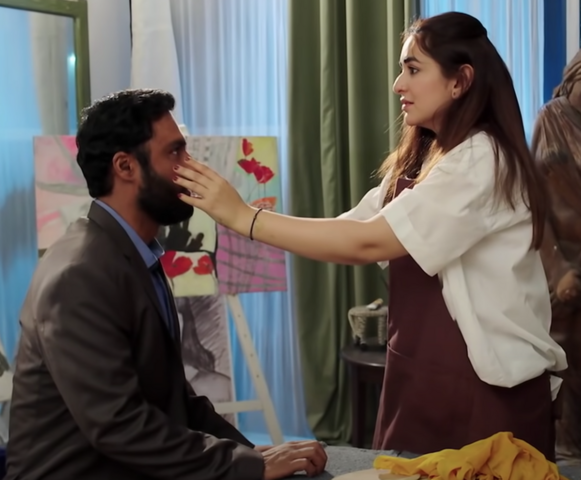 Heart-break, new beginnings and re-unions follow Parizaad on his journey

Hum TV's drama Parizaad is based on the novel by Hashim Nadeem and has been brilliantly brought to life by ace director, Shehzad Kashmiri. Parizaad is one drama that has been the game changer for Pakistan's television industry. Breaking throught the clutter, away from the same old love triangles and 'saas-bahu' sagas and vastly different from the rest of the competition, Parizaad has captured the hearts of the audiences with ease. From a 'hat-ke' leading man - an unconventional hero that doesn't look like the hero neither does he meet the acceptable 'beauty' standards set by the society is now ruling the viewer's minds! His quest for success is what makes the drama worth your time. The poetic flair in Parizaad gives it a special touch and one cannot help but fall in love with it.
The drama has seen a number of great actors including the remarkable cameo by veteran actor Noman Ijaz that made quite the impact, apart from him every character introduced has been up to the mark. From Ushna Shah's Naheed, Guru (Asad Malik), to Bubbly (Saboor Aly) to Laila (Urwa Hocane) and the others, every character has been a perfect addition the story.
Lets take a look at what took place in this week's episode of Parizaad:
Re-Unions and Heart-break in the cards for Parizaad!
The last few episodes have brought back characters from Parizaad's past, his first love Naheed played exceptionally well by Ushna Shah has had the most impact in Parizaad's life. Naheed was the one he truly fell in love with and still holds a special place in his heart. After she used him as a scape-goat in order to marry her lover Majid, Parizaad being the selfless person that he was had forgiven her. However, Naheed seemed to have changed her mind after all these years, she came to Parizaad asking him to be her friend as she was lonely in her marriage. His refusal shone light on Naheed's true intentions, he asked her if she would have come to this decision if he was the same old Parizaad - a penniless pauper? It looked like the world around Naheed had collapsed, the embarrassment she felt could be seen while the heart-break it caused Parizaad was devastating. As he washed away his sorrows while playing away at his piano, he broke down.
As Parizaad's theme follows, one event follows another, as Naheed leaves his life forever this time, an old poet- friend of his, Nasaaz re-enters his life after what seems like a decade. This long-lost re-union is just what Parizaad needs at the time and the scene where the two come face to face with each other was most definitely one of the highlights of the episode. Parizaad seems to be making improvements in everyone's lives and has promised Nasaaz work in Lubna's movie.
Yumna Zaidi's 'Annie' Has Stolen the Spotlight from Ahmed Ali Akbar
Everyone watching the play would agree that Ahmed Ali Akbar's presence on screen meant that he would have all your attention. However, Yumna Zaidi's entry in Parizaad as the RJ Annie is a refreshing addition to the show and for the first time we're looking at someone other that Parizaad himself. She makes sculptures only with the help of her hands as she has lost her sight, this is fascinating to Parizaad and after much convincing by Annie he agrees to have his sculpture made by her. She finishes it in two days and eagerly awaits for him to come and see it in person. Parizaad finally arrives at night and is utterly shocked at what Annie has created. According to her this is what Parizaad looks like in her mind, this is conflicting for Parizaad as he has always thought of himself as a dark-skinned nobody. Yumna Zaidi's bubbly and chirpy persona has won us over. Her scenes with Ahmed Ali Akbar are an absolute treat to watch and the duo share an amazing on-screen rapport too.
What's Next for Parizaad?
A sneak peek into the next episode shows Parizaad in trouble, it looks like his enemies have finally got a hold of him. Is the drama going to end with Parizaad losing his life or will we see him have a happy ending with RJ Annie? We'll have to keep watching to find out!