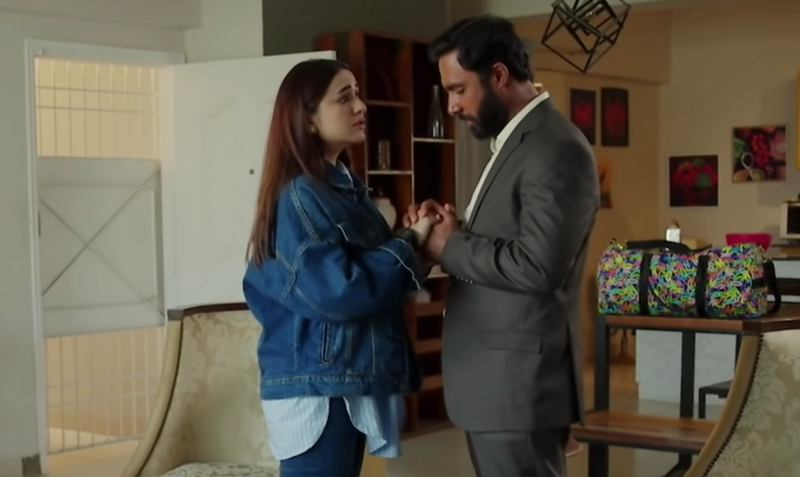 HUM TV's drama serial Parizaad has been the talk of the town, the story of an unconventional hero, a person who is...

HUM TV's drama serial Parizaad has been the talk of the town, the story of an unconventional hero, a person who is selfless beyond measure - Parizaad has taken the viewers on an emotional rollercoaster ride that one does not wish to end. From a powerful star cast with its leading man Ahmed Ali Akbar to the new characters that bring an equally interesting development in the story, every performer has done exceptionally well.
The story is coming to a close and is speeding towards its climax, after tying up all of his loose ends our hero is now doubting himself and coming to terms with how the power he has achieved is changing his core values.
Here's what the latest episode was all about:
Parizaad saves himself from committing the gravest sin!
A very conflicted Parizaad whose judgement had been clouded by immense jealousy for Annie's cousin caused him to take the irrational decision of commanding his bodyguard Akbar to kill him. He believed Sharjeel was the only one who could come between him and Annie since Sharjeel had confided in Parizaad that he was in love with Annie and would soon be proposing after her surgery was a success. This angered Parizaad and he was overcome with viciousness and therefore decided to have him killed. In a turn of events, Parizaad was invited by Annie on her last radio show as her guest and it was there that he realised how much she cared for Parizaad and had the utmost respect for him. Parizaad quickly called off the target killing on Sharjeel and we saw him breakdown once again. Towards the end of the episode he is seen speaking to a photograph of Behroze Karim where he apologises to him saying he could not handle his empire in his absence. It seems like Parizaad has now made up his mind to leave all of this behind and instructs one of his managers to build a trust for people who need eye surgery however he does not wish for his name to be highlighted in it as the donor who is funding the trust.
Parizaad's life seems to be coming to a full circle
From Naheed's husband Majid suddenly showing up to Parizaad's office to thank him for all of his help and then apologising for his behaviour to Parizaad finally crossing paths with Seth Noman who bought his poetry many moons ago. It seems like all of the people that had been an integral part of Parizaad's life have once again re-entered his life one way or the other.
Now that Annie's last meeting with Parizaad has hinted that she may be in love with Parizaad, this may give our unconventional hero his true love that he has been searching for all his life. Will the finale bring a happily ever after for Parizaad and Annie? Will Parizaad really leave all the money, fame and status behind him? The episode has left us waiting eagerly for the next!