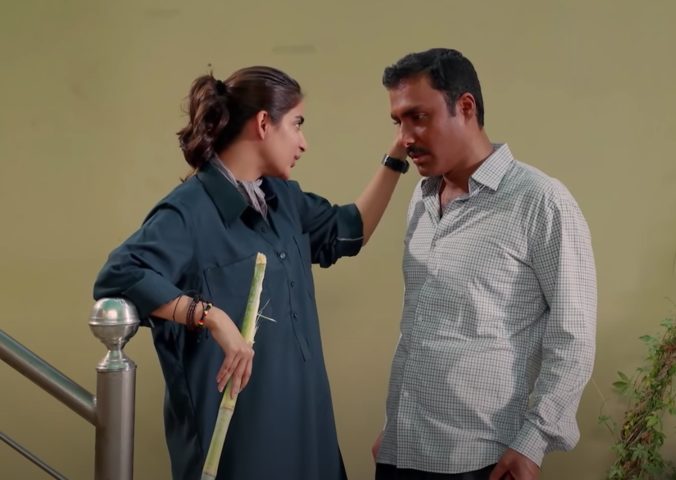 The gripping tale starring Ahmed Ali Akbar as Parizaad is nothing short of a rollercoaster ride of emotions!

Hum TV's latest drama serial Parizaad has been quite the talk of the town recently. With Ahmed Ali Akbar in and as the unconventional hero - Parizaad, this is one play that has grabbed eyeballs since its teasers were released. While it may have received its share of backlash where people believed the makers should have avoided casting a light-skinned actor for the role of a dark-skinned character, the criticism has definitely taken a backseat since the drama began. Ahmed Ali Akbar who we believe is a highly under rated star at the moment has absolutely won the public over with his phenomenal performance in the leading role.
While we were recently introduced to Bubbly (Saboor Aly) in the drama after Naheed's (Ushna Shah) exit, this week's episode had quite the twist in store for the audiences. Bubbly running away was a major shock and we did not see that coming! Kudos to the brilliant team behind Parizaad who have us guessing on what's coming up next. The story has been penned down by Hashim Nadeem of Ishq Zahe Naseeb and Raqs-e-Bismil fame while it is brought to life by the uber-talented Shehzad Kashmiri under the MD productions banner.
The recent episode took us on a rollercoaster ride of emotions, we felt the pain and the helplessness that Parizaad felt and we're just as excited to see how the story progresses further on.
Here are the best 5 scenes that you definitely do not want to miss from the latest episode on air:
Bubbly and Parizaad's lovey dovey meeting
After Bubbly learns of Parizaad's intentions towards her, she stops him midway while he's visiting his friend Nasaaz (Adeel Afzal). What followed was the cutest romance sequence we've ever seen. The shy, sweet and pure hearted Parizaad could not stop blushing while Bubbly teased him like the perfect tom-boy that she was. What stole our attention was Saboor Aly as Bubbly in this scene, it seemed like she was genuinely happy and was relieved that she found a guy who understood her and would let her be herself. The scene definitely had us rooting for their relationship, little did we know Bubbly had us in for quite the surprise!
Bubbly's Great Escape!
After the sweet meeting with Bubbly, Parizaad couldn't stop thinking about her and headed out to meet her just after his exam, what he learnt when he got there left him in shock. Once again Parizaad was left heart-broken by the girl he had fallen in love with, Bubbly had run away just when all the arrangements for their marriage were underway. Parizaad blamed himself for Bubbly running away and believed she wouldn't have taken this step had he not proposed marriage to her. Ahmed Ali's performance was brilliant, he felt guilty and helpless at the same time and it was him who figured out she had left for Karachi.
Nasaaz Sheds Light on the Unjust Society
Bubbly running away was quite the talk-of-the town or perhaps the area they lived in. Everyone maligned her character and spoke ill of her and blamed her parents and their upbringing. While Bubbly's father was not willing to get the police involved as it would malign his name even further, Nasaaz's conversation with Parizaad was what really stole the spotlight. The advocate for women's rights, Nasaaz spoke about the unfair bias that the society holds against girls who run away from home, while it becomes an issue of pride and honour and the entire neighbourhood looking down on the rest of the family, boys on the other hand enjoy a no-care attitude where people let it go saying "he'll be back in a few day". We absolutely loved this scene and the thought provoking message it sent out portraying some of the unjust bitter realities prevalent in our society.
Parizaad and the Piano
The dejected hero, Parizaad returned home after receiving the biggest shock and couldn't help but ponder about the piano he had always wished to buy since childhood. He remembered how Bubbly had made fun of the fact that he wanted to own one but had then promised to buy him one when she had the money. The sadness on his face resonated with what he felt at the moment and one could feel the raw emotions he depicted in that powerful scene. Without uttering a word, Ahmad's expressions said it all.
Parizaad's Heartbreaking Farewell to Nasaaz
The first time Parizaad met Nasaaz was on the train station, what seems to be the last time they met was at the same train station. Nasaaz leaving left Parizaad broken, he did not breakdown when Naheed or Bubbly left him but the pain he had been holding in unfolded right there as the train sped by. Ahmed Ali managed to break our hearts with his act as Parizaad in this particular scene, knowing that he was left with no one to turn to made us feel the helplessness and pain he was going through in that moment.
Perhaps the bond of friendship he had with Nasaaz had made a special place in his heart and after his farewell, Parizaad couldn't help but mourn this major loss that he would have to bear all by himself.
What's Next?
As Bubbly's chapter came to a close, the last scene shows the entry of Lubna (Mashal Khan). She bumps into Parizaad and let's just say, we're definitely waiting to see how the two hit it off in the next episode!