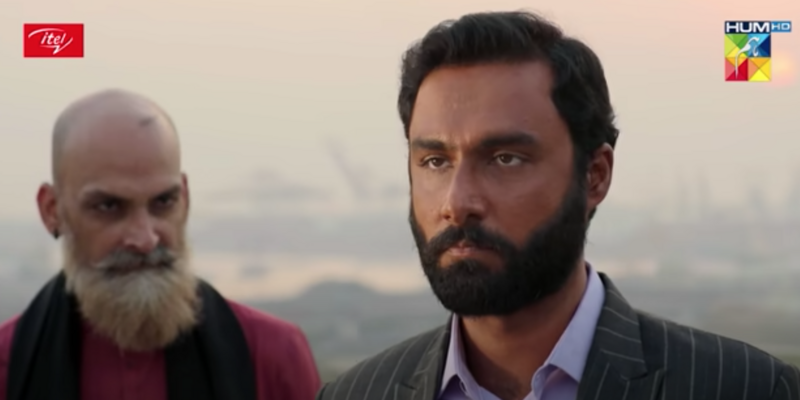 In a ruthless fight between underworld mafia's, Parizaad remains true to his principles.

HUM Tv's Parizaad has floored viewers with its gripping narrative and riveting storyline, the drama has been a success since its first episode. Featuring Ahmed Ali Akbar as the titular, Parizaad and an ensemble cast that inlcudes, Yumna Zaidi, Nauman Ejaz, Asad Malik, Urwa Hocane, Saboor Aly and Mashal Khan amongst others.
Let's discuss what happened in the latest episode of Parizaad:
The Plot
An attack on Parizaads life became the talk of the town and we came across a side of Parizaad that was quite the revelation. Parizaads trusted bodyguard Akbar used himself as a human shield in order to protect his master. Parizaad was quick to understand the grave nature of this occurrence and called his trusted henchmen Guru to handle the matter at once. Upon finding out Seth Shahbaz was behind the target shooting, Parizaad ordered Guru to teach him a lesson as this was war. On the otherhand he made sure to station security outside his friend Annie's house and ensured they did not leave the house.
Guru's men kidnapped Seth Shahbaz's son and sent a bloodied tshirt back to his house in order to scare him. Guru then called him and gave him an address to pick up his child's dead body and he rushed there only to find Parizaad there, the meeting between the two was intense and Parizaad made him realise there was nothing above family, he then surprised Shahbaz by giving him his son unharmed. Parizaad proved once again he was the bigger man, one that did not stoop as low as others. It was good to see Parizaad not go down the same path as Behroze Karim and stick to his principles of getting things done without bloodshed.
On the other hand, Annie was given hope by her doctor cousin that an operation in a renown Newyork hospital would help bring her eyesight back. Instead of rejoicing, she refused to go as she didn't want to borrow money from anybody for her surgery. Parizaad stepped in once again and worked out a business deal between them so Annie could get the surgery done.
Parizaad's first love Naheed's life has improved by leaps and bounds after a mysterious job offer had transpired for her husband. She knew Parizaad was behind all of it and asked her sister to thank him on her behalf.
Is Annie's surgery going to be a success?
Yumna Zaidi plays the bubbly , happy-go-lucky Annie who has lost her sight at a tender age. Kudos to her on essaying the role of a blind RJ and sculpturist so efficiently, always chosing the most challenging roles, Yumna Zaidi has proven her mettle once again with her flawless performance in Parizaad. The latest news about her surgery is definitely a game changer for the show, we are yet to see what happens after she regains her eyesight. Will she feel the same way about Parizaad as she does at the moment?
What's next for Parizaad?
The selfless giver played tremendously well by Ahmed Ali Akbar has been tying up his ends from the past, helping out people from his old life and bringing an improvement in their lives. He remains a lonely person without anyone to call his own. Will he find peace, comfort and love with Annie or will we see one more character's story coming to an end? We'll have to watch Parizaad to find out.