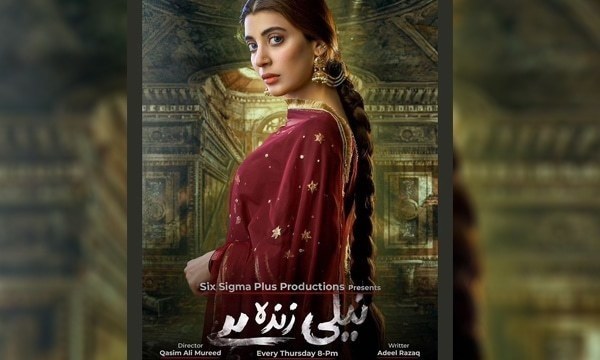 The story is getting fiercer, interesting and the cast is giving power-packed performances.

It has been long since we reviewed Neeli Zinda Hai, but that doesn't mean we have stopped watching it! However, we really feel that this drama is one underrated story and deserves a lot more limelight than it is getting!
The story is getting fiercer, interesting and the cast is giving power-packed performances. Yesterday, the plot took an interesting turn- one we were desperately waiting for!
Let's review what happened in Neeli Zinda Hai last night and how its horror tale is raising the bar with every passing episode.
Amaan Finally Meets Neeli
We have been observing how much strong Neeli (Urwa Hocane) has gotten over time. But now her strength is getting the better of her. She is gradually losing control, easily revealing herself to the members of the household. Now that Sumbul (Sonia Mishal) has been admitted to a psychiatric ward, a bedlam has erupted in the household. Neeli has her out of her way but there are other members of the house she has to deal with. She turns herself into Nagina (Jenaan Hussain) to terrify Amaan's mother (Kinza Malik) and later makes her presence felt to Amaan's father (Mohammad Ahmed). So much so, she kills Nagina and then masks herself as Aaliya (Aaliya Ali) to create more turmoil for all involved.
The only smart person in the whole house is Amaan's dad who is sure that a supernatural force has taken the whole home in its grip. He tries to warn his son, who yet again is in deep denial. However, a much-needed twist happens in the story that leads to Amaan finally realizing that his wife was not loosing her mind and was right all along.
![ (]https://www.instagram.com/p/CUdDpivFh3g/)
Apparently, Neeli who has always been so possessive about Minaal (Baby Tehreem), is turning even more controlling. However, the young child now realizes that the blue-eyed friend she loved so much has made her part ways with her mother. She wants to run away from her, avoids her, and misses her mom. Neeli is annoyed by this and is trying to possess her to make her do her bidding.
In one such attempt, Neeli tries to summon Minaal while she is sleeping and eventually, this leads to Amaan's encounter with the evil spirit. He tries to save his daughter as Neeli uses her power to pull the kid towards herself.
Our hero is in deep shock! He realizes how wrong he was and takes his father's help to solve this matter for good. His father takes him to an intellectual and learned friend, Aalam Sahab. He explains to Amaan that he needs to bring Sumbul back, as he needs a companion and his daughter needs his mom to battle the paranormality in the house.
But Neeli makes sure that Amaan and Sumbul don't unite. She turns into Sumbul, locks the real Sumbul in the hospital's storage, and goes with Amaan to a hotel, just so that she can be with Minaal. Amaan is still unaware that it's the evil witch who has been accompanying him. He apologizes to her, not realizing that it's not Sumbul. However, it's too late by then. Neeli has taken full control of Minaal's body in an attempt to be with her forever.
Meanwhile, Aalam Sahab kickstarts his work in the house. He investigates the level of supernatural presence in the home and prays to God for it to leave the earth.
The promo of the next episode reveals that Sumbul will break away from the storage room and runs to the house, only to find Amaan's mother locking her again out of hatred. But what will happen when Amaan discovers the two Sumbuls in the house. Who will he believe? Let's wait and watch.
Neeli Zinda Hai is a horror drama with a class.
The plot is enticing, has a high level of suspense and uncertainty that keeps us engaged and returning for more. This week, the entry of Aslam Sahab has transformed the entertainment quotient of the drama. He is one character that this story desperately needed. He will now save the home and get to the bottom of the matter. We wonder if this new addition to the story will be able to battle with Neeli. So far no one has been successful.
What's more, we want to laud the whole cast who has been effective in their respective roles. From Aaliya to Sonia, Mohib to Jenaan, Urwa to Mohammed Ahmed; all the performances are top-notch. We are curious to know what the writer Adeel Razzaq has planned for all involved. Fingers crossed for next week's developments. We hope that Amaan, yet again, doesn't turn into a fool and figures out Neeli's latest shenanigans.