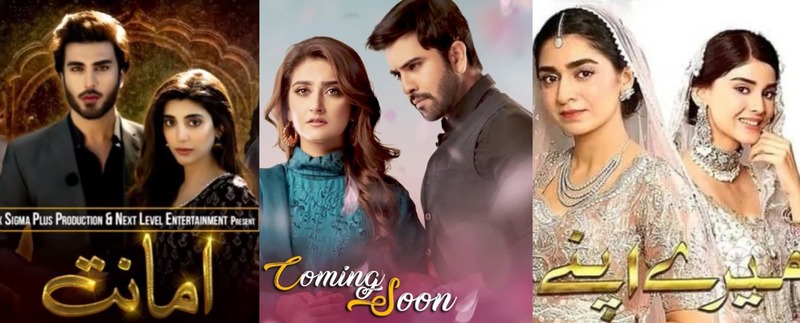 As the month of September begins, we are waiting anxiously for some of the most happening upcoming dramas to start...

As the month of September begins, we are waiting anxiously for some of the most happening upcoming dramas to start off on ARY Digital. With some of our favourites like Pardes and Pehli Si Muhabbat ending soon, we're looking forward to replace our tv times with the new shows starting. Some of our favourite stars will be seen paired alongside fresh new faces that definitely has us excited! From classical romances to intense storylines these 3 dramas look promising; Amanat, Berukhi and Mere Apne have been making quite the buzz and their intriguing teasers have been making waves all across social media.
Let's take a look at what these upcoming dramas are all about!
Amanat
The drama boasts of a great cast which includes the dapper Imran Abbas as the hero and he is joined by beauties Saboor Aly and Urwa Hocane. The teasers are giving off a mysterious vibe with dramatic music where we see Urwa Hocane smiling as she gets ready as a bride while Saboor is seen with blood shot teary eyes, taking off her bridal ensemble.
The second teaser sheds some light on what the story may be and we are now introduced to the fourth cast member Haroon Rashid. Saboor Aly is out for vengeance and Haroon is teaming up with her against Imran Abbas and Urwa. Produced by Six Sigma Plus Production, directed by Shahid Shafaat and written by Rukhsana Nigar, Amanat is all set to hit our tv screens this month!
Berukhi
The gorgeous Hiba Qadir and fan favourite Junaid Khan will be paired opposite each other for ARY's Berukhi. The first teaser gives us a fairy tale vibe with Hiba Qadir looking just like a princess right out of a Disney production. Junaid Khan is portraying her knight in shining armour and we can't wait to see the two sizzle on screen together! The gorgeous Nazish Jehangir who is missing from the teasers is playing a pivotal role in the drama and we are yet to see whether she will be playing the antagonist again in Berukhi.
Another love triangle seems to be on the cards with Berukhi, we are yet to see how the drama will unfold. Berukhi is produced under the banner of iDream Entertainment of Pehli Si Muhabbat fame, directed by Mohsin Mirza and penned down by Ghazala Naqvi.
A few BTS shots of Junaid Khan and Nazish have been making the rounds and we're looking forward to see him paired alongside two gorgeous starlets!
Mere Apne
Mere Apne is a family drama which promises a rollercoaster ride of emotions, starring an ensemble cast that includes; Hajra Yamin, Zainab Shabbir, Usama Khan, Zoya Nasir and father son duo Ali Abbas and veteran actor, Waseem Abbas. The drama is based on a 'Watta-Satta' custom where two families are joined together into harmony through their children being married, however this certainly does cause some drama when one house is affected due to problems in the next.
The second teaser narrated by Hajra Yamin is giving us a happy family vibe all over where she shares a great relationship with her inlaws. Ali Abbas and Hajra Yamin will be playing the perfect couple once again after their super-hit pairing in Naqabzan.
Usama Khan and Zainab Shabbir are the second leading pair in Mere Apne, the real life couple turns into reel couple is what has us most excited, we can't wait to see them together on screen! This teaser sheds light on the issues that will be portrayed in the drama. We're sensing the plot will be highly emotional with an intense storyline with some major twists and turns!
Follow HIP for the latest entertainment news and updates.