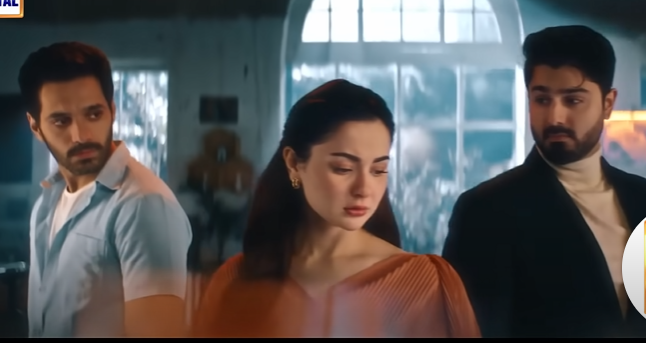 While Maheer sometimes seemed to have affections for Saad, she appeared more drawn to Areeb in this episode as they...

While Maheer sometimes seemed to have affections for Saad, she appeared more drawn to Areeb in this episode as they both make efforts to win Maheer's heart.
The most talked-about new drama in town is "Mujhe Pyar Hua Tha," which airs on ARY Digital every Monday at 8:00 p.m. Hania Amir seems to succeed in this one as well after the huge success of "Mere Humsafar."
Because the drama had been teased with the melodious and heart touching soundtrack by Kaifi Khalil before it even started, fans were even more eagerly waiting for it to begin. Sidra Sehar Imran penned the script for the drama, and it is directed by Badar Mehmood. The story revolves around the complicated love triangle involving Maheer (Haniya Amir), Saad (Wahaj Ali), and Areeb (Zaviyar Noman). Maheer's cousin Saad has loved Maheer since they were young. This is largely because their families have made the decision to marry the two. Saad, on the other hand, has never openly admitted his love for her, and Maheer is unaware of all this. Maheer's mother has higher expectations for Maheer's wedding and wants her daughter to wed into a prosperous family. Areeb, the rich and only son of an affluent family, was introduced to Maheer at the wedding of her cousin, Anabia. When Areeb first met Maheer during Anabia's wedding, he fell in love with her at first sight.
The episode starts with Maheer being taunted by Anabia's friend for letting Areeb get frank with her while not letting anyone else even talk to her. Maheer, who was already uneasy, immediately decides to leave after calling Saad to pick her up. Areeb attempted to stop her by holding her hand (aren't you a little quick with your moves, Mr. Areeb?) Areeb urges her to stay, but she leaves.
On their drive home, Maheer appears upset, and when Saad asks why she asks him why he didn't stop her from staying there, she responds that he has every right to do so. Naturally, this causes Saad to become extremely happy and us to become a little confused because does this mean she also has feelings for Saad?
Areeb appears to be crazy in love with Maheer at the moment and can't stop thinking about her. He gets her phone number from Maheer's cousin and his friend, and he contacts her to express his regret for what happened at Anabia's home. It appears that Maheer did not mind Areeb phoning her because she speaks to him politely.
They met Areeb by chance as they were returning from the mall, and he immediately offered to drive them home. Maheer initially hesitated a while before agreeing to go with him. When Saad asked who they had travelled home with after seeing Maheer and her friend getting out of someone's car, she lied to him and tells him it was her friend's.
Later, at the wedding, Areeb and Maheer met. Saad could sense there was something between them because they both appeared to be pretty taken with one another. Maheer loses her bracelet and Areeb picks it up as she walks away. Areeb phones her and asks her to meet him for coffee because he needs to return something very precious to her. Saad overhears the two conversing, and when he inquires about who she was talking to, she once again lies.
At home, as the family was discussing the wedding and how lovely the bride looked, the conversation shifted to the topic of Maheer's wedding. Saad's mother reminded Maheer's mother that Maheer is going to be her daughter in law because this has been the plan ever since they were children. Maheer's mother absolutely disagreed, stating that she would prefer for her daughter to marry into a wealthy family and that she was against cousin marriages.
The family is disappointed, but Maheer's father reassures them that they need not worry; instead, they should wait to bring up the subject until Maheer has finished her studies. This assurance has not exactly pleased Saad's mother.
So far, it's been a little unclear from the episodes who Maheer is drawn to and whether or not she is aware of Saad's feelings. However, since they are both so charming and dreamy, we can't really hold Maheer responsible. While Areeb, with his handsome appeal and oh-so-elegant ways to woo hearts, is just heart melting, Saad is all about being loving and sweet. Wahaj Ali is a talented actor who consistently delivers excellent performances in all of his characters, drawing viewers in and making them want to watch him in a variety of roles. However, it would be unjust to exclude Zaviar Noman's performance as Areeb because, so far, he has done a fantastic job of portraying the affluent lad in love. Of course, Hania Amir as Maheer is fantastic as that bright, upbeat young lady who wins hearts not only for her beauty but also for her friendly personality. But we think Hania has been portraying the same roles in recent dramas, and this one felt pretty similar to her role in Ishqiya. Nonetheless, it is a bit too early to form that judgment.
We hope that the upcoming episodes will deepen the plot and reveal more about their respective characters. Which side are you on, Saad or Areeb? Post a comment and let us know.