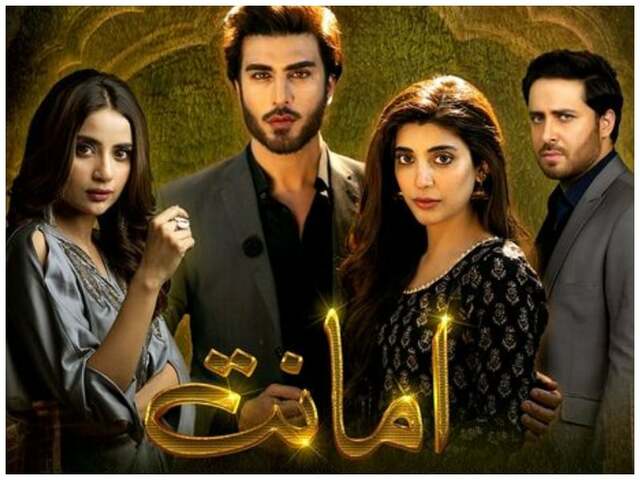 Unpredictability remains the strength of the plot and the fiery performance of its star cast is adding power to the drama.

Amanat Review: A Bitter End to Zarrar and Zuni's Love Story
Over the past couple of weeks, Amanat on ARY Digital has taken a fierce turn.
Unpredictability remains the strength of the plot and the fiery performance of its ensemble star cast is adding power to the drama. Penned by Rukhsana Nigar and directed by Shahid Shafaat; the drama stars Urwa Hocane, Imran Abbas, Saboor Aly, Haroon Shahid, Gohar Rasheed, and Srha Asghar in pivotal roles.
Let's do a quick review of what has paced so far in Amanat and what are we expecting next from the tale...
Zarrar and Zuni part ways
Malik Furqan (Babar Ali) is upto no good. Now that he has hunted down Meher (Urwa Hocane) and even wounded her with a gunshot; he wants her dead and won't be at peace unless he has punished her for betraying him.
He orders his men to shoot her in the head if she has survived and swears to torture her till her last breath, along with all those who helped her escape. He even raises his hand on his wife Saeeda (Saima Qureshi), when she confesses to him of saving Meher with her secret marriage with her cousin Fawad (Asad Siddiqui).
However, the damage is done. Zuni (Saboor Aly) in her impulsiveness to take revenge from Zarrar (Imran Abbass) agreed to marry Junaid (Haroon Shahid). Obviously, she is shattered with the sudden news of her fiancé's marriage to Meher and regrets the decision of tying the knot with his brother.
Meanwhile, no one has the patience to listen to Zarrar's side of the story or even appreciate him for protecting Meher all along. Our hero gets furious and there is madness in his eyes when he witnesses the Nikkah of Zuni and Junaid. He goes berserk, questioning his loved ones over how they could have allowed this to happen. But no one pays heed to his anguish or gives him a chance to explain himself.
But it is Samra (Srha Asghar) who suffers the most amidst all the mess. Her mother-in-law considers her a curse for the family and blames her for the upheaval in Zuni's life. What is worse, Samra loses all her bridal jewelry to muggers on her wedding day, leaving her in severe trauma.
The promo of the next episode reveals Zarrar questioning Zuni over leaving their relationship mid-way while he is clueless about where to take Meher, now that his parents have barred him from returning home.
Imran Abbas and Babar Ali's performance wins the day
Over time, ace hero Imran Abbas has proved he is beyond looks. He might make it to the list of the world's most handsome faces every year but his acting prowess knows no bounds. Over time, his art is getting refined even more and we can witness this with his acting chops in Amanat.
So far, we have seen a soft side to his avatar in the drama. But yesterday's office gave us a peep into a much more aggressive shade of Zarrar, something that Imran flawlessly ease into.
Babar Ali proved he will always be a star through and through last night. He owns his scenes, rules the frame, and seizes all the viewer's attention. One notices his body language, his dialogue delivery, and his expression all syncing to produce an impeccable acting experience. He might be playing a villain in Amanat, but his character has become one of our favorites in the drama.
What are your views about Amanat? Let us know in the comments below.