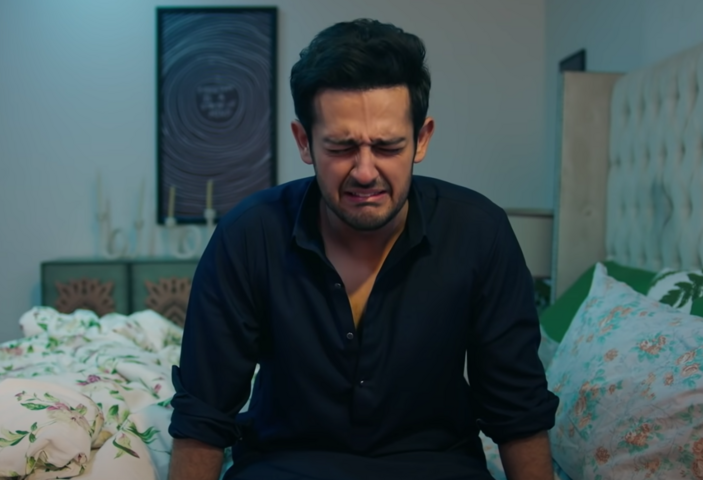 HUM TV's Ishq e Laa has its us hooked since its first episode, the drama is a breaking through the mind-less...

HUM TV's Ishq e Laa has us hooked since its first episode, the drama is a breaking through the mind-less clutter of love triangles and sister's fighting over the same man. Ishq e Laa is a definite hope for the TV industry. Penned down by Qaisra Hayat and directed by Amin Iqbal under the production banner of Momina Duraid Productions, the show shines light on some unconventional narratives. Ishq e Laa features TV darlings, Yumna Zaidi, Sajal Aly and debutant Azaan Sami Khan in leading roles.
Ishq E Laa's latest episode has fans tearing up after watching Azan Sami Khan's 'Azlaan' crying his heart out for his beloved, Shanaya (Sajal Aly) after her tragic death. The heart-wrenching episode is a tear-jerker that brings Azan Sami Khan centre stage as he battles his grief head on.
Azlan's grief causes him to breakdown
This week's Ishq e Laa saw a very grief-stricken Azlan who couldn't come to terms with the loss of his lady love, Shanaya who died in his arms after she was shot by Sultan's murderers. Debutant Azan Sami Khan proved his mettle in this episode where he kept hallucinating Shanaya and believed she was right there with him, he could feel her, touch her and even kept conversing with her. It was heart-breaking to watch him and he definitely upped his performance with this episode. One could not help but shed a tear or two at his anguish and hopelessness.
We are anxious to see where the story will go after this major plot twist, before her death Shanaya had been trying to change Azlan's thoughts on religion and the way he treats those who are underprivileged, Azlan seems to now be acting upon Shanaya's wishes even after her death, he visited the women Shanaya supported through her social-work and informed them about her murder, he then sent them the machinery they needed for their establishment. Does this mean we are going to see a new and improved Azlan in the upcoming episodes?
Azka decides to Marry Abid!
Yumna Zaidi's Azka woke up from a dream where she saw Shanaya while she was praying, at the same moment Azlan was shown calling out for Shanaya in the dark but he couldn't see her anymore. We wonder if the show-makers are trying to establish a connection between Azka, Shanaya and Azlan through this scene.
In a plot twist once again as seen in the preview for the upcoming episode, Azka asks Abid to send his mother over to their house in order to fix their Nikkah date once again. Has she taken the decision after looking at her family's circumstances or because she is scared that Abid is sure to hurt Aliya if she doesn't marry him? We will have to continue watching Ishq e Laa to find out what happens next.