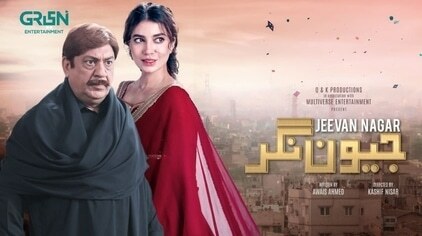 Whatever is about to happen is Jeevan Nagar has happened before, but Kashif Nisar's touch makes it stand out

Identical-looking people switching places is one phenomenon that has been tried and tested everywhere in the world. From Anthony Hope's The Prisoner of Zenda to Dilip Kumar's Raam Aur Shyam or Amitabh Bachchan's Don, this done-to-death scenario isn't new to many viewers. However, in Green Entertainment's Jeevan Nagar, director Kashif Nisar explores the scenario in a novel way and manages to get away with it thanks to the brilliance of veteran Sohail Ahmed and the drop-dead gorgeous Rabia Butt.
So far, five episodes of the drama have aired and from what has been shown, the switch is likely to place soon, but not without a twist. One of the two unrelated yet identical twins is a crime boss turned messiah whereas the other one is a transgender by choice; while one seems to have no weak bone in his body, the other admitted that standing straight might be his biggest problem. Add to that a community-based in Old Lahore and you have something new to ponder every week; from out-of-place ladies to rival goons and cross-community love stories.
The Plot
Jeevan Nagar is the stronghold of gangster Babbar Shah (Sohail Ahmed) who is feared by his enemies since he roams around with his goons, and liked by neighbors because of his ability to resolve issues between them. Things complicate with the arrival of a fitness trainer Munni (Rabia Butt) who fears no one and even questions Babbar Shah when he confronts her after receiving complaints regarding her gym. Also, there is the strange case of Babbar Shah's disappearance from the public eye from one hour before midnight to Fajr prayers as not even his closest aides know how he spends that time.
In another track, Babbar Shah's enemies find out a transgender who goes by the name of Laali Guru who resembles Babbar Shah, and decide to switch the two so that they can control Jeevan Nagar, and its residents. Their main aim is to buy the property from the residents so that they can sell it for profit when the ring road is completed. Babbar Shah is the only person who stands between them and their goals, and so far in five episodes, has thwarted every attempt by them by using his mind. With his enemies joining hands with rival gangster Raja Plaster (Iftikhar Ahmed Usmani), it seems the gangster's problems will increase in the coming days, but before that, he has many issues to solve especially those involving two poles-apart families whose children decide to play Romeo and Juliet.
The Good
He may have spent most of the last decade working in films, but Jeevan Nagar is a Sohail Ahmed special all the way since he gets to exercise his acting skills in not one but two roles. He brings to use both his experience of working in Pakistani films Jawani Phir Nahi Ani 2, Punjab Nahi Jaungi, and London Nahi Jaunga as well as Indian Punjabi film Babe Bhangra Paunde Ne in the twin characters of Jeewan Nagar and it shows. As the most respected member of the community, he gets to display his brotherly affection to his well-wishers while showing his cold side to those who wrong him, even if it is someone in his gang. Although in the avatar of a transgender, he hasn't had much to do, but it's quite evident that in the coming weeks, this character will take centerstage and make viewers forget everything else.
Fresh from the success of Gunah, Rabia Butt continues to shine this time as Munni who is a fitness enthusiast who shifts to Jeevan Nagar to open a gymnasium. Not only does she stand out as an actress but she looks different from the rest of the residents which makes her performance even better. Be it her scene where she tells the ladies of the Karobari household how to control their men or where she questions Babbar Shah's chain of information is mind-blowing in every way. She doesn't care who is the actor in front of her and she demolishes them with her words, her mannerisms, and her eyes, just like she did as SHO Sabiha in the recently concluded Gunah.
Director Kashif Nisar must be commended for perfectly executing Awais Ahmed's script and using his frequent collaborator Noor ul Hassan, Kashif Mehmood, Saqib Sumeer, Kinza Malik, and Iftikhar Ahmed Usmani in the process. Every actor looks the part and doesn't disappoint; it was good to see veteran actress Azra Aftab in a TV play after a long time as well. One hopes to see all these wonderful actors play their part in taking the story forward, especially Saqib Sumeer who is the only one besides Sohail Ahmed to have a doppelganger in the plot. He manages to keep both the characters apart and emulates Sohail Ahmed to perfection, which is not an easy task considering he has been winning hearts for a long time.
The Bad
In the mid-1980s, PTV's Quetta Center produced a play Ab Kia Hoga where writer/actor Zulqarnain Haider plays dual roles, one of a businessman and the other of the imposter and the play was so successful that the writer was nominated for Best Writer in the PTV Awards. Each episode ended in such a manner that the viewers were left wondering what will happen next, hence the name of the play. Jeevan Nagar lacks that suspense because even after five episodes, the switch is just a figment of the antagonists' imagination.
Similarly, in Sohail Ahmed's presence, any attempt to make the viewers smile looks pale in comparison and that's why the arc featuring the local mobile operator as well as the youngsters' going weak in their knees on finding a modern woman amongst them seems very 80ish. In the era of YouTube, they should have become used to it by now and that would have removed the forced comedy from the narrative.
Finally, in a play made in the 2020s, the make-up of transgenders looks very 90ish and takes the viewers back into the world of Janjalpura which was the biggest PTV hit revolving around the community. For some that might be a plus but for many, it can have a negative impact on the viewers. Considering not much hasn't changed in the Old Lahore location where the story takes place, it might seem okay for those who are part of that culture.
The Verdict
Despite its inconsistencies, Jeevan Nagar is miles ahead of other dramas, be it on Green TV Entertainment or other TV channels because it comes out as a breath of fresh air. The double role, switching places, and community-based issues are something that TV writers ceased to include in their plays and replaced that element with Saas Bahu issues. The way writer Awais Ahmed and director Kashif Nisar have revived the casual style drama is what the doctor ordered, and is winning the hearts and minds of the viewers.
One hopes that Sohail Ahmed's first regular series in 8 years and Rabia Butt's first post-Gunah appearance keeps the audience on the edge of their seats as their performances will be instrumental in the success of Jeevan Nagar. When will the switch take place, how will the residents react to it and how will the truth unveil is what the viewers are waiting for so that they can watch their favourite actors play their parts to perfection, and entertain them in the way they deserve to be entertained.