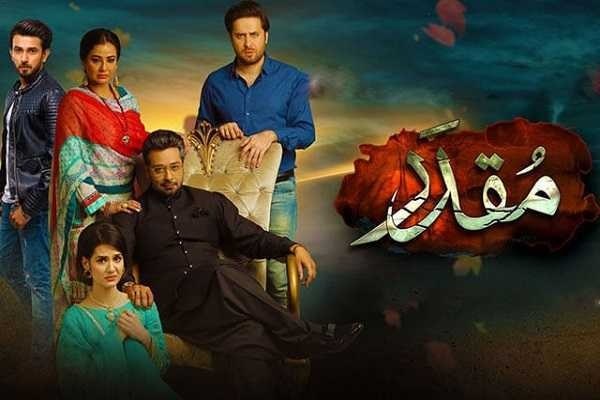 Madiha Imam and Faisal Qureshi have become the coolest unconventional pair of the season! Check out our take on it.
With eleven episodes down, Muqaddar on Geo Entertainment is going stronger than ever before. As the story takes a darker turn over time, the twists in the tale have made it all the more riveting.
Saif Ur Rehman Vs Raima: The Cold War Continues
The cunning streak of Saif Ur Rehman knows no bounds. While he is trying to shower Raima with love, he cannot stop himself from unveiling his evil side on her from time to time. He allowed her to meet her family and even bought a lavish home to please her, but nothing can help Raima from feeling caged and miserable.
The scene where Saif Ur Rehman forces her to eat made us abhor him to the core. Despite calling her his wife, he treats Raima like his slave. She even summons up the courage to call him out over his authoritarian behavior but his arrogance and haughtiness remain unaffected.
Meanwhile, Abeera has landed herself in hot water. Saad caught her enjoying dinner with Hassan and rushed to inform Abeer's mother. Consequently, Abeera is grounded for lying about her whereabouts and thinking of marrying someone else while being engaged to Saad.
Already, she has asked Hassan to bring a proposal for her but we all know that Hassan is going to back-out from this whole relationship for good.
Conversely, Saad himself isn't so innocent. Still dreaming about Raima, Saad's character is now getting aggravating. He continues his quest on Raima's case of disappearance. However, this is more because he loves her rather than out of a concern to help a girl in need.
Haris continues to admonish Maham, who is yet another annoying character in the drama. It is clear Hairs is not interested in her, but she remains adamant to win him over with her childish love.
The Upcoming Episode is Going to be Fierier
The promo of the next episode has us all the more excited. Not only will Raima drop the bomb on Haris that she is married to Saif Ur Rehman, but Haris will also tell Sardar's first wife that her husband is now married to another woman. Seems like the ultimate showdown will soon begin. However, Haris will have to pay a heavy price for this daring move. Saif Ur Rehman will likely end his life for leaking out his secrets to his family.
Take a Bow Madiha Imam and Faysal Qureshi!
For an unconventional pair, both the actors have aced their characters along with their sweet and sour chemistry. Faysal Qureshi ensures he owns every frame. The way he walks, growls, and turns into a lustful lover makes you hate him yet love his performance at the same time.
Madiha Imam has proved that she is no less than any actress of her time. She might have low social media popularity, but this drama will bound to be a game-changer for her fan-following.
Special mention to Ali Ansari for making Haris's character believable. His dialogue delivery is on-point and we love the way he reprimands Maham in the episodes. After all, we do find her bothersome like Haris. Let's see what the next episode has in store for us.