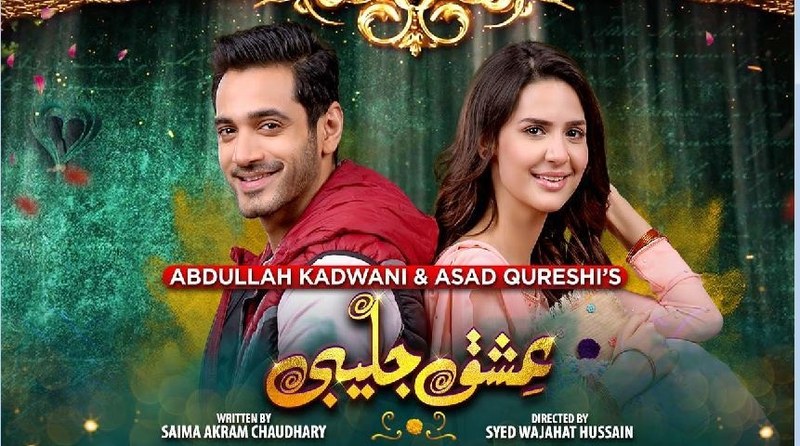 Ishq Jalebi has us hooked with its comic banter, witty dialogues and dramatic storyline!

Geo Tv's 'Ishq Jalebi' is a light-hearted family drama that is penned down by Saima Akram Chaudhary and directed by Wajahat Hussain who is currently riding on the success of Khuda Aor Muhabbat. The show is produced under the banner of 7th Sky Entertainment and is produced by the dynamic duo of Asad Qureshi and Abdullah Kadwani.
Ishq Jalebi stars the gorgeous Madiha Imam and dapper Wahaj Ali in leading roles and veteran actors, Qavi Khan, Hina Bayat, Noor -ul- Hassan, Kashif Mehmood, Irsa Ghazal, Mehmood Aslam and Shaista Jabeen. The drama also includes fresh faces Maryam Noor and Usama Khan.
The Plot
Ishq Jalebi follows the story of Basim (Wahaj Ali) and Bela's (Madiha Imam) household, the two are maternal cousins and live with their grandfather Mohammad Boota (Qavi Khan) lovingly called Bauji by all the family members. After Bela got engaged to her gerandfather's family friend Hassan, Basim started getting jealous of his closeness with Bela, however as luck would have it, the engagement was broken off by Bela who caught Hassan with his secret wife.
Due to the pandemic induced lockdown, Basim's maternal uncles both are stuck in Karachi since flights are halted, Basim is threatened by his cousin Vicky (Usama Khan) who is interested in Bela and also proposed to her however she refused. Vicky has decided to stay back in Pakistan and manage the family business, this has put Basim in a fix as he has spent the last ten years with his father, working hard to build up the business. The drama highlights the dilemma of many families who have well established businesses in Pakistan but their children decide to move abroad in search of greener pastures, but once they chose to return home claim ownership of everything they once willingly left behind.
In the latest episode of Ishq Jalebi, we finally saw Basim expressing his true feelings for Bela, the two are head over heels in love however the two are already facing another hurdle. Basim's engagement has been fixed with his USA based cousin Esha, the entire family is happy with the decision however, Basim's father is not willing to listen to his refusal. We are anxious to see whether Basim and Bela will get their happy ending?
Wahaj Ali and Madiha Imam Make the Cutest On-Screen Couple
Basim and Bela's chemistry is off the charts, we love watching the dapper duo together on screen. The best scene from the episode was Wahaj Ali (Basim) expressing his love for Bela, what a fiery yet emotional scene between the two! We couldn't help but feel the love between the two and hope they will get the happy ending that they deserve.
Kudos to the Ensemble Cast for the Epic Comic Banter
Qavi Khan needs a special mention for his role as Mohammad Boota, the angry old man persona has been brilliantly done, an actor par excellence Qavi Sahab deserves all the appreciation for his performance. The comic timing and dialogue delivery of the veteran actors, Noor-ul-Hassan, Isra Ghazal, Mehmood Aslam, Hina Bayat and Qavi Khan are the life of the play. Their comic banter with each other and witty dialogues are sure to make you laugh out loud throughout the duration of the play.
Watch Ishq Jalebi's next episode tonight on GEO TV.