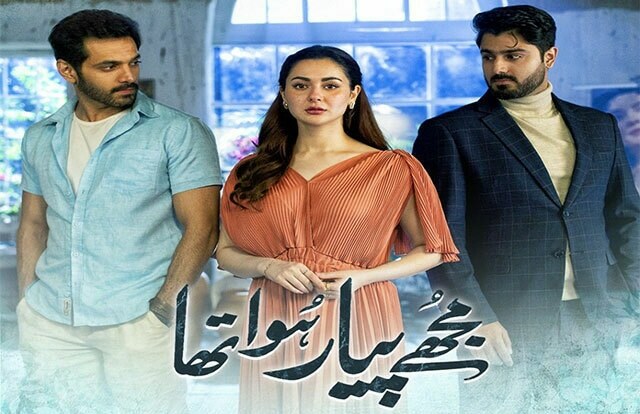 Maheer is not given permission to meet Saad despite requesting and doing everything she was instructed to do.

A complicated story of love and sacrifice is presented in "Mujhe Pyar Hua Tha"'on ARY Digital. The love triangle between Maheer (Haniya Amir), Saad (Wahaj Ali), and Areeb (Zaviyar Noman Ejaz) is the focus of the drama, which is directed by Babar Mehmood and written by Sidra Sehar Imran. Saad and Maheer have always been close cousins and friends, but when Maheer meets Areeb during a family wedding, their lives take an unexpected turn.
Maheer wants to meet Saad, who is still in jail, but she has been denied permission because the police are carrying out Areeb's orders, which prohibit her from seeing her husband.
Maheer arrives at Areeb's house and threatens to burn down his house if he does not back down, but Areeb laughs off at her threats. Areeb tells Maheer that his goal is to destroy her and Saad. Areeb's mother questions her son about Maheer's presence when she sees her at their house. She was given the false story of Saad's imprisonment for attempting to rape Faha by Areeb, who has now become inhumane. Beenish (Areeb's Mother) sees Faha, who is still acting as though the rape attempt has traumatized her.
Maheer's mother is unwavering in her belief that Maheer has only suffered as a result of her marriage to Saad. She keeps saying that if Maheer had married Areeb, she would not be in this kind of pain but rather would have enjoyed a life full of luxury.
Saad is being kept hungry by the police, who also told him that his poor wife has spent the entire night at the police station. Maheer will need to make apologies to Areeb, though, in order to clear the charges on him. Saad declined, saying that he would prefer to spend the rest of his life in prison but wouldn't ask his wife apologize to Areeb.
She is once more denied permission since she arrived at the police station a few seconds late after the police officer assured her that she would be allowed to meet with Saad if she did so at 9:00 p.m. Back at home, a neighbor aunty stopped by to ask about Saad's arrest and taunted them, saying their daughter wouldn't get rishtas because of the disrespectful conduct they are known for. In the meantime, when Maheer returned home without Saad, his mother lost her temper and began yelling at Maheer and blaming her for her son's terrible fate. She forced her to leave the house and dragged her to her mother's house, where Maheer's father, who was unaware of Saad's imprisonment, learned about it. Both Rafia and Saad's mother are constantly berating and blaming each other's children. Both Neelo and Maheer unsuccessfully attempted to stop their mothers.
We fail to see why the drama is needlessly prolonged or why this story twist was even necessary. Maheer's mother's continuous belief that Areeb was the ideal partner for her daughter and the mohallay walay's keen interest in their family's problems defied all reason. We are unable to comprehend Areeb and Faha's decision to fabricate the complete rape attempt story in front of their mothers. Given his obviously crazy behavior and tone, Mrs. Beenish couldn't have possibly believed him. We are hoping for a reasonable ending to the drama because it has only gotten worse so far.