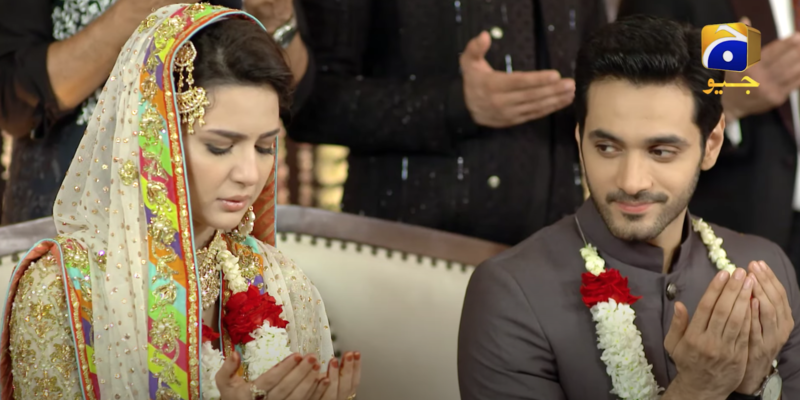 GEO's Ramadan special show Ishq Jalebi comes to an end.

Geo Tv's super-hit Ramadan special 'Ishq Jalebi' is a light-hearted family drama written by Saima Akram Chaudhary of Suno Chanda fame and directed by Wajahat Hussain who is currently riding on the success of Khuda Aor Muhabbat. The show is a project of the 7th Sky Entertainment and is produced by the dynamic duo of Asad Qureshi and Abdullah Kadwani.
The comedy drama that entertained us throughout the holy month of Ramadan came to a climax on the fourth day of Eid. We would definitely miss Sajjo (Irsa Ghazal) and her sialkoti 'dhamaal' that she brought with her to the play. We are truly grateful to the writer for such a beautiful end to the show! The finale was a rollercoaster of emotions where Basim and Bela's 'Nikkah' brought a huge grin on our faces while Bauji reconciling with his two sons and Sajjo realising her errors definitely left us teary eyed.
The Plot
The last few episodes leading to the finale left the viewers at the edge of their seats, would Bela and Basim end up together was the question on everyone's minds! Ishq Jalebi was a treat to watch during Ramadan, with a superb ensemble star cast each character brought something new to the show. The legendary Qavi Khan played Bauji, the head of the Boota family and owner of a sweets empire. His two sons had left him a decade ago to move abroad and he had not forgiven them since then. The business was left in the hands of Ashiq Hussain (Noorul Hassan), Mohammad Boota's son-in-law, who was assisted by his son Basim, our dapper hero (Wahaj Ali). The pandemic brought the family together as the two sons, Shafaqat (Kashif Mehmood) and Rafaqat (Mahmood Aslam) got stuck in Pakistan after flights closed down.
The finale saw a lot of loose ends being tied up, we atlast saw a happy and smiling Bela and Basim, the angry young man and the damsel in distress could finally smile after Vicky saw them talking about the sacrifice they were giving for the family, he secretly recorded their conversation and sent it to Bauji, thanks to Vicky, Bauji got to know the truth and decided that Bela and Basim would be getting married the next morning!
The new entrants to the play, Phupho Bakhtawar and her grandson left you in a fit of laughter in each scene they were in, she had come to Karachi in hopes of making Bela her grandson Gulfam's beau but he ended up falling for Esha (Maryam Noor), as kismet would have it Esha also seemed to be falling for the eccentric Gulfam after her engagement to Basim broke off. Phupho Bakhtawar did end up getting a maiden for her grandson after all.
It was great to see Sajjo apologising to Bauji and he forgave her for her mistakes in the past, you couldn't get past that scene without tearing up. As the saying goes 'All's well that ends well' Bauji's sons both realised their mistakes and apologised profusely to their father, it was heart-warming to see Bauji forgive them for their shortcomings, the family reunion was such a sweet thing to witness.
The Good - The Play Tackled Serious Issues in a Different Way!
The drama may have been a comedy but it certainly covered a few serious issues too. Family pressure, the want to go abroad to prove oneself and the age-old tale of children leaving their homeland to find greener pastures abroad. While Basim spent most of his life trying ways to move out of Pakistan, it was such a treat to see him realise what he wanted the most in life was right infront of him.
A Realistic Interpretation of Covid-19
We haven't come across many Pakistani dramas who have taken the coronavirus pandemic into their storyline, Ishq Jalebi was based around the pandemic. That's how the family ended up bonding with each other during the lockdown. They even showed us how people quarantined themselves at home and we could definitely relate to all the precautions they took at the 'Bela Manzil'.
Kudos to the entire cast for their applaud worthy performances!
From the senior Qavi Khan to the young actors like Usama Khan, every actor left a mark on the viewers with their brilliant acting skills. Wahaj Ali as the hot-headed Basim and the innocent, soft-spoken Bela (Madiha Imam) have won our hearts forever! Phupho Bakhtawar and her trying to start fights and then failing terribly, Irsa Ghazal as Sajjo and Noorul Hassan as Ashiq Hussain Advocate's comic banter to and fro was the perfect watch one needed for unwinding from a long hectic day! Hina Bayat as the caring and sweet mother was exactly what the drama needed. What can be said about Qavi Sahab, the maestro brought every scene to life with every dialogue and we couldn't take our eyes off his brilliant perfromances throughout!
What's Next?
Waqar aka Vicky (Usama Khan) was seen flirting with Bela's friend Sophiya, saying he got 'Bela vibes' from her and Sajjo also mentioned how 'sweet' she was. On the other hand Esha and Gulfham got engaged as well. Does this mean we will be seeing another season of Ishq Jalebi soon that will maybe follow up on the two couples' journey to marriage?