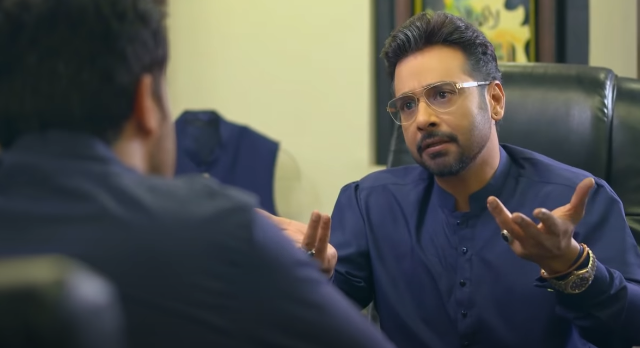 Another riveting episode of Muqaddar reveals the drama intensifying!

Muqaddar took an interesting turn this week with the plot getting more intense and its characters stooping to lower levels to scheme against each other. Unpredictability remains the winning part of the story and a twist every time keeps us intrigued by the drama!
Let's review what happens in yesterday's episode of Muqaddar!
Raima and Farkhanda will soon have a face-off
Sardar Saif Ur Rehman (Faysal Quraishi) is conniving yet another plan to introduce Raima (Madiha Imam) to his first wife, Farkhanda (Ayesha Gul). He pretends in front of Saad (Haroon Shahid) that Raima wants him to move into 'Saif house' and get her status publicly recognized. He wants Saad to break the news to Farkhanda that she will be soon coming face to face with Raima.
However, Farkhanda has quashed the idea of Raima and her living under the same roof. While she has accepted the news of her husband living with a second wife, she finds the idea of making the marriage public unacceptable. Her opposing response has poked a massive fire inside Saif Ur Rehman who is furious over her audacity to question his command.
Meanwhile, Raima has nothing but good feelings for Farkhanda and Abeera (Sabeena Syed) while not at all being threatened by them. After all, she is not possessive about Sardar Saif, given that she does not love him. Their one-month honeymoon trip has surely made them closer. But it is apparent that Raima still has no feelings for her captor of a husband.
The rocky relationship between Maha (Shameen Khan) and Haris (Ali Ansari) is turning sour with passing time. We all know how immature and over-emotional Maha is. Eventually, her true nature will be revealed in front of everyone soon. The scene where she gets irritated at her mother-in-law over asking her to cook food was indeed a shocker. An annoyed Haris admonishes her over her recklessness after his mother gets sick. But seems like, it will only have a temporary effect on Maha.
A budding romance is in full spring between Abeera and Saad. Where will this go, we are surely clueless. Will Hasan (Haris Waheed) return to Abeera's life? We are guessing a twist is bound to come in this sub-plot.
The upcoming episode seems even more riveting with Sardar finally bringing Raima to his real home and Haris's mother being shifted to the hospital over her critical condition. Will she lose her life? We can't wait for next Monday to know.
Faysal Quraishi is the hero of the week
This episode finally gave more screen time to Faysal Quraishi and he was back with his deceitful portrayal to make us hate Sardar Saif Ur Rehman all the more. The actor truly exudes the power his character demands. At the same time, he depicts the vulnerability of a passionate lover, who is slowly getting lost in his affection for Raima. On the contrary, Faysal accurately exhibits how cheating and abusive husbands can be; manipulative, dishonest, and toxic.
Ali Ansari nailed the scene where he reprimands Maha for not taking care of his mother. He even flawlessly played the ending scene of the episode where he remembers Raima while talking to his wife. The performer can seamlessly depict emotions and you don't even realize how his character might be behaving the next minute.
Fingers crossed for the next episode. Muqaddar has been a roller coaster ride for sure and its entertainment value is raising the bar every passing week!