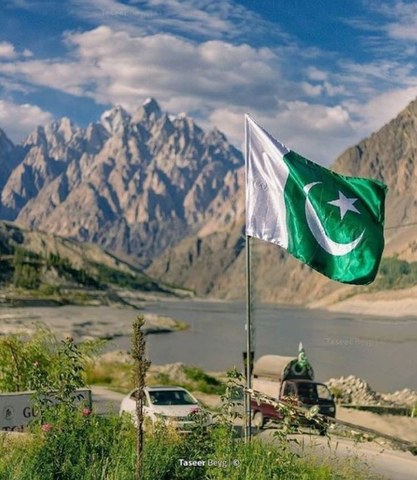 Here we list a few songs which are about Pakistan and the freedom sought by our ancestors, teaching us to love our land.

Music about Pakistan has been popular for years, with singers dedicating poetry, ghazals and compositions to the country. After 1997, we have a few picks which are bound to ignite the patriotic feeling!
Musical performances and compositions dedicated to our Independence Day only make it more special, infused with passion and sentiment. Here are some of our picks to jam to on the country's 73rd freedom anniversary!
The National Anthem of Pakistan - Coke Studio
The National Anthem was sung beautifully in perfect harmony by all the Coke Studio artists, some of which include, Stings, Aima Baig, Farhan Saeed, Ali Sethi, Faiza Mujahid, Shafqat Amanat Ali, QB, Umair Jaswal, Ali Zafar, Daniyal Zafar, Momina Mustehsan, Rahat Fateh Ali Khan, Ali Noor, Salman Ahmed and many more talented Pakistani singers. The tribute truly warmed hearts all over the Nation.
Jaan De Den Ge - Ali Zafar
Ali Zafar's release for Pakistan Day in 2019 comprises of a host of beautiful things and people that make up our beloved nation. Not only is the renowned artist able to formulate a wonderful message with strong vocal prowess, but the composition leaves us feeling major love and appreciation for Pakistan!
Mulk-e-Khuda - Abida Parveen
The melodious symphony of Abida Parveen echoes over the glorious sights of Pakistan, showing the beauty and appreciation for our country . Encouraging love for the country with a wholesome medley about the beautiful country we live in.
Main Tou Dekhoonga - Strings
This one touches the soul, a classic by strings, 'Main Tou Dekhoonga' is about the ideal Pakistan, a song we associate with the hope of a new and better Pakistan. Discussing a dream, full of price reductions, colour and happiness throughout the country is a goal we all aim for. This sweet song highlights everything we can be, with a playful beat to match the lyrics!
Dil Say Pakistan - Haroon, Muniba Mazari, Farhan Bogra & Javed Bashir
A song from the heart, Haroon's original 'Dil Se' with an adorable remix of shots and sights from the beautiful country, acknowledging the sacrifices of our ancestors and including our heroes, such as Mr. Edhi and Malala Yousufzai, our cricket team and everything we cherish! This inclusive video with the upbeat song fits perfectly for a heartwarming tune to listen to on the special day!
Junoon Se - Ali Azmat & Samina Ahmed
An OST from the film 'Jinnah' showing horrifying stills, sacrifices and struggles from the time of Partition, and our Quaid's perspective. The powerful medley presents painful moments relived in present form, depicting the violence, qurbani and terror faced by people during the bloody events of 1947. A truly enigmatic performance with Ali Azmat's strong vocals!
Ab Khud Kuch Karna Paray Ga - Strings & Atif Aslam
Atif Aslam's resonating voice never grows old, with this motivating number, Strings and the Aadat singer highlight the importance of standing up for our nation, the nation which guaranteed us freedom and we cannot stand by peacefully through any injustice. An upbeat and meaningful composition, the song applies to today's day and age as well, focusing on how us, the people, can play our part.
Hum Se Hai Yeh Zamana - Call The Band
We are the world and we have to take ownership of our country as we are the country's present and future. This upbeat fun mix with Call's vocals entices us to stand up and move to the rhythm! Being proud of our nationality and having something to call our own!
With musical compositions about the Partition, as well as some special mentions for the patriotic feeling, these are a few of many great songs about Pakistan, which make Jashn-e-Azaadi all the more festive and a day to remember and celebrate - not just for ourselves but for our land and our ancestors who lost their lives to give it to us!