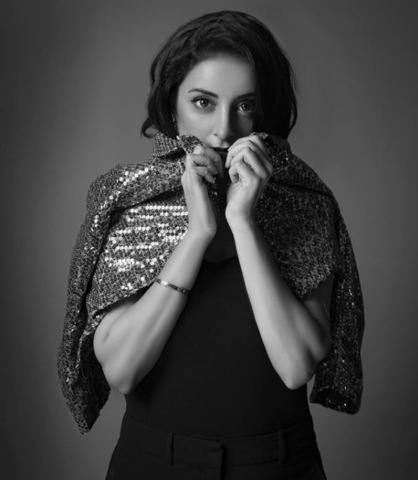 Sarwat Gilani: We assumed that Churail's response was going to be 80% hatred & 20% love but it turned out to be the opposite.

She is a rock star mother, a firecracker on screen, a sane voice in the industry, and now empress of the 'Churails' clan on Zee5! Sarwat Gilani has surely evolved but her career trajectory never hinted that she will ever sign up such a wild, daring project like Asim Abbasi's recent web-series.
Anyone and everyone who follows her is a fan. Even though her super cute, candid pictures with her husband have a knack of irking social media vultures, there is absolutely nothing to hate about Sarwat. She has always tackled the volleyball of negativity like a boss woman! During the lockdown, we saw her much-tender side as she united all of Pakistani's mothers and children with her creative activities on Instagram live.
When it comes to acting, she still has all the fire to steal the limelight. Our girl Gilani can be equally bold and passionate on-screen, recently proving it with her acting prowess in Churail.
Donning the role of the undefeated and strong-minded Sara, Sarwat is flamboyant, lovable, and empowered. From the perfect wife to a fearless leader, our heroine played an ideal role, one very similar to herself in real life. Craving to have a chat with her, we contacted Sarwat to know all about Churails. She just couldn't stop raving about her girl squad of Yasra Rizvi, Nimra Bucha, and Meher Bano.
Read on to know all that she revealed!
This web-series will surely redefine the word 'Churail' for Pakistanis and so many other things. How do you feel being part of this massive change?
It's been a fantastic experience from the word 'go'. We rehearsed quite a few months before, we did readings and one-on-one sessions for character development with Asim Abbas, which happened two months before we went on the set. That was a lovely experience and Asim was very adamant upon the idea of rehearsing before going on set. Each minute on the set was enthralling with everyone focused on one goal i.e. Churails, without any individual interest. I feel very blessed and lucky to have been chosen to play 'Sarah' and have gotten the chance to work with Asim along with his entire production team. From the cast to the crew, it has been a dream team!
We feel you differ a lot from Sara in real life. Are we correct and how did you prepare for such a challenging avatar?
According to Asim, I am not different from Sara at all. I initially thought that there were quite a few things that I couldn't relate to like Sara. But as I got involved in the character, I realized that like I am a motivational speaker in real life, discuss societal issues on behalf of women and love to uplift the female population, I felt that Sara feels the same way with the women she has taken on-board while feeling responsible for them.
She doesn't want to put them down in any way and likes to bring everybody together. She is confident, she is very sure of herself, she has style and over the past couple of years, I have changed into becoming more stylish and found my own comfortable, chic wardrobe. Sara too had a specific styling in the series.
I am also OCD in real life and Sara is also like that. I feel that even when she is vulnerable and weak, I can relate to that too. I believe that even the strongest of women can fall weak at most times. This way, Sara was very close and very relatable to me.
How was it working with Asim and all the savage women in the cast?
It was an absolute delight to work with Asim. He was always sure of what he wanted. I have never met a director who has manufactured each and everything before coming on set. Not even the slightest of knits and pieces were done on the sets. He had a lot of confidence in me for playing Sara's character. He is very chilled out but at the same time, there is a no-nonsense kind of behavior on set.
I have never worked with any one of the ladies in the female cast. But it didn't feel like that at all that I am working with them for the first time. It felt like we have always known each other and it was great bonding, friendship, taking care of each other, and making it easier for each other. I met these amazing women who belong to the theatre and I learned so much from their performance.
So tell us who your favorite Churail both in real is and reel life?
I loved Batol's character as it was very Bindas. I liked the transition in her character from being a firecracker to be lady-like. That is very much how Sara would have liked her to be. In real life, I like Batol, Bano, Yasra- all of them. There was no stardom in them and quirks like 'Oh I am a famous person'.
So Batol is my favorite Churail for her character and all of them in real life for their amazing personalities.
Do you think releasing Pakistani content on an Indian streaming platform can again stir noise from extremist elements across the border?
It is about time we just make art and concentrate on that. For us, even if Netflix or Amazon would have approached us, we would have made Churails for them. We weren't looking for an Indian platform to only put our content on. Shailja from Zee5 saw Asim's Cake and wanted him to write something for her. It was a wonderful opportunity, the stars collided, they worked on a script and we ended up doing it.
How are you expecting the response to be? Do you think the web-series can be controversial for some members of the audience?
When I signed the project, the content in it does make one think if you want to jump in the pan. But to tell this amazing story, one has to gather a lot of guts. We were ready for it and when we are shooting we assumed that Churail's response is going to be 80% hatred and 20% love but it turned out to be the opposite.
To our surprise, it was 80% love and 20% fine. That is–– fine for an equation. I think people are also ready to be told such stories and watch stuff like this, to be told worthy stories that are real and are a reflection of our society. We are not telling any alien stories but we are narrating tales of women who are around us. Women who are around us globally appreciated that fact and people are ready for better, more intelligent content.