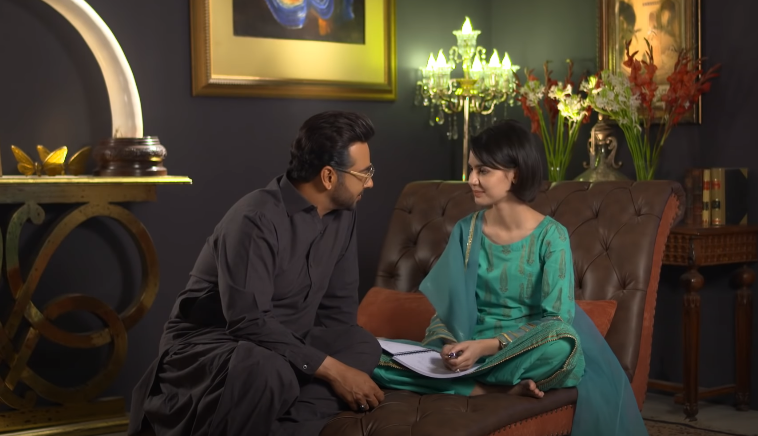 The drama intensifies with exciting twists in the storyline!

The war between the characters of Muqaddar is waging high and making the drama all the more attention-grabbing.
Yesterday's episode had a major twist that we loved in the plot. Let's take a quick review of what has happened in the story so far.
Abeera stands up for Raima
Saad (Haroon Shahid) is now frustrated with the tug-of-war that has erupted between Raima (Madiha Imam) and Farkhanda (Ayesha Gul). Knowing how shrewd Farkhanda is and how immature Abeera (Sabeena Farooq) is, he should be more careful. Not only he is wearing his heart on his sleeve for Raima, but he is also being extremely careless while talking about Raima around them. Consequently, the evil ladies against Raima are now sure that he has feelings for Begum Sarkar. But yet another unpredictable twist by the end of the episode turned the tables for everyone involved.
We all know Farkhanda can even murder to achieve what she wants. She has already tried to destroy Hasan Shirazi (Haris Waheed) and now she is after Raima, adding poison to her food so she dies for good.
While her scheme failed as Saad spotted her in the act, she tries something far worse to sabotage Raima. When Sardar Saif (Faisal Qureshi) returns from his business trip, she churns up a story that Raima tried to hit on Saad when he went to visit her in her room.
Of course, Saad was furious that how could she malign his character, given that he is about to become his son-in-law. Surprisingly, it was Abeera who proved her mother wrong, stood up for Saad, and told her father the real story about Raima being sick the whole time he was away.
Interestingly, Raima has completely accepted Sardar Saif as her husband. She tells him 'Ab App Tou Mera Sub Kuch Hain', making our antagonist swell with pride that he has finally won her heart despite his despicable acts.
Meanwhile, this episode shows us a mere glimpse of Haris (Ali Ansari) where he has a nightmare about Raima and he wakes up wondering if he still has feelings for her.
The promo of the next episode shows Farkhanda now weaker in her goal to thwart Raima. Now that her daughter has turned against her; she is angry, frustrated, and clueless about what to do next.
We Miss Ali Ansari in the drama
We wonder why the past few weeks included lesser scenes of Ali Ansari's character in the drama. His sub-plot should be made more prominent and not be omitted from every episode. He has a major role to eventually conclude Raima's fate and we hope that it features a happy bond between Haris and Raima.
Thumbs up for Haroon Shahid for nailing his performance in the past weeks as the exasperated Saad. He makes us love his character yet also wish that he was stronger and smarter in his bid to support Raima.
Every week, an unpredictable happening adds a spark to Muqaddar's story. We are musing about what will happen next. When will Sardar Saif's downfall begin in the plot or will Raima continue to suffer. Let's wait and watch.