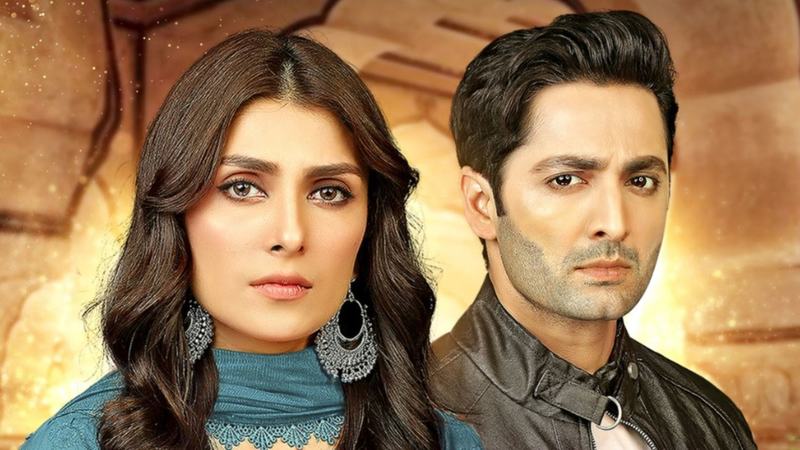 The story gets more predictable and excepted with Mehru and Shah Jahan's growing relationship. Read on to see our take!

Mix a love triangle with sibling rivalry and voila! You have the recipe for one of the most trending plots that are on air on our television screens these days.
Meherposh is one such drama that is following the above-mentioned theme and unfortunately, we are not all praises for its story. In fact, some of its sub-plots have turned bizarre over the past few weeks, making us wonder how more passé this tale can get.
Let's take a quick review of how Meherposh has fared over the past episodes.
A Doting Sister Turns Selfish
Ayat (Zainab Shabbir) gets engaged to Shah Jahan (Danish Taimoor), sending shock waves and leaving Mehru (Ayeza Khan) flabbergasted.
But apparently, nothing can be done to solve the matter. Ayat upon realizing the sister loves her fiancée, turns selfish and pretends to commit suicide to blackmail her sister. As predicted, Mehru turns sacrificial lamb all over again for her family and tells Shah Jahan that he better marries Ayat, burying their love forever.
As usual, our love-struck and obedient Shah Jahan is compelled to do whatever Mehru tells him to do. In short, they all agree to be a part of this forceful marriage that will end up destroying three lives.
Meanwhile, Mehru gets engaged to the goon Uzair and her mother-in-law (Seemi Pasha) wants them to tie the knot on the very same day. No one finds her behavior weird and she even oddly convinces them to get the couple married within a week.
Shah Jahan is heartbroken that Mehru has readily gotten engaged and is even willing to enjoy a dinner with her fiancé. This outrages everyone that how dare Mehru got so empowered and bold to agree for a dinner date with her husband-to-be. Even, Ayat gets furious at her sister and ridicules her for always being self-centered.
Naeem (Ali Abbas) is planning to shift to U.S.A but informs Shah Jahan that Mehru's fiancé is a thug and a smuggler. The next episode shows Mehru's wedding getting ambushed by the police as they arrive on the spot to capture Uzair and his mother over charges of human trafficking. But despite the chaos that erupts on the day, Ayat and Shah Jahan are shown as getting married instead.
The Story Lacks the Spark
Meherposh can become an interesting watch if there is an element of impulsiveness and realism in the plot. It was obvious that once Mehru and Shah Jahan realize that Ayat is the third-wheel in their romance, they will surely sacrifice their love. And people around them will ensure that they can never be united.
While Ayeza Khan continues to give her best- looking stunning while at it, Danish Taimoor's over-the-top acting spoils the game. Seems like he is trying too hard as the meek and submissive Shah Jahan. We have mostly seen the actor don dominating roles, and he delivers them to his finest.
Iffat Omer's sub-plot has been omitted from the episodes. Seems like she won't be making any comeback in the story. Zainab Shabbir is proving to be a true rising star and is delivering an apt performance as the despicable sister who can do anything to get Shah Jahan.
Where will this love triangle head to? Super curious to know what the makers of Meherposh have planned.