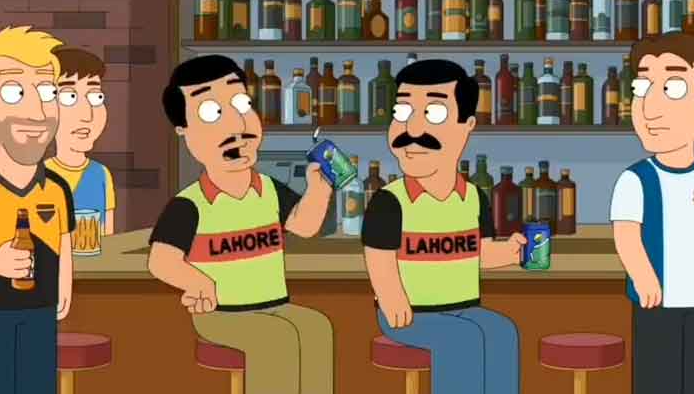 Sensational TV show, 'Family Guy' refers to the PSL with a joke in the beginning of their 19th season.

Pakistanis are avid cricket fans, especially when it comes to the PSL, T20 or any tournament involving patriotic support. Naturally, it didn't go unnoticed when the satirical and popular sitcom, 'Family Guy', referred to the Pakistan Super League (PSL) teams, the Karachi Kings and Lahore Qalandars.
The scene showing the interesting mention of the teams starts off in a bar with sports fans wearing the team shirts. The conversation turns to foreign cricket fans as central character of the show, Peter Griffin is sitting with friends when 'Quagmire' makes a remark about how 'On Saturday mornings, it's just weird foreign sports fans, like those Pakistani cricket hooligans,'
The fans seen wearing Lahore emblazoned on their light green shirts discuss how the only team to support is Lahore, a humorous dig at Lahore Qalandar and Karachi Kings fans, who often find themselves at odds during the tournament.
"Lahore cricketers are the best and the others are not the best, dear friends," says one of the fans with a thick moustache.
The camera then cuts to recurring character Joe Swanson, who is a Karachi Kings fan. He covers up his Karachi team jersey with a jacket, implying he doesn't 'have a death wish about it'.
People seem to have reacted to the humorous reference positively, feeling 'represented' and could relate to the joke and famed rivalry among the two sporting teams. It seems that the PSL has caught international attention and popularity, appearing in long-running sitcoms such as Family Guy