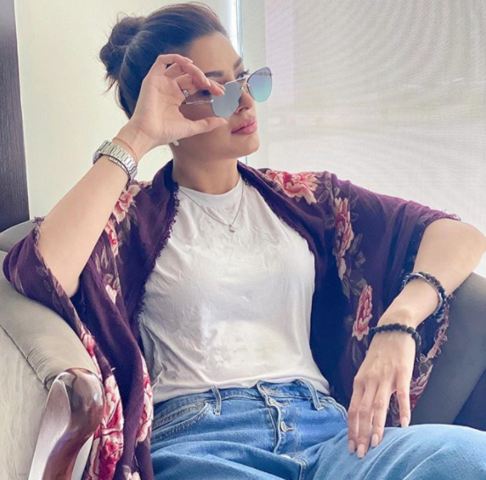 Mehwish Hayat worked with Asad Ul Haq for a TVC featuring Gala's 'des ka biscuit', which seems to have received a strong response.

Renowned actor and performer Mehwish Hayat recently shared her work on a TVC for Gala 'des ka biscuit', working with director Asad Ul Haq for a festive advertisement. Fans and viewers alike have reacted to the TVC within hours of its release.
Mehwish shared the fun-filled advertisement on her social media platform, praising the cultural heritage and stating how 'what appealed to me was the unique concept that celebrated the richness of our des's heritage. We have so much to be proud of'. Furthermore, the actor took pride in celebrating the country's culture with aspects such as dance, music, wardrobe and an overall aesthetic.
However, critics were fast to snap, claiming that the tune in the ad was copied or that the advertisement itself embodied Indian culture with the choreography and overall atmosphere. Others went as far as to criticise the fact that Mehwish was 'overdressed' for a biscuit TVC. Being in the limelight, the concept of cyberbullying is not a new one, with celebrities having to shut down hateful comments and responses to their work, opinions or tweets. Viewers who considered the ad 'too flamboyant' in nature were quick to let it be known, not happy with the Punjab Nahi Jaungi actor's role in the ad, with people bringing up her Tamgha-e-Imtiaz, having nothing to do with the TVC itself.
Nevertheless, with the beautiful outfits from Ali Xeeshan and the artistically crafted performance of cultural festivity, friends and fans alike praised Mehwish for her performance. Zara Noor Abbas, Nomi Ansari and Ahmed Ali Butt were among members of the fraternity who commended the Actor in Law star, commenting on the vibrant TVC and Mehwish's stunning moves.
Some fans even think that the actor responded to 'haters' with a cryptic post about not needing anyone's approval as she had her own.
Reacting to the TVC, viewers seem to have mixed opinions with some not in favour and others supporting the performance. Now the news has come that PEMRA (Pakistan Electronic Media Regulatory Authority) has once again struck, issuing an advisory and new edit regarding the Gala Biscuit ad on grounds of it receiving complaints for 'indecent consumerism'.
Let us know what you think in the comments!