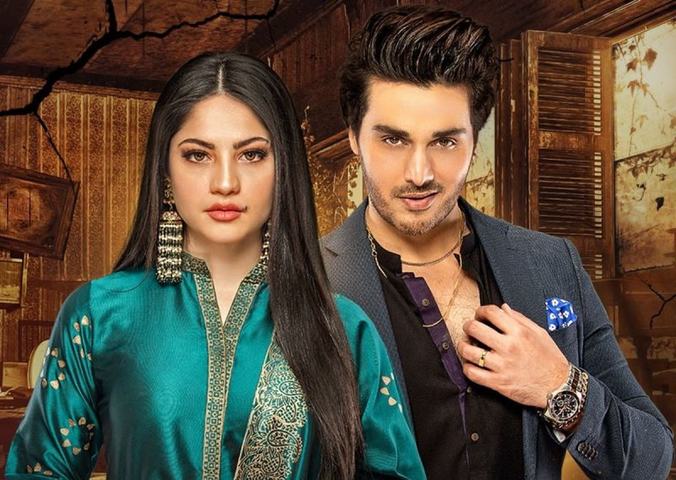 Drama serial 'Qayamat' has set the stakes high with it's gripping narrative and powerful performances

GEO TV's Qayamat starring the Ahsan Khan, Neelum Muneer, Amar Khan and Haroon Rashid in lead roles has created quite a stir with episodes 20 and 21 with engaging plot-twists and power-packed performances leaving us anxious about what is to come next!
The Plot
Tensions rise between Ifrah (Neelum Muneer) and Rashid (Ahsan Khan) after he saw her leaving his brother Jawaad's (Haroon Rashid) room at night. However unlike Samra, Ifrah is not one to give any justifications, leaving a fuming and shocked Rashid behind. Due to his insecurities, Rashid asks Jawaad to leave the country and settle abroad for a while until things are better between him and Ifrah. Another crisis is faced by Ifrah when her mother falls ill and doctors have asked her to get a bypass surgery done which has a whopping expense of 15 to 20 lacs. Ifrah is burdened with how to collect the money needed, Nargis suggests going to a government hospital where the operation can be done in a minimum amount, however Ifrah says they cannot wait that long, Mukhtar Sahab (Shabbir Jan) offers to pay Rs.50,000, this angers Ifrah and she loses her cool, ends up in a war of words with her father and mother in law. Still looking for ways to get the money for the operation, Ifrah decides to sell off all her jewellery, Rashid stops her from doing so saying this was the gold that she received from his side during the wedding and he wouldn't allow her to sell it off. He takes it all away from her and Ifrah is left with no option but to ask for money from Mukhtar Sahab. She goes to his room to speak to him and finds some property files on the table, she goes through these and quickly grabs a file and runs away. The episode ends on this cliff-hanger and we are anxious to see what was in those files and why did Ifrah steal them?
Ahsan Khan and Neelum Muneer Share Sizzling Chemistry On-Screen!
The two maybe at logger-heads as Ifrah and Rashid but the pair looks amazing on-screen, their scenes are fiery and leave the viewers asking for more! Khan as Rashid has outdone himself as the hot-headed guy and his persona brings life to Qayamat while Neelum rivals him with being the fiery Ifrah who is just the right person to challenge Rashid! We can't wait to see how their story progresses further on.
The Jawaad-Ifrah Farewell Broke Our Hearts!
It was heartbreaking to see Jawaad leaving, but Ifrah's no-care, cold attitude is what shocked us. She not only blamed him for ruining her life but also called him a coward who was left with no choice but to run away. The scene was absolutely heart-wrenching to watch with both actors delivering a power-packed performance.
Neelum Muneer Continues to Shine as the Fiery Ifrah!
Neelum Muneer has nailed her performance as the fiery Ifrah, she is straight forward and tells it the way it is without sugar-coating anything. She is confident and bold enough to answer back defiantly to Nargis and Mukhtar Sahab without a care in the world! Unlike Samra, Ifrah is here to make their lives miserable and we can't wait to see how they cope with her!
What's Next?
What will Ifrah do with the files she has stolen from Mukhtar Sahab's room? It seems like she has the entire family in a fix! Watch Qayamat on Tuesdays and Wednesdays on Geo TV!