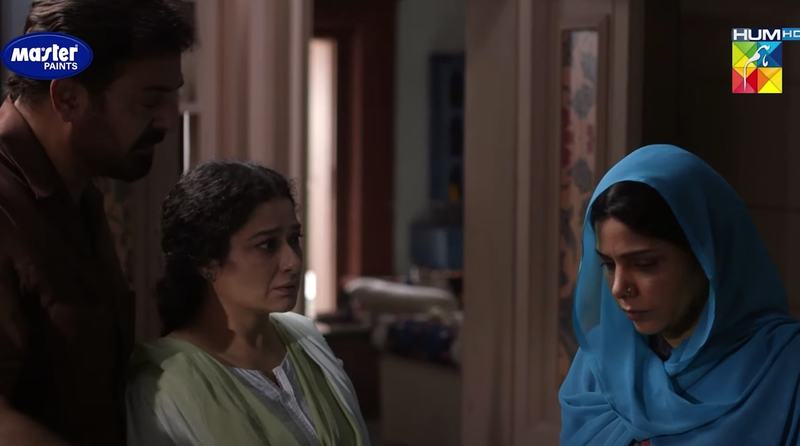 With a stellar cast and a promising storyline; Raqeeb Se has us mesmerised.

The drama features veterans Sania Saeed and Noman Ijaz, the gorgeous Iqra Aziz, the sultry beauty Faryal Mehmood, Saqib Sumeer and lastly the cast is joined with songstress Hadiqa Kiani who has made her debut with Raqeeb Se. Inspired by famous poet, Faiz Ahmed Faiz's poem, the dynamic duo of writer Bee Gul and director Kashif Nisar have created another blockbuster play that has us hooked!
The Plot
With 9 episodes released, Raqeeb Se has been nothing short of poetry in motion. In the latest episode, Insha (Faryal Mehmood) and her beau were seen canoodling outside their house by Ameera (Iqra Aziz), during dinner while Insha's phone kept ringing, Ameera conveniently mentioned it must be the same guy who was holding her hands just a while ago. The truth was out and Insha being her confident self talked about Abdul Rehman and that they want to marry each other. This created chaos in the house after Sakina (Hadiqa Kiani) repeatedly beat Ameera for revealing the news infront of Maqsood Sahab (Noman Ijaz). Insha and her mother Hajra speak about the incident and a frustrated Insha tells Hajra loving someone is perfectly okay and these things are normal and not something out of the ordinary, she only finds it difficult to believe as she hasn't experienced it. Her statement leaves Hajra shocked and gutted.
On the other hand, Hajra finds out about the love letters Rafiq Ali (Saqib Sumeer) has written to Sakina and she cannot help but ask Sakina, what magic does she cast that has all the men lusting over her?
Just then, Maqsood asks her to hurry up and accompany him and Sakina to the lawyer, however Hajra mentions the secret letters and Maqsood storms into Sakina's room and asks her to trust him and ensures Hajra is not insecure because of her presence in their home. It seems like he convinces her to visit the lawyer and the last scene sees Hajra, Sakina and Maqsood sitting in the car ready to head out.
Is There a Love Triangle Between Sakina, Maqsood and Hajra?
The story started of with introducing Sakina into the lives of Maqsood Sahab and Hajra Begum. What started off as a decades old love triangle between Sakina, Maqqsood and Hajra is no longer as black and white as we previously believed so. Add in Rafiq Ali, Sakina's husband to the mix and this is slowly turning into a square of sorts?! Rafiq Ali's love letters to Sakina definitely mean he has feelings for her and is not willing to let go. Moreover, Sakina constantly crying over why Rafiq Ali hasn't taken her back, has us totally confused. Does she want to go back to the village or does she want to remain in the city with Maqsood? The last scene where Sakina tries to apply kajal with hope in her eyes made us think the theory of the love triangle was true all along however, Maqsood grabbing Hajra's hand and making her sit in the passenger seat at the front next to him gave us another feeling, that he was loyal to his wife and was no longer in love with Sakina. The man surrounded by women, Noman Ijaz gives a thundering performance as Maqsood Sahab when he speaks to Sakina and Hajra together, his expressions, body language and dialogue delivery were profound and he definitely owned that scene.
Hajra's Uber-Sweet Nature is Perplexing!
From reading journal entries from the past to constantly reminding Sakina about Maqsood Sahabs eternal love for her, Hajra is not playing a part of a scorned wife but in-fact someone who has come between two lovers. Are we going to see a change in Hajra now that Sakina is visiting the lawyer and will probably take 'khula' from Rafiq Ali. We believe no-one could do justice to Hajra the way Sania Saeed has embodied the role so perfectly.
Is Ameera infatuated with Maqsood Sahab?
The firecracker Iqra Aziz plays Ameera has the audiences worried that she's infatuated with Maqsood Sahab, which would be inappropriate beyond words! however is it truly infatuation or the simple love for a father that she yearns for and is looking for in him? We believe it is the later. The way she takes refuge behind him while Sakina hits her for revealing Insha's secret was a scene applaud-worthy. Aziz brings mischief and liveliness with her acting in Raqeeb Se and we cant wait to see how her character progresses further on.
What's Next?
With the most unpredictable cliff-hanger, the latest episode has left us wondering what Maqsood Sahab wants? Is he simply being a good samaritan by helping someone out during their time of need or is he still harbouring feelings for Sakina even after 20 years? Watch Raqeeb Se every Wednesdays on HUM TV.