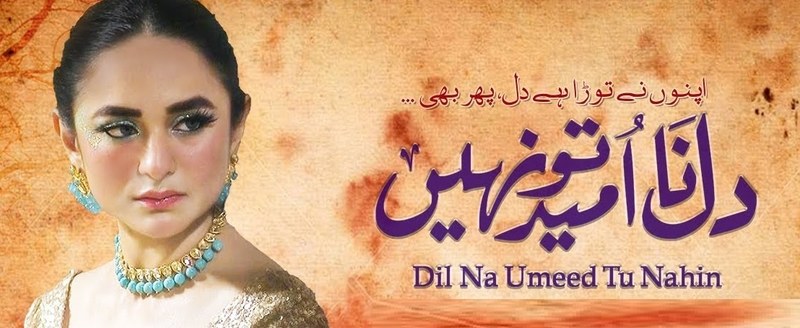 Yumna Zaidi's Sumbul courageously escapes to achieve freedom from her life at the brothel.

Dil na Umeed toh Nahi, the title of the play has been inspired from a poem by Faiz which talks about being captive but still being hopeful . That is what the entire drama and all its various narratives are about, be it Sumbul who has been held captive in the brothel since she was a child sold into it, or Jamshed an innocent child forced into Baba Ranjha's beggary mafia, or be it Naseem Zehra who is held captive by her father where she is being suffocated by his various rules and regulations that he believes girls must follow. All of these stories shine a light on the different ways these characters are stuck in a rut but are somehow hoping to break free.
The Story So Far
Audiences finally see another part of the menacing Aunty when she talks to baji Savera (Yasra Rizvi), she believes someone is out to kill her, she blames one of the girls, the henchman Ikram or the infamous 'Baray Sahab'. She speaks of leaving the kothi in Savera's care and when asked about her family she talks about her past and tells Savera how she too was sold as a little girl just like the rest of them and does not remember if she ever had a family or any relatives that she could contact for help.
Sumbul finally realises that Nizami Sahab was never going to help her get out of this hell hole, she calls Jimmy before escaping and he gives her an address she can reach, Sumbul is determined to escape and wakes up Saadia in the middle of the night, she refuses to run away with her and instead promises to help Sumbul escape, Sumbul and Savera run away while Saadia keeps Ikram busy, however he realises her plan and he intercepts them, Savera sacrifices herself and Sumbul runs away into the night.
In another flashback we see the painter, played by Noman Ijaz rescuing Jamshed from his horrible employers, he is also a children's rights activist and he gives Jamshaid shelter in his home. Following the play's third gripping narrative, Naseem Zehra's story takes a sad turn after her father who has been brainwashed by his cleric friend forbids his daughters from attending school after he found out she plays cricket in the school. Naseem's helpless mother (Samiya Mumtaz) is unable to stand up for her daughters against the unreasonable demands of her husband.
Verdict – Is Dil Na Umeed Worth Your Time?
A play by Kashf Foundation that covers the bitter realities of the evils that prevail in our society. Dil Na Umeed Toh Nahi is one drama that is not a run off the mill, there is no hero, heroine nor has a jealous sister in the plot. Maybe this is why it is yet a highly under-rated drama and is not on everyone's must watch list. However, once you begin watching it you will not be able to stop, with its heart wrenching narratives, mind boggling script and thought provoking dialogues this is one play that is definitely worth your time. Directed by Kashif Nisar and written by Bee Gul, the drama based on never losing hope is an eye-opening and captivating watch for all.
The dialogues that leave you pondering over them long after the scene is over, one such scene in the latest episode was where we see the young Naseem Zehra narrating a bedtime story to her little sister about a princess who gets suffocated in a tower and dies sheds light into what that child is probably feeling after her love for cricket has been taken away from her, and that is why she choses a morbid end for the fairytale.
What's Next?
We are yet to see what happens to Sumbul as she escaped leaving Savera behind, will we finally see Jimmy (Wahaj Ali) and Sumbul (Yumna Zaidi) together and will they recognise each other from their childhood? Will Naseem Zehra ever be able to live her dream of playing cricket?