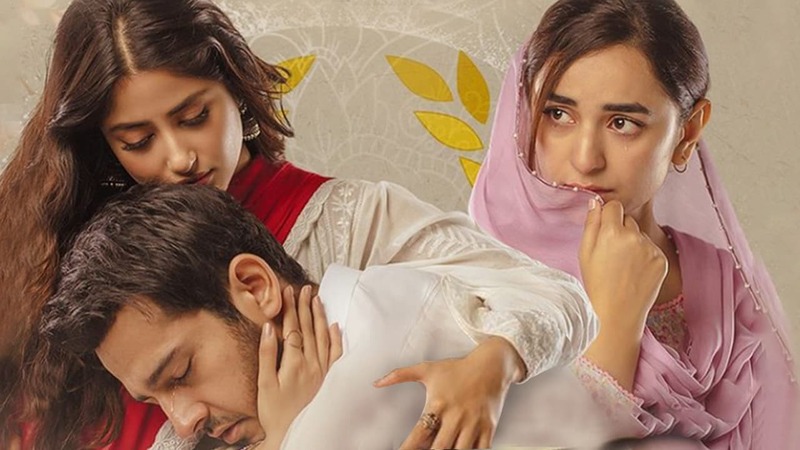 HUM TV's most awaited drama Ishq e Laa has made quite the stir starting off with its teasers and trailers and its...

HUM TV's most awaited drama Ishq e Laa has made quite the stir starting off with its teasers and trailers and its first episode has definitely left quite the mark on its viewers. Ishq e Laa has an unconvential star cast including TV superstars, Sajal Aly and Yumna Zaidi and marks the debut of composer and singer, Azaan Sami Khan. The supporting cast includes Laila Wasti, Ghazala Kafi, Simi Raheel, Uzma Hassan, Sohail Sameer, Adnan Samad Khan and others. The play is penned down Qaisra Hayat of Alif Allah Aur Insaan fame, directed by Amin Iqbal while it is produced by Momina Duraid.
The Plot
In the first episode we saw Shanaya (Sajal Aly) effortlessly playing the role of a dedicated journalist who is working on promoting the rights of women and giving such brave ladies the coverage they deserve. Shanaya is courageous and is not afraid of going to dangerous areas in order to uncover a social issue. She has the complete support of her mother (Laila Wasti) who is working on various societal evils herself. Shanaya's love interest in the story is the one and only business tycoon, Azlan played by Azaan Sami Khan, he is a successful young business man who has been working hard to make a name for himself in the banking industry with the help of his father who is uber-proud of his business sense.
On one hand we have the bold Shanaya and on the other hand we have the happy-go-lucky Azka (Yumna Zaidi) who is from a less privileged background, she is being forced to marry her sister-in-law's cousin Abid (Adnan Samad Khan) who is nothing but a harasser who keeps following her around the neighbourhood. Her mother (Simi Raheel) understands her plight and fights for her daughters future. The story moves on and we meet Azlan's mother who is excited for his homecoming, Azka's brother Sultan is a cook at Azlan's home and is incharge of their kitchen. A heated argument at Azka's place where her sister in law smashed the glass on the floor causes Sultan to injure himself and he is therefore unable to walk. Sultan's boss asks him to send someone who can prepare the food before Azlan arrives and he then requests his mother and Azka to go in his place. Azka and Azlan come face to face when he finds a hair in his food and he definitely does not seem to be happy about it!
Ishq e Laa also sees the legendary Nadeem Baig in action, playing the role of Professor Rehman who preaches divine love and spiritualism sets the events of the drama in place and we are anxious to see if he plays a major part in the story later on.
The Leading Ladies of Ishq e Laa Steal The Show
Yumna Zaidi plays the role of Azka effortlessly, her innocence, wit and determination to become a doctor is evident. Azka is an optimist who is a firm believer in the divine power. We are excited to see Yumna Zaidi's performance in this unconventional story of spiritual and divine love. Her role of Azka certainly did remind us of her super-hit performance as 'Mahjabeen' in Pyar ke Sadqey and Zaidi has once again proven her mettle as Azka in Ishq e Laa.
We are glad that the makers of Ishq e Laa have chosen to shed a positive light on some of the major female characters in the show instead of them crying and being the 'bechari'. Azka (Yumna Zaidi) has some goals and aspirations in life that she wants to achieve while Shanaya played by Sajal Aly is shown to be bold, charismatic and a fearless journalist who can go to great lengths to uncover the truth for a story.
The senior artists, Simi Raheel as Azka's mother is not one that is afraid to fight for what she belives is right while Laila Wasti as Shanaya's mother has supported her in her career and is a women's right advocate too. We're also loving Uzma Hassan's villainy character after her loving 'Zainab' in Pehli Si Muhabbat, it is a treat to see her act as the conniving sister-in-law. ...
What's next on Ishq e Laa?
While we are aware that Shanaya and Azlan are each other's love interest, we are yet to see how Azka ties into the equation.