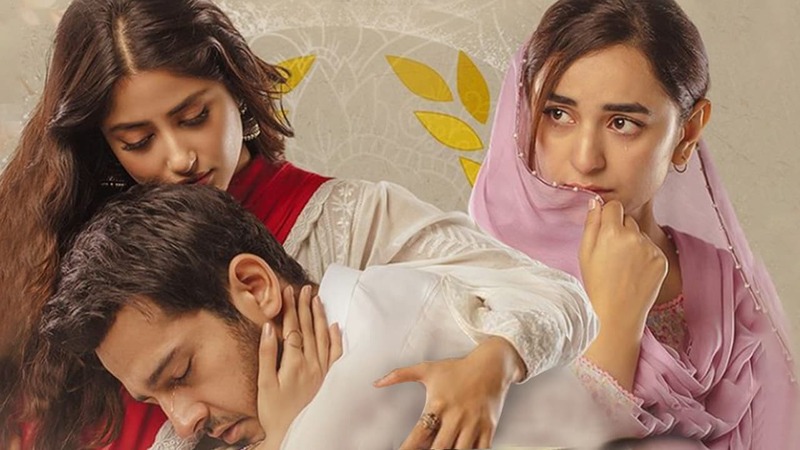 Yumna Zaidi, Sajal Aly & Azaan Sami Khan starrer Ishq e Laa has us hooked with its riveting narrative

Pakistani dramas have been on the path to revamping themselves. While majority of the shows still follow the same old pattern of regressive 'saas-bahu' sagas or the popular love triangle story. Once in a while there comes a drama which breaks through the clutter and is a definite hope for the TV industry. HUM TV's Ishq e Laa is one such drama that aims to cover some unconventional narratives that are otherwise swept under the rug. Featuring Yumna Zaidi, Sajal Aly and debutant Azaan Sami Khan, Ishq e Laa is changing the narrative, one episode at a time.
The Face Off Between Azka & Azlan and the exploitation of domestic workers in Pakistani dramas
The divide between classes, the rich and poor has been shown through two leading characters of the drama, Azka (Yumna Zaidi) and Azlan (Azaan Sami Khan). Azka is a down to earth, loving, caring, compassionate and hard-working girl. She is determined to become a doctor and achieve her dreams even though it may be difficult for her to do so since she belongs to the lower income class. Azlan on the other hand belongs to the other end of the spectrum, he is the only son of a business tycoon, has completed his studies from a foreign university and is currently expanding his father's already ginormous banking empire. However, he lacks the compassion and empathy a basic human being should be having towards others. In the four episodes that have released, Azlan has been extremely demeaning towards Azka and the underprivileged people Shanaya fights for, casually making fun of them at every moment he gets.
His behaviour towards Azka who works in his house is appalling but not surprising, time and again such discrimination has been shown in our dramas. Drama serial Phaans was based on the unfortunate exploitation of the house maid's daughter by her employers son. In the last episode, Azka was teased and harassed by Azlan's friend who misbehaved with Azka and spoke indecently about her while she was an earshot away. When Azka reacted to this - rightfully so, Azlan chose to support his friend and blamed Azka for making a mountain out of a molehill. Azlan's mother also believed that she should not have misbehaved with the guest, not taking into account that their guest had harassed her. Yumna Zaidi's performance as Azka speaks volumes about her acting prowess, and we absolutely love her for taking on this challenging role.
It was refreshing to see that Azka's brother Sultan did not question her or doubt her and instead quit his job because of the incident that took place with his sister. Ishq e Laa is certainly setting the right narrative with shedding light on the abuse domestic workers often face in households across the country. While Azka was brave enough to speak up for herself, not many would dare to do so in fear of losing their source of livelihood.
Yumna Zaidi's Azka raises The Right Questions on Poverty and its Consequences!
Her innocent questions on poverty and her ability to stand up for herself are impeccable, we are absolutely floored with her and Sajal's scene together where Yumna speaks her heart out and talks about Azlan being a pompous brat who believes himself to be somewhat like God, someone who cannot make any mistake. In yesterday's episode her question to her older brother Sultan was a one liner but it stole the show, Azka says, "Just because we are poor, does it mean we have no respect?" Yumna Zaidi performed her best as always and our heart went out to Azka in that moment.
Azaan Sami Khan's debut performance tells us he has a lot to learn!
Seeing that Ishq e Laa is based on spiritual journey, we believe Azlan is going to walk the spiritual path which will change his outlook towards people who work for him and belong to the underprivileged sector. While the storyline has us hooked, we're a tad bit disappointed with Azaan Sami Khan's acting, given that it is a debut performance we surely hope that he works on his dialogue delivery and expressions which have been falling flat at the moment. Where Sajal Aly and Yumna Zaidi are absolute queens on the tv screen, Azaan Sami Khan is no match to their acting prowess. Let's hope we see him come out of the monotonous acting that we've been subjected to for the last 4 episodes.