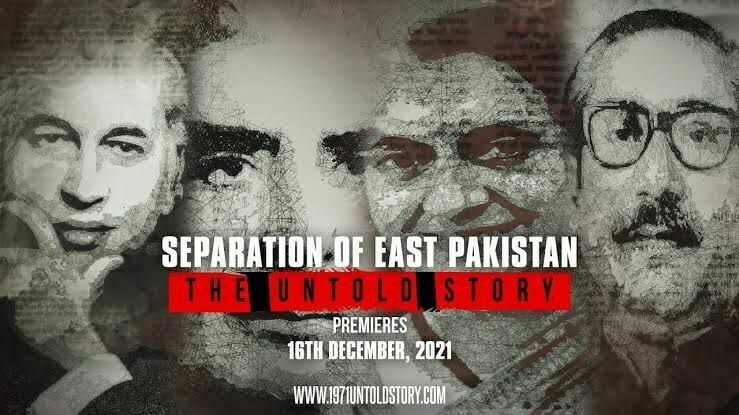 This daring documentary takes on the propagated narrative heads on and unveils the true story of making of Bangladesh

In a courageous move, Javed Jabbar released his documentary 1971 the Untold Story – Separation of East Pakistan, unabashedly revealing the truth behind the dismemberment of Pakistan in 1971, through fact and verifiable evidence told by international and national experts.
The documentary produced by Erum Binte Shahid with Executive producer and writer Javed Jabbar, Muhammad Zeeshan as the Content Director, and Mitra Bonshahi, Mehreen Jabbar and M. Bilal as the Consulting Editors, is a breath fresh air amongst the politicised narratives around the events of 1971. The documentary chronicles the events and issues that triggered the breaking of East and West Pakistan objectively acknowledging the mistakes made, revealing the political motives that triggered the "liberation movement" fuelled by geo-regional politics.
After 50 years of being made hostage to false narratives and selective half-truths actively promoted and propagated by external forces benefiting from broken ties, the documentary does a great job in outlining what really happened, clarifying the myths to be able to move forward. It is not about proving who is right and who is wrong, but about sifting through the purposeful haze created by international politics and moving towards renewing relationships and building stronger partnerships. A strong sub-continent will lead to a progressive South Asia.
While the story of the 1971 separation of Pakistan is not new, the documentary provides a deep insight into the factors that were at play and also demystifies the created memories by sharing true facts. Compared to many other similar films, this documentary takes a most objective and forward looking approach, providing evidence and clear facts to support the analysis made.
Taking a practical approach the documentary ends on an important note that until and unless we don't highlight the true facts sifting through the built narratives, and accept mistakes and actions by all those involved we cannot move towards improved relationships. The South Asia potential is tremendous if we can overcome the differences. Now that we have independent states, it is important to build cordial relations and brotherly relations.
The documentary can be seen on www.1971untoldstory.com.