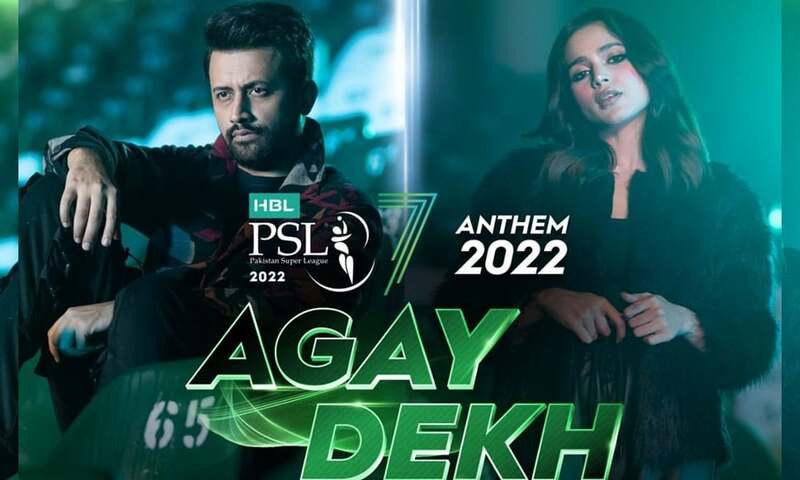 The name of the song is to inspire cricket aficionados to move past the stressing COVID-19 times.

If there is one cricket tournament in the country that causes a massive stir in the nation, it surely is Pakistan Super League (PSL).
With the matches just days away, the PSL madness has taken over the internet with the official anthem of the tournament 'Agay Dekh' ft. Atif Aslam, Aima Baig, and Abdullah Siddiqui rolled out on its sponsored platform 'TikTok' along with YouTube.
The name of the song is to inspire cricket aficionados to move past the stressing COVID-19 times and enjoy PSL like earlier times in the pre-pandemic era.
Listen to the HBL PSL 2022 anthem below.
Igniting Mix Reactions
We all know how the yearly PSL anthems become an important topic for social media to debate about! The case of the 2022 PSL anthem is no different, sparking yet another frenzy that shows no signs of dying down any time soon.
Last year's "Groove Mera" ft. Naseebo Laal, Aima Baig, and Young Stunners became a massive social media fiasco. The track probably became the most criticized PSL tune of all time, with fans losing faith that there will ever be anthems as exciting as the first three official tracks sung by Ali Zafar.
This year, Pakistan Cricket Board (PCB) roped in the most popular singers in the country, Atif Aslam and Aima Baig to raise the game and floor the nation with an unforgettable anthem. While this is the first time Atif has taken place behind the mic for a PSL song, Aima is getting a second chance at it.
But have they met expectations of this truly hard challenge?
Just within a few hours, the song has garnered as many as five lakh views on YouTube and the numbers continue to grow. The reaction to it is, however, mixed. Let's see what's buzzing on Twitterverse about Agay Dekh!
As predicted, an Ali Zafar Vs. Atif Aslam debate has kickstarted!
Meanwhile, Groove Mera is being labeled as a better track by a group of Twitterati.
However, Atif Aslam lovers remain loyal and believe he has aced the anthem!
Comedian Shafaat Ali is Team Aima Baig all the way.
A very young Abdullah Siddiqui is also being praised for a job well done!
As usual, Agay Dekh has kickstarted a hilarious meme trend that we all will be seeing on our feeds in the upcoming days.
All in all, this is just the start of the buzz around the newly-released track. What do you think of Agay Dekh? Let us know in the comments below.