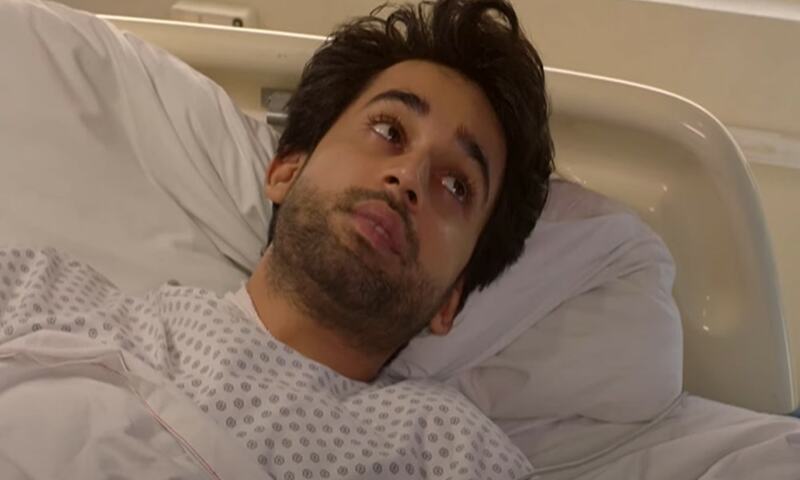 Little does Mehru know that Mahir indeed is a scheming husband

A fast-paced Dobara eventually picked speed from an episode of slow developments last week and returned with a bang.
We finally received the answer to the much-awaited question of Mahir's sincerity to Mehru in the story. What's more, Mahir's father too now is aware of what his son is up to.
How all of this will impact Mehru, who has nothing but love in her heart for all those around us? Let's do a quick review of Dobara's episode last night and what are we expecting next from the story.
A husband set to betray
The episode begins with Jehangir (Shabbir Jan) trying to start his faulty car. He apparently plans to go to the hospital to visit Mahir (Bilal Abbas). As he waits for a taxi on the road, he is spotted by Mehru (Hadiqa Kiani) who offers to give him a ride as she is also on her way to visit her husband.
Apparently, their unexpected meeting results in yet another heart-to-heart in which Jehangir openly questions her about how she could have fallen into Mahir's deceiving trap. Our heroine makes it clear that she trusts Mahir with her life now that he has almost sacrificed his own life to save Affan (Usama Khan).
Little does Mehru know that Mahir indeed is a scheming husband, who is also immature. In a candid discussion with his friend Babar, Mahir divulges it all that he took this challenge of marrying a widow so he could show Narmeen how capable he has gotten after she left him. He wanted money to prove to her that he is not as weak as she thought he was and Mehru came into his life at the right time. When will he get over Narmeen and realize she was never the one for him? Only time will tell.
(https://www.instagram.com/p/CanFmCuNeEl/)
Meanwhile, Jehangir hears this not-so-shocking confession by his son and is now sure that his child is a devious fool. But will he tell it all to Mehru? Apparently, he intended to tell her everything and calls her until he realizes that Mehru is going out of her way so that he could receive medical help for his ailing condition. Why did he change his mind on the call? We will surely discover that in the upcoming episodes.
On the other side, unrest has developed amongst Phuppo, Zamir (Nabeel Zuberi), Minal (Maheen Siddiqui), Affan, and his wife, Sehar (Sabeena Syed). Affan refuses to contact his mother for she has not gotten back to him since the gun-shot incident. However, his wife, Zamir, and his sister are trying to make him understand that he will lose both the property and his worth in the house if he continues to be an ego-centric stubborn son.
(https://www.instagram.com/p/CanaLxRNR6k/)
Phuppo doesn't intend to give up and is determined to spread discord in the family. Will Affan bow down and contact his mother? The promo of the next episode hints at a brewing battle between Mehru and her family. She has decided that she will give the command of the business to Mahir and this has wreaked havoc in the lives of all those against this bold move.
Shabbir Jan becomes the story's prominent force
In the past few weeks, Shabbir Jan had a meager screen presence. But the twist in the episode paved a way for Jehangir's character to be in the spotlight and we are loving all his scenes so far. The veteran actor has yet again moved us with his performance as a helpless, weak husband and a father. His scenes with Hadiqa strike a chord in our hearts, as all of them are emotional and heart-warming.
We also loved Javed Sheikh's mini appearance in this episode and as usual, he made us smile with his quips in the small scene.
Feedback on YouTube reveals how much everyone is angry at Mahir for being a typical gold-digger who marries an elderly partner for money. However, various comments by women, explaining how they married older men due to family pressure, make us realize the plight of young girls who are pushed into marriages with men more mature than them.
At the end of the day, understanding matters between couples and forced relationships never work. Let's see where Dobara takes us ahead in the upcoming weeks. Will Mahir have a change of heart?
Will he see the true love displayed by Mehru? We surely hope so!