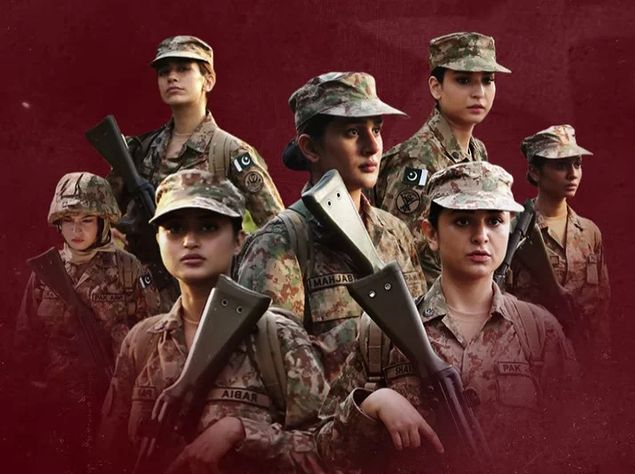 There was a fierceness and sheer confidence that was evident in all Lady cadets, making people around them proud.

This week, Sinf e Ahan continued to show us the transformation in lady cadets as they returned to their homes.
The episode was largely focused on Mahjabeen's avatar as she was the last one to come back to her city. Nevertheless, there was a fierceness and sheer confidence that was evident in all the females, making people around them proud of the change that PMA has created in them.
Let's discuss what happened in Sinf e Ahan this week and what are we expecting next to happen in the tale.
Changing for the better
The episode kickstarted with Arzoo (Syra Yousuf) sitting in front of Noraiz (Asad Siddiqui) like an unflinching lioness. She no longer allows him to control her and makes it clear that she is not interested in marrying him. Noraiz is of course taken aback by this ferocious side of Arzoo and bluntly tells her that he is offended. However, Arzoo didn't care and leaves him alone in the room after announcing that her family will not be renewing the contract of their rented home to be his tenants.
Meanwhile, Mahjabeen (Kubra Khan) returns to Islamabad as a new soul who is disciplined, relaxed, and content with life. Her parents are shocked to see this new side in her daughter- a shade they craved to see in her all along. She wakes up early, exercises, and is even eager to spend time with his parents. They are touched by her inclination to give them some time, showing her pictures from her army life and telling stories from PMA. So much so, Kumail (Ali Rehman) too is pleased to see this new version of his beau and tells her that he is proud of her. But will he continue to stay with Mahjabeen despite her dream to pursue a career in the army? Seems like he still needs some time to figure out a plan.
We also realize how she broke up Nasr (Asim Azhar) and Rabia's (Sajal Aly) engagement. She lies to Nasr that Rabia is bipolar. However, our hero is quick to pick up the lie and is now eager to patch up with his ex-fiance.
Another dominant sub-plot in the episode belonged to Osama (Sheheryar Munawar) and Kiran's (Sonia Mishal) meetup with Taimoor's mother (Shamim Hilaly). Mahnoor is ecstatic to meet her grandmother, who is very fond of Kiran and his son's best friend, Osama. She too is a mourning mother who sees her son in Osama. She smells his scent in him and is thankful to him for being there when Taimoor got martyred.
Cadet Nathmy (Yehali Tashiya) pens a moving letter to her mother, elaborating how media and the internet sensationalize negativity about Pakistan. She expresses how safe she feels here with her new friends, how beautiful the country is, and how Sri Lanka too has fought stereotypes like Pakistan over the years.
On the other hand, Shahista has made her mind that she will not continue the relationship with Kamil (Junaid Jamshed). She feels they have no compatibility and she judges him based on his weak education.
Parish (Ramsha Khan) has deeply threatened the Sardar of their clan with her strength and confidence. She refuses to take his offer for a ride back to PMA, telling his men that she doesn't want to get used to the leader's endowments, which may not happen again in the future.
The next episode shows Mahjabeen and Rabia together onboard on PMA's adventure trip. Old friends-turned enemies will be staying together and seems like the cold war between them is about to heat up.
Moving moments, we loved
The episode was packed with some of the best, empowering scenes that we need to discuss.
It was a complete joy to witness the sweet change in Mahjabeen and how she realized the importance of giving time to her parents. The scene where her father states that no institute in the world could teach her what PMA did in the past few months was quite an eye-opener. After all, army life trains you to prioritize your homeland above all material things. Mahjabeen no longer likes social media or worldly life. She wants to serve her homeland and be a disciplined citizen of Pakistan.
What's more, it was a breath of fresh air to witness Taimoor's mother shower all the love on her daughter-in-law. In typical Pakistani dramas, bahus are often subjected to taunts for bringing bad luck in the marriage. All the scenes with Shamim Hilaly were moving and we felt for the mothers of all martyred soldiers. It's brave of them to forever bid farewell to their sons and daughters, burying their memories deep in their hearts.
Yehali Tashiya's heart-touching review of Pakistan made our hearts swell with pride. Her character's letter resonated with how our country has suffered from the misunderstandings created by social media and how it's a beautiful place to be. We also realized that every nation suffers from discords like her own country Sri Lanka did. But amidst all the negativity, there is hope, love, and hospitality in the Pakistanis that welcomes all foreigners with open arms.