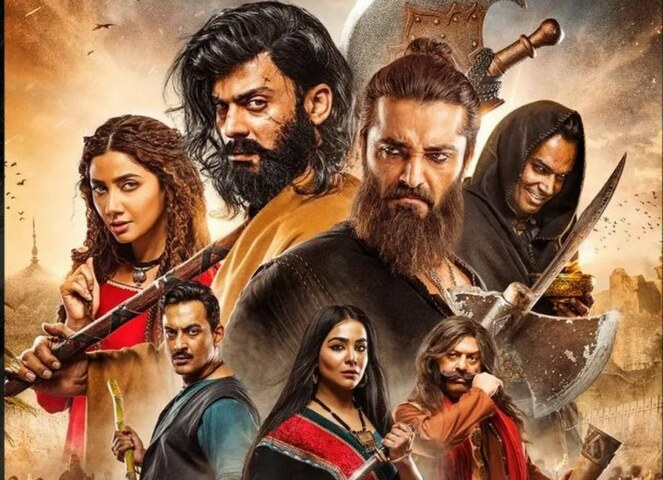 Bilal Lashari's 'The Legend of Maula Jatt' has taken over the world and crossed the 100 crore mark!

Bilal Lashari's 'The Legend of Maula Jatt' has been making waves across the world. The film which has taken a long time coming, is definitely worth the wait! With raving reviews, the movie is doing tremendously well at the global box office and has finally joined the bigwigs by joining the 100 Crore club, breaking all previous records set by any Pakistani movie in the global box office, giving some big-budget Bollywood flicks a run for its money.
The movie has crossed into the 100 Crore club in a mere 10 days, breaking records worldwide. The briliant film is a work of art and has been rated as a must-watch by famed film critics in Pakistan and globally.
The Legend of Maula Jatt is a reboot of the class that released in 1979 and is now showing across 500 screens in 25 different markets. It has raked in a jaw-dropping Rs 100 Crores and more globally. Thus, setting a new record for Pakistani movies around the world. The film has seen cinema houses full to the brim on weekdays. That certainly says a lot about the amazing response TLOMJ has received from audiences and also about a certain type of content that will be liked by audiences across the globe. Thus proving content is king, and other factors are not major players in the making of a blockbuster hit!
The story of The Legend of Maula Jatt follows prizefighter Maula Jatt (played by Pakistani heartthrob Fawad Khan), who is tortured by his past demons and seeks to win against one of the most fearsome fighters of the time, Noori Natt played by Hamza Ali Abbasi. Audiences have thronged to cinemas more so to finally see the iconic screen pairing of Fawad Khan and Mahira Khan create magic on-screen again, the swoon worthy chemistry between the two is definitely worth the watch.
The film also features Hamza Ali Abassi and Humaima Malik in pivotal roles, Gohar Rasheed, Faris Shafi and a band of talented artist that makes the movie a must watch for all. As per the reviews pouring in it seems like Humaima Malick has stolen the show from Mahira Khan as viewers believe she has nailed the role of the fierce Punjabi woman, 'Daaro'.
The movie has surpassed expectations and its VFX head is Brian Adler, of Avengers: Endgame and Avatar: The Way of Water fame. The visuals and action sequences are unlike any other Pakistani film to date. Thus, also becoming the most expensive film to have been made in Pakistan's history.
Have you watched the film? Let us know in the comments below.