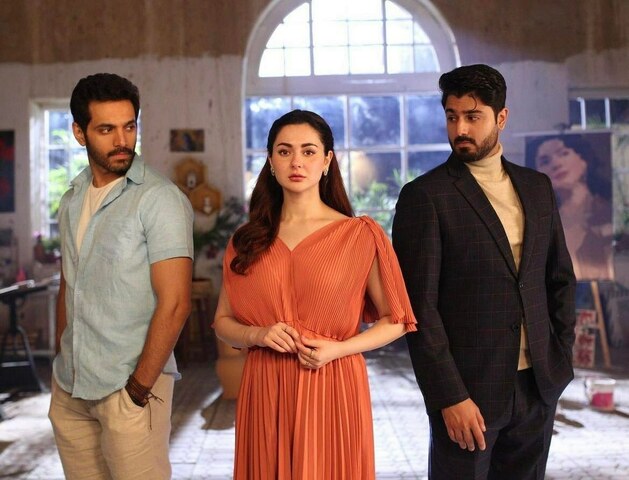 Maheer appears to have been clueless of Saad's feelings and has her mind and heart set on Areeb. Saad is having a...

Maheer appears to have been clueless of Saad's feelings and has her mind and heart set on Areeb. Saad is having a hard time processing what just happened.
Mujhe Pyar Hua Tha (MPHT), written by Sidra Sehar Imran, airs on ARY Digital every Monday at 8:00 p.m. The drama's star-studded cast and their powerful performances have been drawing significant TRPs and getting critical acclaim. The story of MPHT revolves around an intense love triangle between Maheer (Hania Amir), Areeb (Zaviyar Noman Ejaz), Saad (Wahaj Ali).
Saad was devastated when Maheer made it apparent that she just thought of him as her cousin and friend. He keeps thinking about how Maheer urged him to turn down everyone so casually. Neelo (Rabiya Kulsoom) has noticed that Saad doesn't appear to be as pleased as he ought to be. She attempts to find out why, but Saad won't provide any information.
Areeb begins pressuring his parents to make a formal proposal visit to Maheer's home after learning through Anabia that Maheer might just be engaged to her cousin. Areeb's mom certainly disagrees with him and has informed him that she will not ask a middle-class girl's hand in marriage for her only son. Because of this, Areeb rebelled and spent the night away from home, which caused his father to become concerned about his one and only son and insist that his wife go to the girl's house with him. While talking to Areeb on phone Maheer has clearly stated that she would choose her's and her father's honor over love or just about anything.
Maheer made it obvious to Areeb over the phone that she would put her and her father's honour above anything else, including love. The episode was merely a continuation of Saad's wounded heart and Areeb's simple desire to claim Maheer as his own. We had hoped to see Saad take a step forward in this episode, but it's likely that he was too shocked and heartbroken to respond. Although it makes sense, it would have been great if we could see what happens next right away given how quickly the drama was developing. Let's just hope that the upcoming episode doesn't drag out the Areeb vs. Saad conflict and gives us a clear picture of what Saad does for his love—sacrifice or put up a fight? Neelo also needs to quit chanting "Bhai" and "Maheer" nonstop because it is so annoying and nosy.