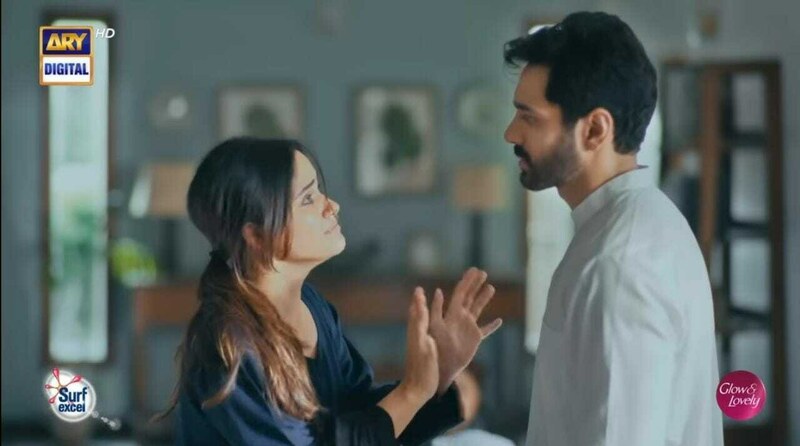 Neelo's anger at Maheer has now increased along with her grief as Saad and Neelo lose their father.

The drama "Mujhe Pyaar Hua Tha" explores the complexities of Maheer, Saad, and Areeb's love triangle . Saad has had feelings for Maheer all of his life, but he has never told her. A new chapter in their life begins when Areeb enters the picture, but a small misunderstanding separates them. Maheer discovers herself caught between the two guys fighting for her love as the story plays out. "Mujhe Pyaar Hua Tha" is a story of love, loss, and the difficult choices that come with it, starring Hania Ali as Maheer, Wahaj Ali as Saad, and Zaviyar Noman as Areeb.
The episode opens with the most heartbreaking scene, when the doctor announces that Sarwar Sahab, Saad's father, has passed away. The two toxic aunties from their neighborhood begin speculating that Sarwar Sahab's death was caused by the bad reputation of either his daughter in law or daughter, while the family is still in shock and mourning. After overhearing their conversation, Neelo politely asked the two women to get up and leave. After returning inside, she yells at Maheer for ruining their life and for seeming fakely heartbroken over her uncle's demise while she is the one to blame.
Anabia, Maheer's cousin, tries to manipulate her once more by asking how she can put up with her cousin's disrespect. Maheer clarifies that she is, in fact, correct and has a point. Rafia now sides with Anabia and claims that her daughter isn't thinking about herself at all. The following day, Maheer's father expresses his dismay over the fact that his daughter is still in contact with the people who have caused them to be in such a miserable situation. Maheer, however, departs, claiming that her baba is correct and that she alone is to blame for the problems in this house.
Later, Neelo's mother tries to explain to her that what she did was wrong and that such a scenario shouldn't have been created, especially not at her father's funeral.
As everyone grieves, Saad is shown attempting to correct the wrongs and acting as their major supporter. He dropped Maheer's friend off at her house, but on the way back, he simply lost his collected state and broke down in tears. Neelo yelled at Maheer again when she attempted to apologize to her and clear up any misunderstandings. Neelo told Maheer to quit acting like she cared and that only her brother could be fooled by her deception. Overhearing all of this, Saad requested Maheer to go spend a few days at her mother's place since mourners were expected and he simply doesn't want any more scenes to be made as she left while sobbing. Maheer agrees, saying that she will do so and that she understands.
Anabia meets up Areeb, she tells him everything that transpired and how Maheer's cousin held her responsible for everything. Areeb expressed his disappointment and wished to understand why she was subjected to such suffering, promising to take action to rid her from all of this.
Areeb comes back to his home and starts yelling at Faha and his mother for being at responsible for Saad's father's demise. But being the ignorant, selfish women they are, they acted indifferent.
The episode was extremely tragic especially Rabiya Kulsoom's gut-wrenching portrayal of Neelo and Wahaj Ali as Saad gave us chills with their outstanding performances. Because their acting was so powerful and so genuine, it felt we had lost a loved one. Maheer has, thankfully, become a little more sane since the last episode, but her reaction when her father expressed his disapproval over the fact that Maheer is still in touch with Areeb was a little unnecessary. Anabia's motives are quite difficult for us to comprehend as she is trying to get Maheer to think about Areeb and have second thoughts about Saad. We hope she fails in convincing Maheer that Areeb is the one person she deserves and Maheer uses her brain to recognise where she belongs. What do you think Saad, Maheer and Areeb will do? Let us know in the comments section.