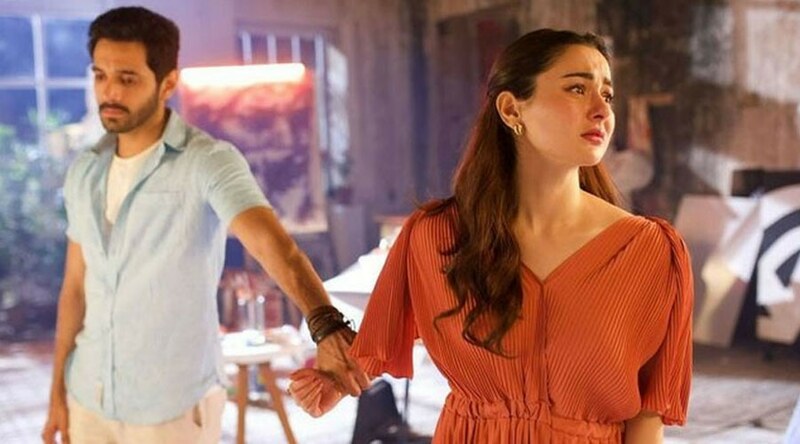 Neelo does it again with her meddling ways. However, this time, her interference has actually worked in Saad's favor...

Neelo does it again with her meddling ways. However, this time, her interference has actually worked in Saad's favor as he is no longer burdened with the blame of refusing to marry Maheer.
Mujhe Pyar Hua Tha is an ARY Digital drama which airs every Monday at 8:00 pm. Written by Sidra Sehar Imran and directed by Badar Mehmood, MPHT takes viewers on a journey through the complexity of love and sacrifice.The intriguing plot follows the lives of the three main characters, Maheer (played by Hania Aamir), Saad (played by Wahaj Ali), and Areeb (played by Zaviyar Naumaan), as they struggle through a love triangle.
As Saad and Maheer continue their conversation about separating from the previous episode, Maheer's mother overhears them. Rafia still believes that Saad leaving Maheer would be a fair solution. However, Maheer remains unaware of the true reason why Areeb did not show up at their wedding and believes that Saad only married her out of sympathy and saved her father's honor. Rafia is determined to prevent Maheer from accepting her fate and Saad as her husband by bringing up trivial materialistic matters like Neelo and her mother's poor choice of clothes for Maheer.
Meanwhile, Neelo informs Maheer that some khandani khalas are there to meet the new bahu. Since Maheer did not feel like dressing up, she shows up as she is, resulting in the guests asking taunting questions and remarks. Neelo and Saad's mother are disappointed by Maheer's behavior and did not like being embarrassed in front of the guests. While they discuss, Neelo reveals everything in front of her parents about why Saad refused to marry Maheer in the first place, causing Saad's parents to scold him.
Saad's father enters Maheer's portion of the house to talk to Azhar and ask him why he did not question his daughter about her interests before blaming Saad. He was sad that he hit his son for something he had not even committed. Now that everyone knows the truth, Saad's parents declare that the rukhsati will happen this week on Friday. While Maheer is shocked, it seems she will accept her fate and not pay heed to any of Rafia's pointless arguments.
Meanwhile, Areeb's mother is on a new mission to get him engaged to her niece, Faha. She brings event managers and asks Areeb to meet them as she has arranged his engagement with Faha at their house this week. Areeb clearly tells her that this cannot happen and that she should stop with her crazy ideas. Faha, encouraged by her Maami, tries her best to win Areeb's heart but Areeb pushes her away.
Overall, the episode moves the story forward, thanks to Neelo's typical Nand behavior. Saad is no longer the scapegoat, and the right person is now being blamed for their actions. However, Saad's father's overreaction is confusing considering his previous consideration for his brother's well-being. Additionally, Areeb's mother's sudden change of heart seems unrealistic considering her recent loss. Angeline Malik's acting is difficult to tolerate, and the girl playing Faha acts far better than her. With the rukhsati happening soon, it will be interesting to see how Saad and Maheer start their married life.
What are your thoughts on the previous episode? Let us know in the comments section.