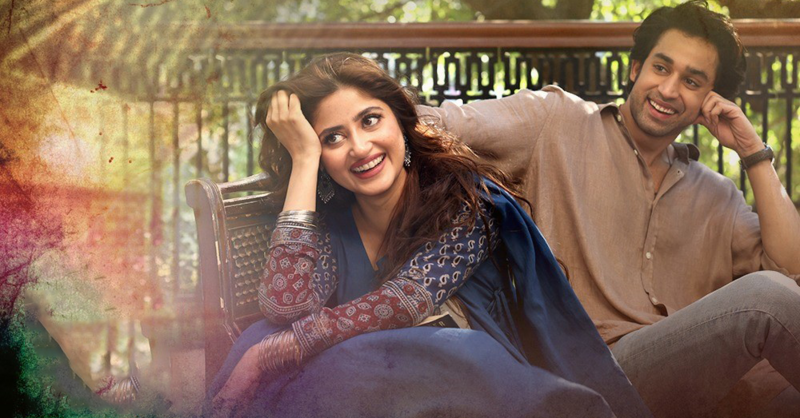 Salman has finally made a confession that everyone has been eagerly waiting for. Meanwhile, Zareena has revealed her...

Salman has finally made a confession that everyone has been eagerly waiting for. Meanwhile, Zareena has revealed her true colors, giving not-so-subtle hints about her greedy intentions for bringing a bahu into her over-protected son's life.
Kuch Ankahi airing every Saturday on ARY Digital offers a gripping narrative about significant social issues. Mohammed Ahmed, who portrays Agha Ji in the show, has penned the drama while it has been directed by Nadeem Baig. Through its well-crafted plot and compelling characters, the show delves into women's legal and religious rights to property, workplace harassment, and the social expectations placed on young girls to wed. The main cast of the drama includes: Sajal Aly, Bilal Abbas Khan, Mira Sethi, Irsa Ghazal, Qudsia Ali, Vaneeza Ahmed, Babar Ali, Shehryar Munnawar and many more prominent actors.
Shagufta and Saif:
Shagufta's father tries to persuade her to stop meddling in Saif-ur-Rehman's marital life. However, Shagufta persists in her plan to marry Saif-ur-Rehman. Her father tells her that she is a two-faced woman for ruining another woman's life.
Shagufta and her father talk about their past, where he confesses that he was neither a good husband nor a father, but he will not make any mistakes now. He warns her that before he kicks Saif out of her life, she should do something about it.
Saif-ur-Rehman and Shagufta meet at the seaside, where Saif asks Shagufta what trait she likes about him. She replies that she likes that he has never gone against her will and has never disagreed with her.
Samia calls Saif, and Shagufta confidently tells Samia that Saif will be late because he is with her. This angers Saif.
Samia and Saif:
When Sofia Phuppo and Tania come with breakfast to Samia's house, they start changing the setting of her room. Zareena gets shocked when she sees them taking the decorations off. Sofia cleverly warns her that Agha Ji will be coming to change the settings himself if she doesn't let them do it. Zareena very cleverly suggests that instead of changing the setting of this house, they should give Samia a new one. Despite Shagufta's clear refusal to Samia about Saif coming to pick her up, as per tradition, Saif shows up. Aliya could sense that something was wrong between Saif and Samia.
Agha Ji's:
When Samia comes home, Shammo is elated and is doing everything she can to make Samia feel at home, much like how desi moms treat their married daughters after shadi. When Agha Ji asks Samia if she is happy, she replies that she is content and it will take time for her to adapt to a new house. Agha Ji asks Samia to promise that she will never lie or hide anything from them.
When Saif arrives at his in-laws, Zareena calls and complains about why he was not picking up her call. She pesters Saif to ask Agha Ji for a house subtly because Samia is not comfortable in their little home. When he refuses, she threatens to come to his susral and do it herself, and she does.
Alia and Sehrish:
Sehrish is shocked that Azfar can go to this length, and if she tells her father, he will be even more shocked. Aliya tries to console Sehrish by telling her that the closest ones, mainly family, make things difficult, especially when it's a woman trying to do something or owning something. Aliya tells her that with a good lawyer, they will definitely resolve this issue as she is going through a similar situation with her family claiming her father's house because he only has daughters.
When Alia disclosed to Sehrish that Asfar had contacted her with a job offer, she was met with unexpected encouragement. Despite Alia's reservations about the proposition, Sehrish was confident that this could be a promising opportunity for her to advance her career. Her tranquil demeanor suggested that she believed in the potential of this offer. With a composed tone, Sehrish urged Alia to accept the job and explore the possibilities it could bring.
Aliya and Salman:
Salman finally confesses his feelings to Aliya, asking her to commit to him, or he will shoot anyone else who tries to woo her.
What We Think: Once again, the drama delivered a brilliant episode that left us captivated. However, this episode was extra special as it finally signaled the beginning of Alia and Salman's love story. We can't get enough of Salman's love-struck and dreamy demeanor, especially when he asks Aliya for a commitment. His insecurities were palpable, and we felt them deeply. Aliya is also amazing in this episode. We see her starting to feel a little something for Salman and giving away hints that she too is smitten. When she asks herself, "should I go now?" but then wonders why she is asking that question, we can't help but feel like we are right there with her.
Sajal Aly's portrayal of Alia is impressively realistic and relatable. We feel like she could be one of our own when she shouts, "Abay chal!" to a passerby who comments on her driving skills and speed.
Kuch Ankahi is quickly becoming a drama that we can't afford to miss even a single scene of. Although we are overjoyed about the much-awaited confession between Alia and Salman, we appreciate how other stories are not neglected and are executed with the same brilliance.