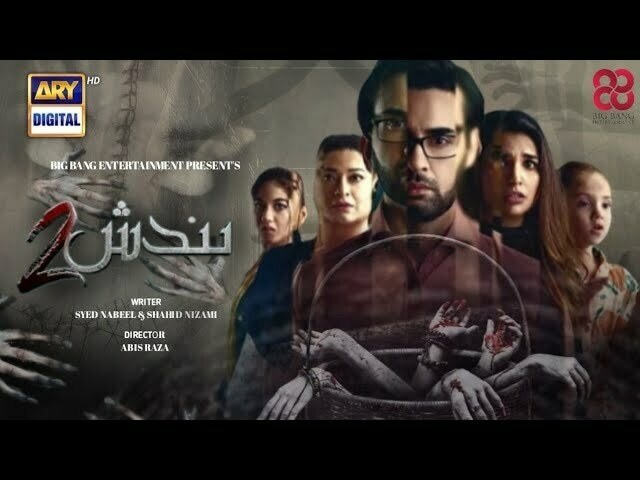 Hoorain and Manahil continue to have strange and terrifying encounters.

For Pakistani drama enthusiasts, Fridays have turned into a fright fest because of the popular horror thriller Bandish 2 which airs on ARY Digital every Friday at 8:00 pm. Bandish 2's stellar cast includes Sania Saeed, Affan Waheed, Amna Ilyas, Areej Mohiuddin, and others. The story revolves around widowed Humaira (Sania Saeed) who has always put her kids before anything else. She has a son Sameer (Affan Waheed) who is married to Wania (Amna Ilyas) and a daughter Hoorain (Hoorain), who is adored by everyone at home. Humaira also has has two daughters, Manahil (Areej Mohiuddin), Rabail. They previously resided in Sukkur, but they recently relocated to their old family home in Karachi, which is now under the influence of black magic, most likely performed by their chachi Farhana (Zainab Qayyum), who wants to take over their ancestral home along with her son Armaan despite having received their share many years before by Humaira's husband. Manahil and Hoorain get affected by dark magic and suffer adverse outcomes as a result. Shuja Asad's character Ahmer, who lives next door has feelings for Manahil, fights for her in front of his parents. It becomes obvious as the plot develops that no one is immune to the destructive effects of black magic.
The episode begins with Farhana encouraging Rabail to get a job after her engagement fell through on the day her in-laws arrived to finalize the shadi's date, most likely as a result of the black magic Farhana has been casting over the family. Rabail, who has a great deal of love and respect for her chachi, agrees with her plan and tells her family. She started looking for a job because neither Sameer nor Humaira had an issue with her working. Later, Armaan tells her mother that since his boss is seeking for a secretary, he might get Rabail a job at his workplace. However, because Sameer has his reservations with Farhana, Farhana forbids Rabail from telling her family about who helped her in finding a job. She is hired as secretary by Imran Aslam when Armaan brings her to his office.
Despite Sameer's assurances that their daughter has not been hurt and that what Wania saw was an illusion because Hoorain is secure and sound asleep, Wania is still deeply scared and troubled by what she witnessed. Even though she tries to convince Sameer that what she saw really happened, Sameer rejects superstition.
When Hoorain leaves for her first day of school the following day, her mother brings her home early out of concern about something bad happening to Hoorain.
Farhana informs her Baba Sahab (Salahuddin Tunio), the guy who is casting black magic on Humaira's family, that things have started going wrong there. Farhana is informed by Baba Sahab that the task they are performing is expensive and that he is aware that she cannot afford it. As a result, he offers to execute the mantars and spells for one of his other clients in a cemetery. Farhana objected out of fear of visiting a cemetery at night. Her baba Sahab, however, advised her to be frightened of the living rather than the dead. He ultimately told her that he might not be able to assist in her sinister schemes as a result of this.
Manahil is overheard talking to Ahmer, and Humaira prohibits them from continuing their connection because Jamal, Ahmer's father, would never approve given the animosity between their fathers. Humaira still disapproves of the notion of her speaking to Ahmer, even though Manahil assured her that Ahmer would convince his father to accept their proposal.
Sameer tries to convince Wania that her paranoia may harm their daughter and that they should see a psychologist.
Wania asks Manahil to watch over Hoorain so she can take a bath. Hoorain hides inside an old trunk when Manahil and she decide to play hide and seek. Manahil was looking for her when she noticed Hoorain leaving through the main gate, but when she followed her outside and looked for her, she was nowhere to be found. When Ahmer noticed Manahil worried outside, he inquired as to what the issue was, and they both began searching for Hoorin. Hoorain, in the meantime, gets locked within the trunk and desperately tries to escape. When Wania came out of the shower, she overheard the trunk moving and muffled screams. She opened the trunk and out came a frightened Hoorain who told Wania that Manahil locked her inside.
Wania rushes outside to discover Manahil conversing with Ahmer. She scolds Manahil for her carelessness and states that she was outside conversing with Ahmer when she requested her to watch over Hoorain. Manahil tries to explain that she was only looking for Hoorain and that she saw her leaving while everyone is furious at her negligence. Nobody took her seriously, and everyone was furious with Manahil for being careless.
Later, in the kitchen, Manahil made an attempt to explain to Wania that she had seen Hoorain rushing outside and had simply followed her. When Wania came to ask why Manahil was talking to herself in the kitchen, Manahil freaked out because she had just seen Wania standing there and that is why she was talking to her. Manahil also revealed that it was actually her and that she had previously experienced some other strange occurrences, including the door locking itself and her bed floating in the air.
When Wania heard all of this, she, along with Manahil went to Sameer and Humaira and tried to explain to them that if what the she had seen was an illusion, then why had Manahil also had these kinds of experiences. She declared that the house has some sort of paranormal presence.
We liked how the drama doesn't play all of its spooky cards in every episode, instead presenting a genuine scenario in which strange occurrences have only recently begun. After witnessing her daughter fall off the roof, Wania, played by Amna Ilyas, did a fantastic job portraying her maternal anxiety. Sania Saaed, who plays Humaira, is also doing a fantastic job of keeping her actions in check and acting modestly around her dewrani in spite of her reservations with her. This makes her character much more relatable because this is how mothers usually operate in our culture; they wouldn't be disrespectful or allow their kids to misbehave around a family elder.
We particularly enjoy the spooky minor touches, such as the wind making objects move out of nowhere, the doll's eerie expression, and the background music, which adds depth and a chill to the scene by being precisely timed. We hope that everyone will believe Manahil and Wania before it's too late. What do you think will happen—will Sameer keep on believing that his sister and wife are having hallucinations or will he take action? Post a comment and let us know.