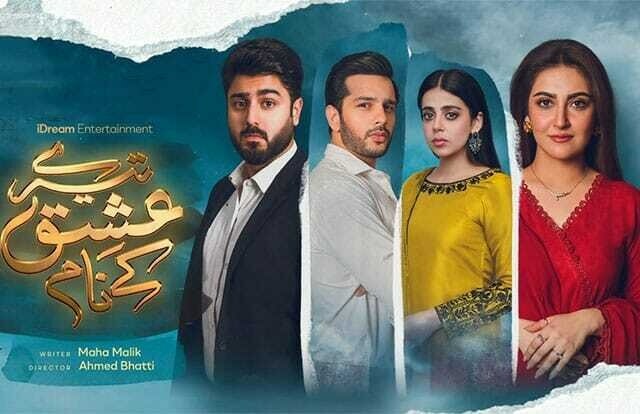 Rutba's impromptu marriage to Altamash shatters Azka's heart!

ARY Digital's Tere Ishq Ke Naam starring Zaviyar Nauman, Yashma Gill, Hiba Bukhari and Usama Khan is slowly but surely becoming another fan favourite. In a sudden turn of events, a dramatic plost twist occurred in the last two episodes, while we thought the story was predictable from the trailers and promos we had seen, the audience was certainly in for a surprise! The story of love, hate and vengeance has released back to back impactful episodes that already have us hooked to this unconventional story! Produced under the banner of iDreams Entertainment, Tere Ishq Ke Naam is directed by Ahmed Bhatti and is penned by Maha Malik.
Khursheed's Attemp to Stop Rutba's Marriage to Altamash Fails Miserably!
Entrusting Khursheed with Rutba's (Hiba Bukhari) safety and care, Mehar Ali Khan (Rutba's father) had gone off for some urgent work at his lands in the interior city. Altamash (Usama Khan) had been awaiting such an opportunity and pounced on it as soon as possible. Having an extremely strong hold on Rutba and manipulating her easily, he convinced her that performing their nikkah ceremony secretly is the only way they could be together, head over heels in love, Rutba is that blind puppy who can see nothing but Altamash and feels he is correct in all he says. Little does she know that Altamash and his family are simply after Rutba's money, land, status and power. The young diva Rutba has not been able to see clearly where she's going wrong, we believe as the story progresses she will realise the grave mistake she's committed.
Khursheed tried his level best to keep Rutba safe but he was not successful thanks to the ever so helpful Azka (Yashma Gill). Khursheed was late and could not stop the Nikkah, however he brought Rutba back home. The guilt on his face was evident and we must commend Zaviyar Nauman to have essayed the role of Khursheed brilliantly.
Yashma Gill's Azka's Planning Goes Awry!
The urdu saying, "apnay paao pe kulari marna" fits well on Yashma Gill's Azka, while being desperately in love with Altamash, she has been helping him get closer to Rutba with every passing move she's made. She not only helps them meet in secret, talk covertly but was the one who helped Rutba escape her home and come to Altamash's place for the Nikkah ceremony. While Azka started taking preventative measures by calling her uncle aka Rutba's father, it was unfortunately too late and the poor girl had to watch the man she loved say 'Qabool Hai' to her cousin. Not only could she stop the Nikkah but failed miserably at even trying to cause any issue.
Yashma Gill who plays the gray character in Tere Ishq ke Naam, she not only is extremely jealous of Rutba's power, status and money but wants the one thing she has the most, Altamash and his love. After her mental breakdown in the latest episode where she realises she's done the worst thing ever by bringing Rutba and Altamash together, she now decides to plot on how to break off this Nikkah by inching closer to Altamash. Yashma Gill essays the role of the cunning, backstabbing cousin perfectly and we can't wait to see what tricks she has up her sleeves for the upcoming episodes as the story unfolds.
What's Next?
Will Azka get what she wants from Altamash? As she keeps being the goody two shoes infront of Rutba's father while pretending to care for Rutba's wellbeing. Will she be successful in meddling between Altamash and Rutba? Watch Tere Ishq Ke Naam only on ARY to find out!