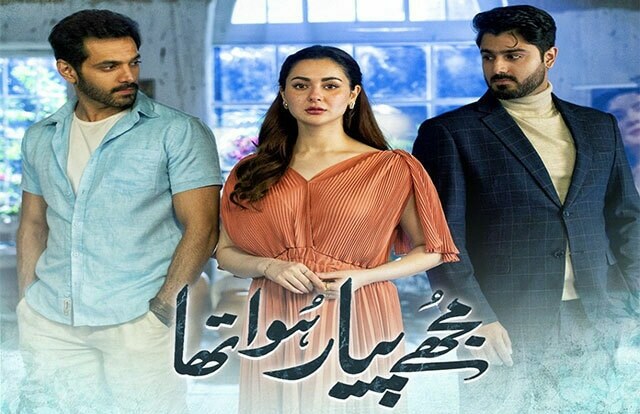 Things between Maheer and Saad are finally getting better after Saad's release from prison as they discuss all of...

Things between Maheer and Saad are finally getting better after Saad's release from prison as they discuss all of their misunderstandings. However, Neelo's in-laws' refusal to marriage because of their bad reputation just makes things worse again.
Mujhe Pyar Hua Tha, which airs on ARY Digital every Monday has an intense and complex love triangle plot. Maheer (Hania Amir), Areeb (Zaviar Noman), and Saad (Wahaj Ali) are the main characters in the story. It was love at first sight when Areeb and Maheer fell in love at a wedding. Being best friends and living in the same house as cousins, Maheer was unaware of Saad's love for her, which he had been harbouring since he was a young. Maheer and her family agree to have her married to Areeb, which upsets his mother because they are not as financially stable as them. Due to his father's untimely death, Areeb was unable to attend his own wedding, and his mother used this as an excuse to reject this proposal. They arrange for her to get married to Saad in order to protect the family and Maheer from embarrassment. Maheer, however, is unable to accept Saad as her husband because she was unable to move on from her lost love. The family is thereafter surrounded by problems.
In this episode, Neelo is asked by Saad to apologize to Maheer as he returns home from prison, and his Chachi informs everyone of how disrespectful Neelo was to Maheer. Nevertheless, she doesn't. Maheer feels torn because Neelo's treatment of Maheer and her refusal to apologise when Saad urged her to do so has angered Maheer's mother.
Maheer, however, believes that Saad needs her and that her mother's rage is inappropriate at such a time. Maheer goes to Saad to have his wounds treated. Saad kept implying how damaged he was. When he questioned Maheer over whether she visited Areeb in the hospital. After Maheer replied yes, Saad did not ask any other questions and leaves.
Neelo agreed to apologise to Maheer after making amends to her brother. She is sure, though, that while her manner of speaking may be incorrect, what she stated was never wrong. She made Saad understand that Maheer is not happy in this relationship and would do everything in her power to get rid of him, regardless of what he does for her.
Maheer phones Areeb and inquires about his health. Areeb interprets that as a chance for her to come back to his life. When Neelo arrives to apologise to Maheer, she overhears Areeb talking to Areeb, but when Neelo questions her, she denies and says she was speaking to Anabia. Neelo cautions her that those who enter through postern doors often get caught.
Saad apologies for asking about Areeb, but Maheer says that it was his emotional comments that made her angry, not his question. Maheer clarifies that if Ananbia had not come and informed her that Areeb's situation was critical, she would not have gone to see him in the hospital and would have told him herself.
Maheer and her uncle (Saad's Father) had a conversation in which Sarwar states that while he is aware that everything happens for a reason, Saad's ego has been bruised and it would take him some time to recover. Being his wife and life partner, she is the only one who can put him out of his suffering. Also, he expressed guilt on Neelo's behalf, stating that she only acted and said as she did out of love for her brother.
Saad meets Maheer's friend Hiba to talk with her cousin about something. Anabia and Maheer see Hiba and Saad together in the restaurant while they are waiting for her cousin. Anabia tries to persuade her that Saad is being unfaithful. When Saad returns home, he himself informs her that she went to visit Hiba because her cousin works as a travel agent and would be able to find employment abroad since he is currently unemployed.
The intended father-in-law of Neelo calls Sarwar Sahab (Saad's father) to say that they would not be marrying their son to their daughter because of their daughter in law's bad reputation. Sarwar Sahab suffered a heart attack while he was humiliating him.
Thankfully, the episode moved the plot along. It appears that Maheer is now understanding just how much Saad is doing, but Saad is likely exhausted with everything that has happened and is about to happen. We were unable to understand the need to include Hiba's interaction with Saad and Maheer listening to Anabia polluting her mind with the possibility of Saad betraying her with her best friend after everything she has done and Saad has ignored. Fortunately, Maheer was depicted in this episode acting rather normal and sensible. Thankfully, Maheer was depicted in this episode acting rather normal and sensible. We just hope Maheer won't try to go back to Areeb for help or even pity when and she realizes the harm he has done. However, we believe Maheer is capable of repeating the same foolish mistakes repeatedly and refusing to even acknowledge them.
What do you guys think? Let us know in the comments section.