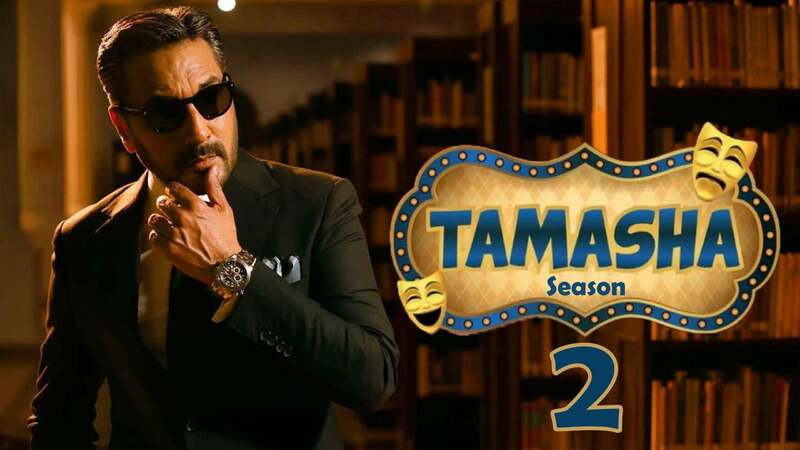 The second season of ARY Digital's Tamasha is doing great, know the reason behind it!

The number of messages I received after appearing in one episode of Tamasha, that too as myself, was far too many to forget. Hardly a couple of people message me after my TV appearances which have been quite a few in the last couple of years. Some praise the female anchor and ask for her contact details while others emphasize that I wasn't good enough in my analysis. Only a number of loyal friends say that we agree with what you did, keep it up.
However, it all changed with my visit to ARY Digital's Tamasha last week which is currently going strong in ratings. Not only did I receive the highest number of calls after my visit to the popular reality show, but many were surprised as to how outsiders were allowed on what is perhaps the best-produced reality show in Pakistan. I must admit that I was skeptical when I was selected to be part of a group of journalists/bloggers to visit the site and analyze the show, but it all changed once I was through the visit. What might seem to an outsider as fake is in fact the most real thing on TV right now and that includes everything from news, and talk shows to even dramas.
If an average person watching Tamasha feels that the show seems more like a scripted venture than a natural one, where most of the contestants tend to overact, then he/she needs to understand that Pakistan is new to reality shows. Even then, how they are pulling through a reality show of one-hour duration for fifty days is a task more difficult than producing a mega serial. In a TV serial, everyone gets to spend time away from the camera, talk to friends, relax, and then appear in front of the camera whereas in Tamasha, they don't have that luxury.
After spending an hour with the contestants last week, I realized that whatever they are doing on the screen must be natural, because if I couldn't stay sane without my mobile phone, under constant surveillance, and without social media, then just imagine how would those feel who have to stay in front of the camera 24x7, without their mobile phones and without interacting with their fans in social media!
But before we move ahead, let's talk about the second season and the massive set it is being shot on. In its second season, Tamasha has evolved from a Big Boss wannabe venture to one which has been endorsed by the original show Big Brother. Hosted by the one and only Adnan Siddiqui, whose entry into Tamasha Ghar last season gave Salman Khan the idea to enter his show in India, the second season began in early August and airs regularly at 10:00 pm until one person is announced as the winner, in 7 weeks.
If there is no surveillance, if mobile phones and books are allowed, if there is no restriction to eating, drinking, and smoking, and if a person is allowed to meet his family, I would love to spend time at the massive set. It has everything one can dream of – from a dust-free environment, a clean vicinity to above all, partitions where one can relax especially a well-equipped gymnasium, an operational kitchen, and a makeup section for ladies.
Add to that the comfortable seats, a dining room, a jail for incarceration, and a game area where it would be decided as to who will stay in the show and who will have to go, and you will fall in love with the vicinity. But then, with the help of 24 cameras that are operational 24 hours a day, 7 days a week, which is equal to constant peeking into one's movement, Tamasha Ghar is like a city where there is no blind spot for the citizens. The restriction of food, and banishment from meeting family, and friends and reading books is what makes life difficult especially for those who are constantly given attention be it at home, shooting a drama, or even eating out.
Moving over to the interaction between the contestants; what the audience sees on TV is in reality the synopsis of what goes around the set in a 24-hour window, instead of being live. The reason behind such delay is simple; the makers want to do something that is not against our values and culture and they censor all such parts that might fall into that category. Not everyone can be self-censuring himself or herself 24x7 and might say a few words or do a few things that might not be appropriate, hence the delay and the censuring.
What's impressive is the way this footage is collected; a look into the Master Control Room showed us that there are 20-24 cameras covering the contestants' movements for 24 hours, which is why it takes more than another 24 hours to go through the footage, delete the unacceptable parts and then compile the one-hour footage for airing.
The editors are helped by a group of youngsters who write down everything that should be in the one-hour episode alongside their time codes so that their work is made easy. It could mean deleting an entire segment of selecting parts of different segments, and for that one must commend the makers as well as the 70-odd people crew for a well-organized job that would have otherwise been hectic, if disorganized.
You might or might not be a fan of Tamasha but it seems everyone wants a piece of the show and that's why it's trending most of the days on social media. The eviction process is currently in full swing and that keeps the contestants and the viewers both on the edge of their seats. Keep watching the show and loving it because it is one of the few very Pakistani things that have impressed foreigners and if the folks behind the show that inspired Tamasha are impressed, then so should we be.