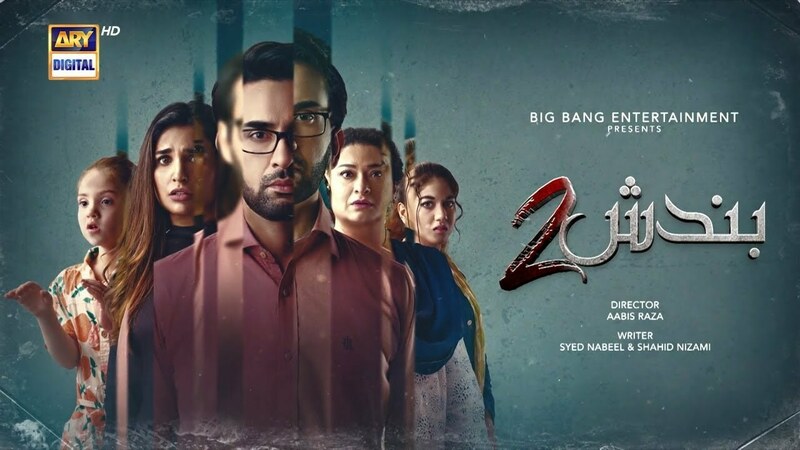 Sameer has now come to believe Wania and is working with her to find a quick solution after the molvi he contacted...

Sameer has now come to believe Wania and is working with her to find a quick solution after the molvi he contacted confirms that they and their home are being affected by a very strong Bandish that even he is powerless to stop.
Bandish 2 presents a dark tale of greed, jealousy, and black magic. This ARY Digital horror drama directed by the talented Aabis Raza, keeps viewers on the edge of their seats with its creative storyline by Shahid Nizami and Syed Nabeel. The focus of the story is on Humaira and her family, who are the victims of a curse brought on by black magic. As the head of the family and the business, Sameer, the eldest son, must contend with the evil spirits who haunt his home. The entire family is torn apart as his sister Manahil and daughter Hoorain, falls victim to the harmful effects of black magic.
Sameer and Humaira are not happy with how she acted against them the previous night. Even though they accept her decision to stay with her spouse, Sameer made an effort to explain to her that all they needed from her was to wait till Hassam recovered. Rabail insists once more that she won't abandon her husband when he needs her most and that she wants to assist with his medical treatment. She informed them that the doctor had said that if he marries a loving woman, he will recover. Humaira scolds Rabail fiercely, telling her that her behavior is irrational and that they shouldn't be ruining anyone's life by getting them married to their insane brother. Rabail demanded to know what she wanted her to do and whether she would have abandoned their father under such circumstances. Yes, she would have, Humaira responds.
At this point, we see Farhana getting ready for performing her spells at home. As she begins, she uses a severe tone and says something, which Hassam at his house repeats. He appears out of nowhere and threatens to divorce Rabail, repeating Farhan's words that we cannot be happy if we disrespect our elders. Rabail urges, she will die if she remains away from her spouse. Hassam argued that she should accompany her mother and brother if she doesn't want him to divorce her. Farhana is seen laughing wickedly as she vows to destroy Humaira and her family.
Sameer goes to the molvi who asked for their clothes but he was not at home. However, the molvi's son handed him back his belongings and said that his father had warned him they were under the influence of a very powerful black magic spell which he couldn't assist them with and that he should speak to someone else about it. When Sameer informed Wania of what the molvi had stated, Wania told him about meeting with some extremely pohnchay huay buzurg who was aware of all that was taking place without her informing him. Sameer agreed to accompany Wania. They eventually see Baba Saein, who reveals all that has happened to them. He instructed them to leave the house and let Rabail to her husband's home.
When Manahil went to check on Rabail in her room, she discovered that she was having trouble breathing. She called for her mother and told her Rabail wasn't feeling well, and they took her to the hospital while Manahil stayed at home.
Farhana insists that Armaan go see Manahil and put Kohl on his eyes, saying that she has said some prayers on it. When Armaan came, Manahil allowed him in and told him that her mother had gone to the hospital with Rabail and that she had been searching for Hoorain, who was nowhere to be seen. She requested him to help her look for Hoorain,. However, Hoorain was only hiding in a corner. Later, the doorbell rang, and as Arman opened the gate, Ahmer was standing there. Since Humaira's was not there and Manahil's alone at home, Arman requested that he come at a later time. While Manahil was at home alone, Ahmer appeared to dislike Arman's presence.
Even though the drama's plot was finally moving forward, this episode didn't provide anything beyond Sameer accepting the house is possessed. However, because Sameer has always been so adamant about not just accepting and adhering to anything and everything, how could he so easily believe that Baba Saein was a pohnchay huay buzurg rather than a black magician? We only hope that Sameer uses his prudence and stays out of Baba Saein's trap. It was quite terrifying to see Farhana get ready for her black magic ritual and see Hassam repeat what she said at her house at his home. We hope that Farhana's true face gets revealed to everyone as soon as possible. Do you believe Sameer would allow Rabail to go back to Hassam? Can she live happily with her husband? Share your thoughts in the comments section.