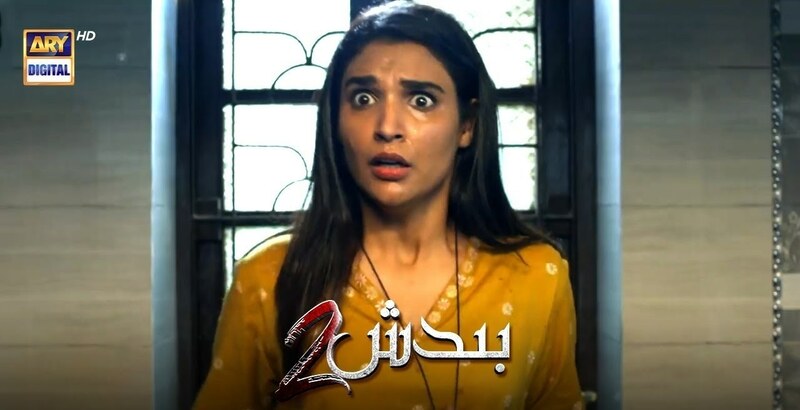 Khala Ammi has cleared the home of any negative energies, particularly those associated with Hoorain. There is a new...

Khala Ammi has cleared the home of any negative energies, particularly those associated with Hoorain. There is a new maid, though, who is essentially an accomplice sent by Baba Sahab and is posing as a maid.
Bandish 2 is an ARY Digital drama and a sequel to the original Bandish from Big Band Production. Aabis Raza does an excellent job at directing the drama. The script, written by the creative team of Shahid Nizami and Syed Nabeel, goes extensively into the perilous world of black magic. The story centres on Humairah, a strong widow, and her kids Sameer, Rabail and Manahil as they deal with the terrible effects of a wicked curse. When the nefarious nature of black magic takes hold it drags them into a nightmare world.
Wania's Khala ammi had previously visited their home to perform some Quranic recitals in an effort to rid the space of any black magic activity. Hoorain began acting strangely once she got home. She wakes up, runs to hide on the rooftop, and calls Sameer to let him know that Wania had invited a strange woman into the house and that she was doing weird things.
She was eventually captured by Wania, who then took her to Khala Ammi, who instructed her to hold her tightly while she recited quranic verses. Hoorain acted abnormally during this time, protesting and refusing to be held. But by the time it was over, she had lost consciousness.
When Sameer and Humaira got home, they were furious, but when they asked Hoorain about her call to Sameer she refused that she called him. Then, Wania and Manahil convinced them that Hoorain was unwell because she appeared to be having a fit and that Khala Ammi only performed Quranic recitals.
With all of this, Sameer is not at all pleased. By calling such women home and being superstitious, he believes Wania is further risking Hoorain's situation.
Rabail's marriage to Hassam has not pleased Armaan. Farhana, however, reassured him that if he let her handle this situation, she would make sure that everyone would suffer. She believes that after Rabail marries Hassam, things would be simpler for her to handle.
Rabail's proposal is finalized with Hassam, but Rabail believes everything to be too good to be true. Wania was left with plenty of chores at home to complete by herself after Rabail's in-laws left. Wania was left with an enormous amount of chores at home to complete by herself after Rabail's in-laws left. As she was griping about having to do everything, the doorbell rings, and a strange lady both enters the house along with Wania. Wania informed Humaira that this woman was seeking work and appeared decent; they hired her without further investigation.
Just as we were beginning to believe that Khala Ammi had everything under control, this strange maid enters, making us doubt that. Baba Sahab sent his accomplice to carry out his dirty task while inside the house because it appears that her recitals are successful and he was unable to apply his magic. However, the manner in which the maid or whoever this woman is entered the house and the fact that both Humaira and Wania hired her up front appeared a little off, especially in light of the fact that Humaira and Sameer were upset when Wania brought her relative, Khala Ammi, into the house without their knowledge. We believe that the scenario as a whole should have been more clearly written.
For Rabail, everything appears to be going well, but given that Farhana don't like seeing Huaira and her family happy, we have a feeling that something will also go wrong for her. What do you think of Rabail's happy ending and the new maid? Does Hassam seem a little off? Post a comment and let us know.